How to Eat Like a Professional Cyclist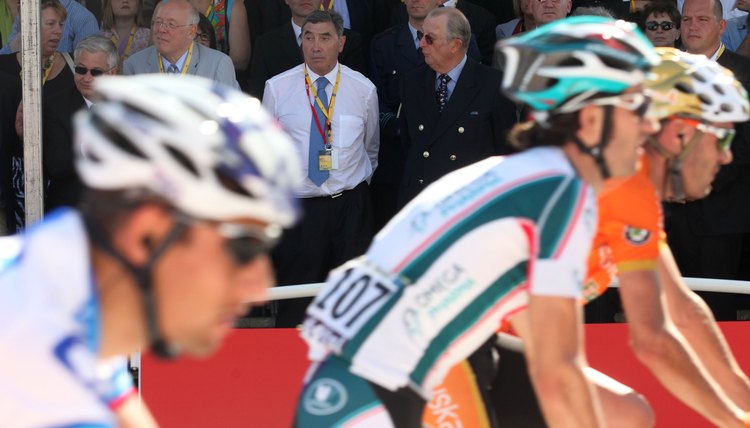 Nutrition is paramount for the professional cyclist, as well as for those looking to up their speed, stamina or overall athletic ability on the bike. The food you eat is used to fuel your performance on the bike, so you need to make sure your nutrition is on point to get to the top. By looking at what the professional eat, you too can boost your endurance, strength and stamina to raise your game, even if you're not quite ready for the Tour de France just yet.
Your Friend, the Carbohydrate
Carbohydrates are the most important macronutrient for any pro -- or aspiring pro -- cyclist. You need around 3 to 5 grams of carbs per pound of body-weight each day, registered dietitian Molly Kimball told "Bicycling" magazine. Former pro cyclist turned nutritionist Anne Guzman recommends on ESPN sticking mainly to unprocessed carbohydrates such as brown rice, quinoa and potatoes for meals, but using foods such as energy bars during races for quick energy.
Cramming in the Calories
When cycling at a high level, not only do you need plenty of carbs, but also a high calorie intake, too. In an article for ESPN, Joel Stein consulted Team Columbia and found that during some days of the 2008 Tour de France, their calorie intake per team member was as high as 9,000 per day. Although you may not need this many calories every day -- so you don't gain weight, which can slow you down -- it's important to note that harder training days where you're in the saddle for several hours do require a higher intake than normal. A day's riding in the Tour generally lasts five to six hours, so for a three- to four-hour training day, try consuming around 5,000 to 6,000 calories.
Track Versus Road
Track cyclists don't generally need as many calories or carbohydrates as road cyclists because their events are generally shorter and more sprint-based -- but that doesn't mean they eat light. In the lead up to the 2012 Summer Olympics, cyclist Chris Hoy consumed 6,000 calories per day -- about a third less than a cyclist competing in an endurance tour event -- according to "Track Cycling News." The American Dietetic Association notes that the nutrition needs of a track cyclist are more akin to those of strength and power athletes than endurance competitors. The number of calories track cyclists burn per hour can rise as high as 7.3 per pound, but they don't ride for nearly as long as road cyclists and, therefore, need a slightly lower caloric intake.
A Day in the Saddle and at the Table
During competition, the eating feats of pro cyclists are almost as impressive as their performance up the mountains. Thor Hushovd, winner of the green jersey for sprint points in the 2005 and 2009 Tour de France, regularly ate 9,000 calories per day during his races. Breakfast would be oats, a ham omelet, toast, cereal and rice. While riding, he would eat energy bars, shots and gels, rice cakes, sandwiches and carb drinks. Post-race, it was chicken and rice, before a big dinner of turkey, more rice, vegetables, salad and avocado, with prunes and sorbet for dessert.
References
Writer Bio
Mike Samuels started writing for his own fitness website and local publications in 2008. He graduated from Peter Symonds College in the UK with A Levels in law, business and sports science, and is a fully qualified personal trainer, sports massage therapist and corrective exercise specialist with accreditations from Premier Global International.