Basketball Fitness Training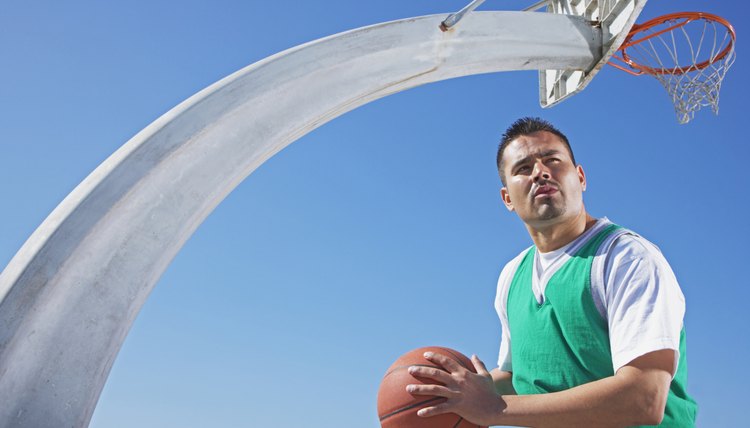 In a game where you must run up and down a 94-foot court and frequently jump as high as you can, it's not surprising that your fitness level is a key to your basketball success. If you're in top shape, you can challenge the defense on fast breaks or out-fight opponents for rebounds and continue to do so until the game ends. Just be prepared to work hard on your fitness during the season and even harder in the off-season. No matter which season you're in, begin every workout with about 10 minutes of light cardio to warm up your muscles.
Improve Your Aerobic Conditioning
As you might expect, running is often the aerobic tool of choice by players who spend so much time on the move. Jogging is an efficient way to build aerobic endurance, although basketball coach Jeff Haefner recommends a combined cardio and strength workout that features a 400-meter jog followed immediately by 20 pushups. Do this workout four times or work up to this level. The suicide sprint is another common drill to build speed and endurance. During this four-step drill, run from the baseline to a designated spot on the court and then back to the baseline again. Do this four times to four different spots on the court. First, run to a spot near the free-throw line and back. Then, run to the half-court line and back, the far free-throw line and back and the far baseline and back, in that order.
Strengthen Your Upper Body
Upper-body strength is important when you're battling for a loose ball or a rebound in traffic, but it's also a key to your offensive game. Former NBA guard Cuttino Mobley says that "triceps and your wrist strength" are keys to your jump shot. He recommends pushups, pullups and dips to help strengthen your shooting muscles. Other upper-body exercises for basketball players include clean pulls, bench presses, lat pulldowns, rows and flyes.
Leg It Out
In addition to running, build your leg strength with a variety of resistance exercises. NBA coach Jason Kidd did exercises such as leg presses, calf raises and step-ups during his playing career. Speedy NBA guard Leandro Barbosa wears a weighted vest while exercising and occasionally while walking. Other resistance exercises to consider include deadlifts -- which also work your core -- squats and walking lunges. Plyometric activities, such as squat jumps and ankle hops, strengthen your legs and build explosive power. Jumping rope combines aerobic work with leg training. (refs 1, 3-4; ref 4 see pg 17)
Change With the Seasons
Take some time off of hard training after your season ends so your body can recover, particularly if you've sustained injuries. Then use the eight- to 10-week period before your team's organized pre-season training camp to build your strength and endurance. Washington University strength coach Matt Ludwig recommends doing four strength-training sessions per week -- but don't work the same muscles on consecutive days. Begin two of the four workouts with a cross-training session that includes activities such as plyometric exercises, medicine-ball tosses, agility drills and treadmill runs. Conclude at least one weekly workout with some treadmill sprints. During the season, perform 30-minute strength-training workouts two or three times per week. Don't perform additional aerobic conditioning during the season because your team's practice sessions give you all the cardio work you need.
References
Writer Bio
M.L. Rose has worked as a print and online journalist for more than 20 years. He has contributed to a variety of national and local publications, specializing in sports writing. Rose holds a B.A. in communications.