Should I Use Compression Tights for Basketball?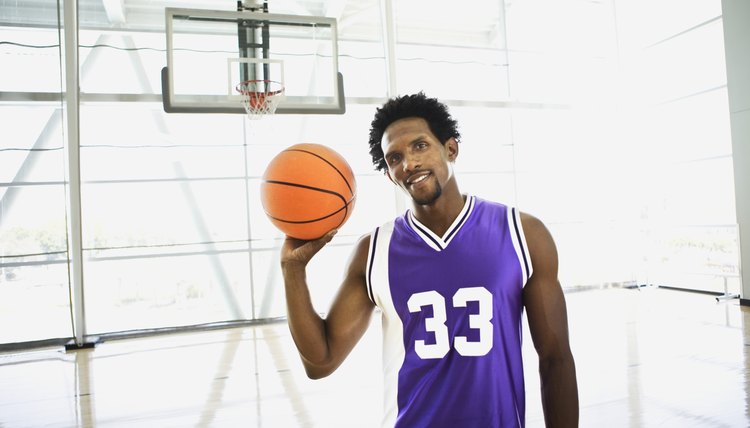 If you're a basketball player who likes the idea of a tight layer of fabric around your leg muscles, compression tights or shorts may be for you. As of 2013, it's debatable if they actually help your performance or health. As such, the decision to wear compression shorts should come down to how comfortable you feel when wearing them.
Tight Fit
Compression tights are made of elasticized materials, but they still cling close to the body. Many players at all levels of the game wear them beneath their uniform shorts, usually in the same color as the uniform. As of 2013, they were not required or banned at any level.
Benefits
Compression gear wear for basketball has produced mixed results according to the University of California, Berkeley. Compression gear manufacturers boast that the clothing helps keep your muscles warm, which in turn led to better performances. Berkeley's website quotes a 2011 study from Australia that shows athletes who wear compression gear had increased blood flow, albeit the study focused on runners and triathletes. A 2011 German study quoted on the Berkeley website reported inconsistent findings.
Making Your Choice
Wearing compression tights during basketball helps keep your genitals pressed against your body, which can relieve the discomfort you might experience when running and jumping. Additionally, some compression products contain padded sections, which is ideal if you want to protect your thighs, glutes or another part of your body from falls or errant knees.
Negatives
It can take a period of adjustment to get used to compression tights. For example, if you're used to loose, baggy uniform shorts and boxer shorts underneath, the tight fit of compression gear can feel awkward.
References
Writer Bio
Toronto-based journalist William McCoy has been writing since 1997, specializing in topics such as sports, nutrition and health. He serves as the Studio's sports and recreation section expert. McCoy is a journalism graduate of Ryerson University.