Why Are Basketball Shoes So Expensive?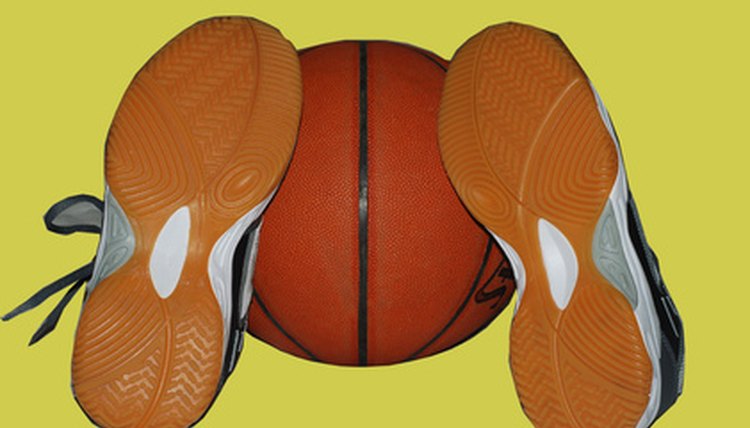 The priciest basketball shoes can sell for as much as $240 at some retailers. You cannot group the overwhelming majority of basketball shoes into that price class, but many of the brands sold by Nike and Adidas easily retail at $100 or more. However, the large disparity between name brand and generic basketball shoes has little to do with the cost of making the shoes, and much to do with the overhead costs and profitability of major shoemakers.
Athlete Endorsements
The expensiveness of high-cost basketball shoes largely can be attributed to all of the money companies such as Nike and Adidas spend on the athletes who endorse their products. Nike's first contract with LeBron James guaranteed LeBron $13 million a year before he even stepped on an NBA basketball court. Even in accounting for sales of other products, $13 million per year is a lot of overhead when you consider that, in general, the best performing brands sell no more than 500,000 basketball shoes per release.
Program Sponsorship
In addition to endorsing athletes, some of the name brand shoemakers provide shoes (as well as other various equipment) for multiple AAU teams, collegiate basketball programs and professional basketball teams. While the cost of sponsoring an individual team does not amount to much, sponsoring dozens of teams adds up to a significant amount of overhead.
Commercials
Shoe companies spend a great deal of money promoting their products with those TV commercials you love so much. The costs of paying for ad agencies, producing high-quality commercials, running long, viewer-targeted ad campaigns is a significant amount fixed into the price of basketball shoes. Because broadcasters charge a premium for the viewers (teenagers and young adults) shoe companies target, Nike and the like pay more for their TV campaigns.
Product Placement
Outside of commercials, name brand shoe companies promote their basketball brand through a litany of non-traditional marketing channels. Shoe companies spend lots of money just to put their shoes on artificial basketball players in video games. Product placement for basketball shoes also occurs in TV shows. Even movies receive money for placing basketball shoes in films.
Tight Supplies
Name brand shoe companies will not charge more than people are willing to pay, but by utilizing the law of supply and demand, name brands drive up the value of their basketball shoes by restricting the volume of their most coveted releases and limiting each store to 25 to 30 pairs. Shoe companies also produce "collectible" versions that will not be reproduced in order to further increase demand for some of their shoe brands.
Profitability
Of course, both shoe companies and retailers such as Nike make huge profits, a lot of which comes from high-profit margins with their basketball shoes. According to a "BusinessWeek" article, a pair of basketball Nike Air Force 1's can retail for as much as $180, but a retailer's average cost is usually less than $50, while Nike's average cost per pair is $12. These high-margins account for marketing costs, losses in other departments and much of Nike's profitability.