How to Become a Harlem Globetrotter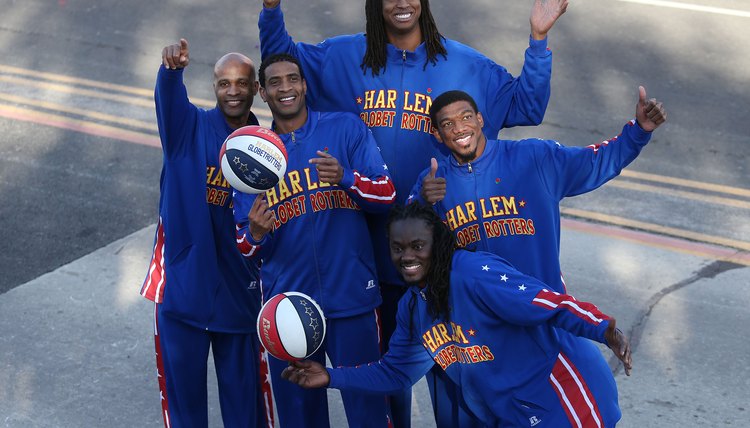 Although you may have elite basketball skills, it takes more than that to become a Harlem Globetrotter. In 2007, the team began an annual draft to select five or six players. Since the team doesn't communicate with players prior to the draft, they're always free to decline the invitation. Those selected can attend a minicamp with the team in August to audition. Analysis of the Globetrotters' draft picks reveals the team focuses on showmanship, impressive leaps and dunks, and world-class athleticism in choosing potential future teammates.
Win a Slam Dunk Competition
The annual College Slam Dunk Competition gives young basketball players an opportunity to showcase their agility and creativity, and each year at least two of the Globetrotters' draft picks come from the competition's top scorers. The team also pays attention to the "Dark Horse Dunker," an award that gives fans the opportunity to vote for their favorite competitor. In 2011, Internet sensation Jacob Tucker was drafted and went on to play for the Globetrotters after he entered and won the competition. Although only 5-foot-10, Tucker's 50-inch vertical leap garnered him two perfect scores.
Be a Division II Standout
The team's draft picks usually include a player or two from the NCAA's Division I, but most of them go on to play for the NBA rather than joining up with the Globetrotters. However, most years they've included at least one player who grabbed headlines in Division II -- such as Anthony "Ant" Atkinson. Drafted in 2007, Atkinson got the attention of of the team's scouts when he scored ten straight points in the last 40 seconds of the 2007 NCAA Division II National Championship Game, propelling Barton College to a 77-75 win over top-ranked Winona State.
Excel in Another Sport
Despite the fact that the Harlem Globetrotters are a basketball team, they aren't shy about drafting athletes who've achieved acclaim in another sport. In these players, the team recognizes overall athletic potential more than any demonstration of technical basketball skill. It might seem counter-intuitive, but the Globetrotters seem attracted to world-class soccer players, having drafted U.S. goalkeeper Tim Howard, Argentina's Lionel Messi, and U.S. all-time leading scorer Landon Donovan. In 2013, the team drafted World Series MVP Mariano Rivera. Then in 2014, the Globetrotters expressed interest in football phenomenon Johnny Manziel.
Break World Records
Even without significant basketball experience or other sports achievements under your belt, breaking a world record tends to get the Globetrotters' attention. After Usain Bolt took home three gold medals in the 2008 Beijing Olympics, the team jumped on the chance to draft the "World's Fastest Man." Bolt didn't take the Globetrotters up on their offer -- but Paul "Tiny" Sturgess did. Drafted in 2011, the 7'8" Sturgess holds the Guinness World Record for "World's Tallest Professional Basketball Player."
References
Writer Bio
Jennifer Mueller began writing and editing professionally in 1995, when she became sports editor of her university's newspaper while also writing a bi-monthly general interest column for an independent tourist publication. Mueller holds a Bachelor of Arts in political science from the University of North Carolina at Asheville and a Juris Doctor from Indiana University Maurer School of Law.