How Can I Get Specs on Ping Golf Clubs with the Serial Number?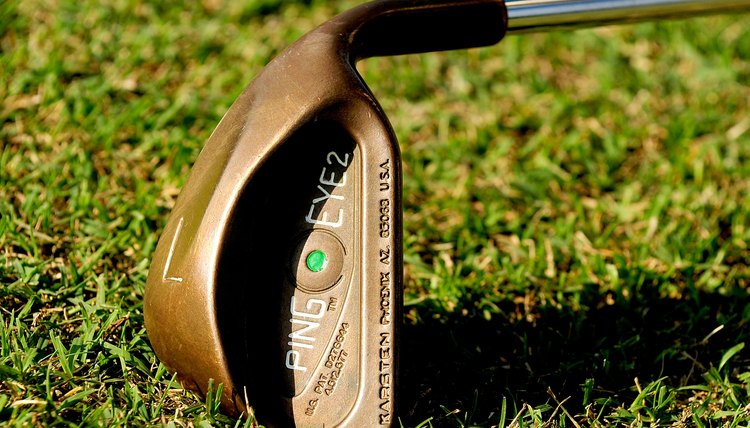 There is an array of Ping golf clubs, and the company has more than 400 patents on various club designs, which are made to hit more accurately without compromising the original integrity of the golf club. Unfortunately, Ping clubs are also the target of fraudulent practices, and many people are sold off-brand clubs under the Ping name or even stolen or recombined clubs. The serial number system is designed to prevent such crimes.
Ping Clubs
Ping has introduced many golf club innovations. The company was the first to design a club with the heel-toe weighting system, which displaces weight to both the heel and the toe of the golf club head. This allows a more generous transfer of energy at the moment when the club strikes the ball so that off-center hits are more likely to stay straighter longer. Ping was also the first manufacturer to use a selective filtering design that minimized the vibration caused by hitting the ball. Ping golf clubs are not often stolen or falsely replicated because of their designs and the methods by which the company protects the clubs. Most golf club manufacturers today use some form of serial numbers to identify their clubs, but the unique design of Ping clubs makes it less likely that they can be reproduced or recombined.
Serial Numbers
Ping uses its serial numbers for two primary purposes: replacing broken or lost clubs and identifying thefts or forgeries. The serial number on each club encodes a complete description of that club, including what the dot color or lie angle of the club is, what the shaft is made of and what qualities it has, how long the club is, what kind of surface the sole of the club has and any custom work that has been done on the club. This means that even if your club has been damaged or stolen, you can report the serial number and order an exact replacement. Because of the uniqueness of each number, it also encodes the history of each club, and Ping keeps track of when the club was made, its full description and whether it has been stolen. You can receive this information by calling Ping's serial number phone number and reporting the full serial number of the club you have or have lost.
References
Writer Bio
Tyler Lacoma has worked as a writer and editor for several years after graduating from George Fox University with a degree in business management and writing/literature. He works on business and technology topics for clients such as Obsessable, EBSCO, Drop.io, The TAC Group, Anaxos, Dynamic Page Solutions and others, specializing in ecology, marketing and modern trends.