How to Care for Kangaroo Leather Soccer Cleats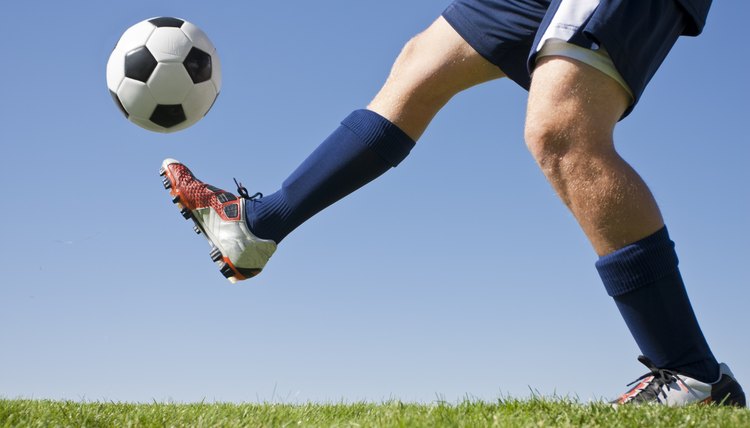 Kangaroo leather or k-leather is designed to provide a durable material --much stronger for its weight than bovine, calf or goat leather -- and a thin, supple material for advanced soccer players who want to feel like there is nothing between their foot and the ball. To care for your kangaroo leather uppers, which over time mold to the shape of your foot, spent time after every match cleaning and storing them.
Cleaning Your Cleats
Just after your game finishes, take off your cleats and remove clods of mud between the molded plastic studs with a stick. Place your cleats in a soccer shoe bag, which typically has breathable mesh panels. At home, rub any large pieces of mud or dirt off the leather uppers with a soft rag. Loosen the laces. Continue rubbing the kangaroo leather with a leather dressing applied with a fresh rag, dampened and wrung out. Rub the uppers dry with a third rag. If you want to remove deep dirt or scuffs on light-colored leather, rub the uppers with a rag moistened with mild shampoo diluted in warm water.
… and Storing Them
Set your soccer cleats to dry on newspaper in an area away from a heat register or other source of hot air yet at the same time well ventilated. Stuff the cleats overnight with wadded up pieces of newspaper. Remove the newspaper in the morning; it will be damp from absorbing moisture. Let the shoes continue to air dry until your next game.
References
Writer Bio
An award-winning writer and editor, Rogue Parrish has worked at the Washington Post, the Baltimore Sun and at newspapers from England to Alaska. This world adventurer and travel book author, who graduates summa cum laude in journalism from the University of Maryland, specializes in travel and food -- as well as sports and fitness. She's also a property manager and writes on DIY projects.