Does Soaking Kangaroo Leather Soccer Cleats in Warm Water Damage the Cleats?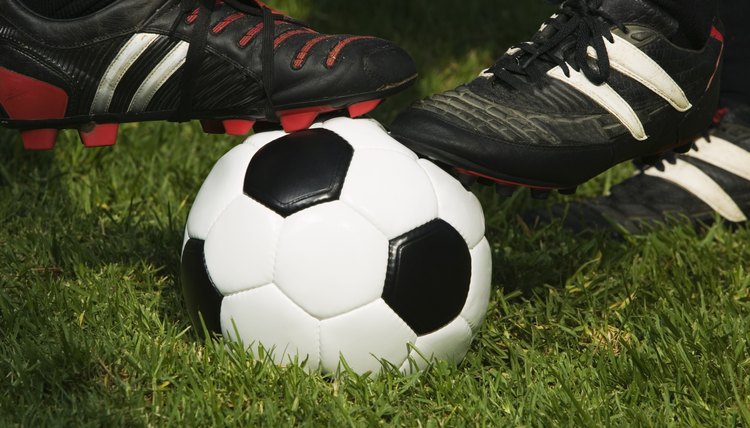 The use of kangaroo leather in sports shoes dates to at least 1906, when Spalding began making cleats out of 'roo hides for college football teams and baseball players. In 1954, soccer shoes also migrated from boots of heavier cow leather to kangaroo hide, as German shoemaker Adidas created the modern soccer shoe. Adidas continues to sell kangaroo leather soccer cleats, as do Nike, Puma and Diadora.
Characteristics
Kangaroo leather offers a supple, lighter material for the uppers of soccer shoes, prized as good touch on the ball that allows skilled players more control. It also adapts to your foot shape well as it can stretch to fit its contours. Cut thinner than cow or calf leather, kangaroo leather provides additional contact surface for the foot with the ball, but it lacks the durability of bovine products. Because it absorbs water, kangaroo leather is best for dry conditions, and synthetics have the edge for wet fields. The kangaroo material is not harmed by water but it does get heavy.
Process
Some players soak new kangaroo leather cleats in warm water for 20 to 30 minutes and then put a shoe tree in them or stuff them with newspaper to dry. Others wear the wet shoes, with or without socks, for 20 additional minutes so they conform to their feet. The stretched shoes, especially if bought a half-size too small, fit snugly after undergoing this process, although a typical player will want to stay with a shoe that fits perfectly rather than being too small. Shoes made out of synthetic microfibers do not provide this give or stretch.
Expert Insight
The practice of soaking kangaroo leather soccer cleats in warm water may not be advisable, according to John Scott, a product specialist with Sports Endeavors, the North Carolina-based parent company of mail-order soccer gear company Eurosport. "It will rinse out some of the natural oil in the leather and cause them to need more," he says. "Many people do this to break them in quicker, but it also makes them wear out faster. I don't recommend it."
Recommended Care
The professional players behind Soccer Training Info recommend polishing your new shoes with leather food or mink oil to soften the leather and provide a better touch and feel. If you feel like you must soak the shoes, place newspapers inside them afterward and polish them when they are no longer moist. Keep the shoes out of direct sunlight as they dry. Clean your shoes after practice, scraping off mud and dirt, which can ruin kangaroo leather, and stuffing them with newspapers if they have gotten wet.
References
Writer Bio
An award-winning writer and editor, Rogue Parrish has worked at the Washington Post, the Baltimore Sun and at newspapers from England to Alaska. This world adventurer and travel book author, who graduates summa cum laude in journalism from the University of Maryland, specializes in travel and food -- as well as sports and fitness. She's also a property manager and writes on DIY projects.