Difference Between Cheap Vs. Expensive Golf Drivers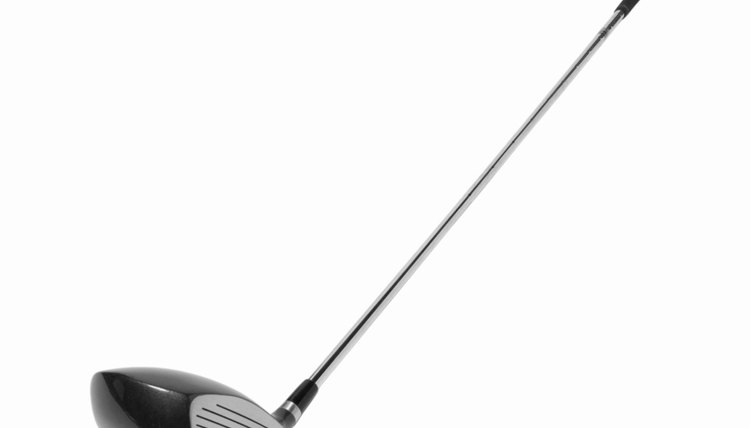 With the prices of drivers continuing to climb, the average player faces a difficult decision in terms of purchasing equipment. It's difficult to justify spending several hundred dollars on a single club without achieving obvious improvements in distance and accuracy. As a rule, expensive drivers are of a higher quality than cheaper drivers and will likely improve your game. But they may not differ as much as some companies will have you believe.
Materials and Design
The most obvious difference between an expensive driver and a cheap one is the materials. Expensive drivers use state-of-the art metals and composites to maximize distance while keeping the club light in weight and conforming to U.S. Golf Association standards. Leading golf companies also dedicate substantial effort to researching the most aerodynamic clubhead designs and determining the best shaft, club and clubface materials. One caveat is that, oftentimes, the companies that produce more expensive drivers sell their materials to "replica" companies, and some cheaper drivers are made from the exact same materials.
Specifications
More expensive drivers come with a multitude of custom-fitting options. Some modern drivers feature weighting systems that allow you to change the face angle and weight distribution of the clubhead. When purchasing a more expensive driver, you will also typically have the option of testing multiple lofts, lie angles, lengths and shaft specifications. When purchasing a cheaper driver, you will usually be forced to use whatever the store has in stock. Such a club may not be suited to your unique swing style and height.
How They're Made
Cheaper drivers are generally produced in large factories overseas. When producing equipment in mass quantities, minor errors can occur in the assembly of the club. While many expensive drivers are made under the same conditions, some companies still handcraft each one. For example, some companies send certification that each driver has been handmade and quality-checked by a master club-maker. Both Titleist and Ping pride themselves on handcrafting clubs to each customer's individual specifications.
Brand Name
As with many expensive products, you may be paying substantially more money simply for a recognizable brand name. Companies spend large sums on marketing efforts and professional contracts so that the average consumer gains trust in their equipment. Sometimes, professional golfers use certain equipment because it is simply better. But more often than not, professional golfers use equipment because they are under contract with a particular manufacturer.
References
Resources
Writer Bio
Graham Ulmer began writing professionally in 2006 and has been published in the "Military Medicine" journal. He is a certified strength-and-conditioning specialist with the National Strength and Conditioning Association. Ulmer holds a Master of Science in exercise science from the University of Idaho and a Bachelor of Science in psychology from Washington State University.