The Difference in Mountain and Cruiser Bicycles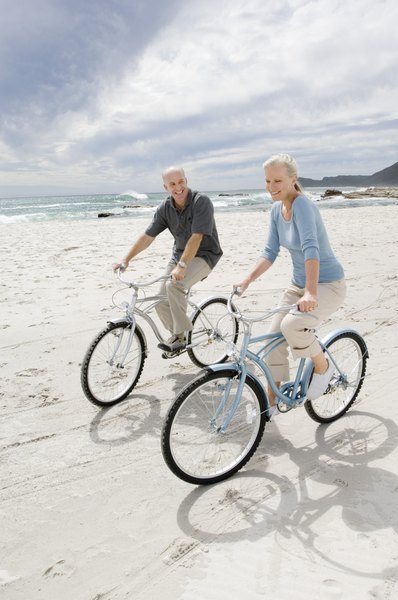 Looking for a comfortable bike for daily riding, commuting or riding around town can be daunting and confusing. Bicycles vary in design, and the best bike for you depends on the conditions in which you plan to ride, as well as your budget. Cruiser bikes and mountain bikes are very different, but either one can be appropriate for your needs as a rider. Understanding the components of each can help you narrow down the right choice.
Cruiser Bikes
Cruiser bikes are simple and traditional in relation to other styles of bicycles. These single-speed, comfort-oriented bikes require minimal maintenance, and their durable metal frames and rims are built to for last years of use. Cruiser bikes are ideal for beginning riders and feature an upright seating position for comfort and control. Large balloon tires and a wide seat absorbs the bumps of rougher pavement. A cruiser excels on comfortably traversing flat ground, but a rider attempting hills will feel the limits of the single-speed drivetrain and heavy bike frame.
Mountain Bikes
Mountain bikes use a different geometry that places the rider in a slightly less upright position for speed and control, and use a high bottom bracket clearance to traverse difficult terrain. A mountain bike is much more complex than a cruiser bike and often features a diverse variety of gears. Frame materials vary from steel and aluminum to carbon fiber and titanium at different price points, and some bikes feature a shock absorber in the rear triangle or front fork. Durable rims and wide, knobby tires make off-road conditions like trails and parks much easier to travel.
Differences Between Mountain Bikes and Cruiser Bikes
Both the cruiser and the mountain bike make riding more comfortable by absorbing the bumps from roads and paths, but the capabilities of the mountain bike make it a better choice for most conditions. A variety of gears on a mountain bike make hills significantly easier to climb, and the clearance in the frame allows larger obstacles to be conquered with ease. However, the complicated components in the drivetrain and suspension system make bike maintenance much more difficult, expensive and potentially frequent. These features also come at a higher cost. For many cyclists, the cruiser bike's simplicity makes it a better choice financially, especially if it covers all of your riding needs.
Choosing a Bike
If your daily commute or exercise routine takes you on rough and unpredictable roads, a mountain bike can make your ride safer and more comfortable. Mountain bikes can also open up new doors for off-road activities such as bikepacking and trail riding. Experienced riders will find the handling and ability of the mountain bike surpasses those of the cruiser. However, as a second bike or a pleasure rider, a cruiser's relaxed geometry and minimal upkeep make it a fantastic choice for the casual cyclist. Cruiser bikes are more than capable of riding along a beach or boardwalk, and the stylized frames give the cruiser serious curb appeal.
References
Resources
Writer Bio
Max Roman Dilthey is a science, health and culture writer currently pursuing a master's of sustainability science. Based in Massachusetts, he blogs about cycling at MaxTheCyclist.com.