A Review of Sun Bicycles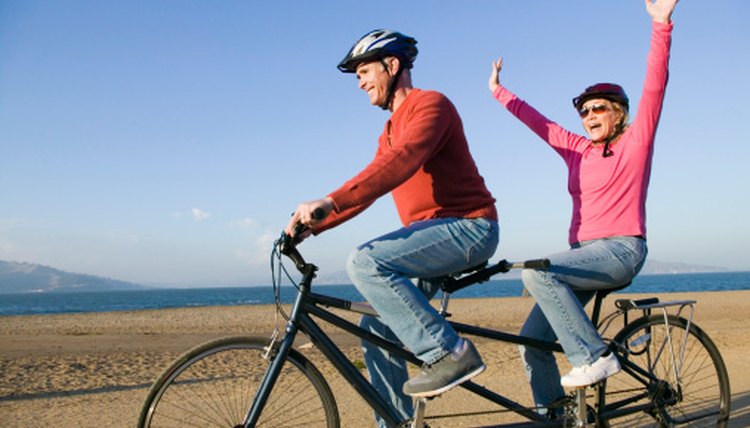 Sun Bicycles is a manufacturer of various types of bikes. The Miami-based company has been exclusively designing and producing bikes since 1972. Sun's product line includes models for a number of bike categories, including path, comfort, cruiser, industrial, juvenile, recumbent and tandem. The company also makes specialized bikes such as unicycles and adult-sized trikes.
Bike Path
Sun's bike path category features 13 bikes, including its Drifter, Rover, Ruskin and Streamway series. The Drifter bikes are designed for optimal comfort with a big seat and a foot-forward crank position, while the contemporary Ruskin models feature a lightweight alloy frame and a suspension seat to mitigate bumps. The Streamway bikes have a low step-through design to make stepping on and off the bike easy. Comfort features for the Streamway models include an E-foam comfort seat, gel grips and suspension technology.
Cruiser
Sun's cruiser series includes the Cruz and Revolutions models. Cruiz bikes come in three versions -- the Cruz, Cruz 3 and Cruz 7 -- and are available in several colors with men and women models of each version. The bikes feature an alloy frame, rubber-gel grips and a wide handelbars for a comfortable posture. The Revolutions series is a new addition to the Sun product line. The Revolutions 24, 3, 7 and CB-26 feature an increased wheelbase to improve stability and allow for more room between the seat and the handlebar.
Industrial
The industrial bike line for Sun includes the Atlas, Atlas X-Type, Boardwalk Type-R and Boardwalk Type-R with 24-inch wheels. The Atlas' frame and fork is made from heavy-duty steel and has 26-inch alloy bolt-on wheels. The X-Type model has the same features as the Atlas, but is enhanced with a stability frame suited for both women and men. The back of the bike features a carrier platform for transporting cargo. Both Boardwalk bike models are designed for heavy use with their alloy frame and wheels that are available in 16-, 20-, 23- and 24-inch sizes.
Specialty
Sun makes a number of specialty bikes, including children, recumbent, trike, tandem and unicycles. Some models in Sun's juvenile line of bikes, such as the Flower Power and Matrix series, come with training wheels. Sun offers a number of recumbent models that vary from two- and three-wheeled recumbent bikes to quad-bikes designed for two people. The Biscayne and Brickell tandem series feature foot-forward pedaling designs and easy-to-adjust handlebars and seats. Sun also makes six unicycle models and adult trike bikes.
Writer Bio
Dan Harriman began writing professionally in 2009 and has a varied background in marketing, ranging from sports management to music promotion. Harriman holds a Bachelor of Science in journalism with an emphasis on strategic communications from the University of Kansas and earned the International Advertising Association's diploma in marketing communications.