How to Display a Soccer Scarf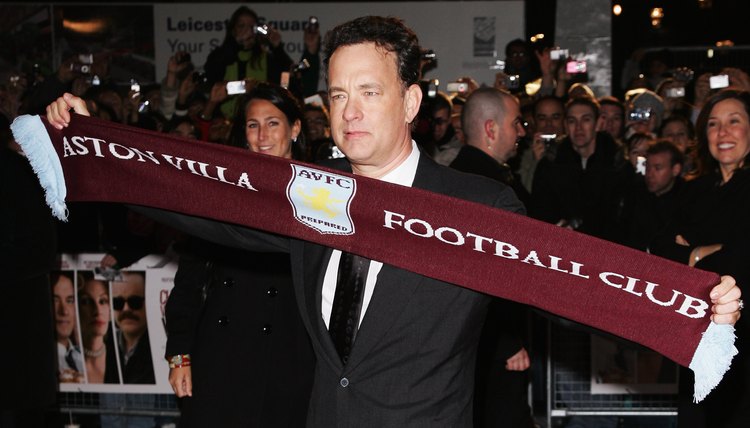 The easiest way to display soccer scarves -- when they aren't wrapped around your neck or jubilantly snapping post-victory out of a car window -- is to just thumbtack them to the wall. Both sports bars and home displays rely on this quick and easy method. "They can be horizontal or vertical," notes Wes Harvey, a veteran soccer coach in Elkridge, Maryland. "The goal is to have the lettering showing." You also have options to set up fancier displays.
Rods, Racks and Wires
Wall-mount a curtain rod to allow you to display the scarves vertically, folded in half. You can then easily take them down to wear to games. Lay out the scarves as they will look on the wall, and estimate the approximate length of the rod you will need in multiples of 16 inches, to account for stud distances. For example, a 52-inch rod, mounted into studs 48 inches apart, should allow you to display seven narrow, bar-style scarves of 7 inches each. Allow about 32 inches of hanging depth for one tier of the doubled-up scarf and its fringe.
You can also buy purpose-built display racks designed to hold larger collections of soccer scarves. One manufacturer makes a three-tier rack holding 24 scarves, to cover much of a wall. You can tweak eyeleted dowels supported by nylon ropes into your own three- or four-tier do-it-yourself version, or binder-clip the scarves to picture wire.
Bar Scarf Traditions
If you happen to be decorating a sports bar with soccer scarves, note that traditions vary on each side of the Atlantic. "It's fairly common in England to display scarves, but it would be only the one team that the bar fans is associated with," Harvey notes. "Most pubs frequented by football fans in Britain are specific to one team. Visiting fans tend to take over pubs that cater to visitors, and either type of pub would not tolerate opposing teams' colors." In the U.S., though, sports bars tend to cater to expatriate soccer fans from foreign leagues, so a wall display of multiple team scarves would be appropriate.
Writer Bio
An award-winning writer and editor, Rogue Parrish has worked at the Washington Post, the Baltimore Sun and at newspapers from England to Alaska. This world adventurer and travel book author, who graduates summa cum laude in journalism from the University of Maryland, specializes in travel and food -- as well as sports and fitness. She's also a property manager and writes on DIY projects.