How to Evaluate Baseball Talent for Little League Tryouts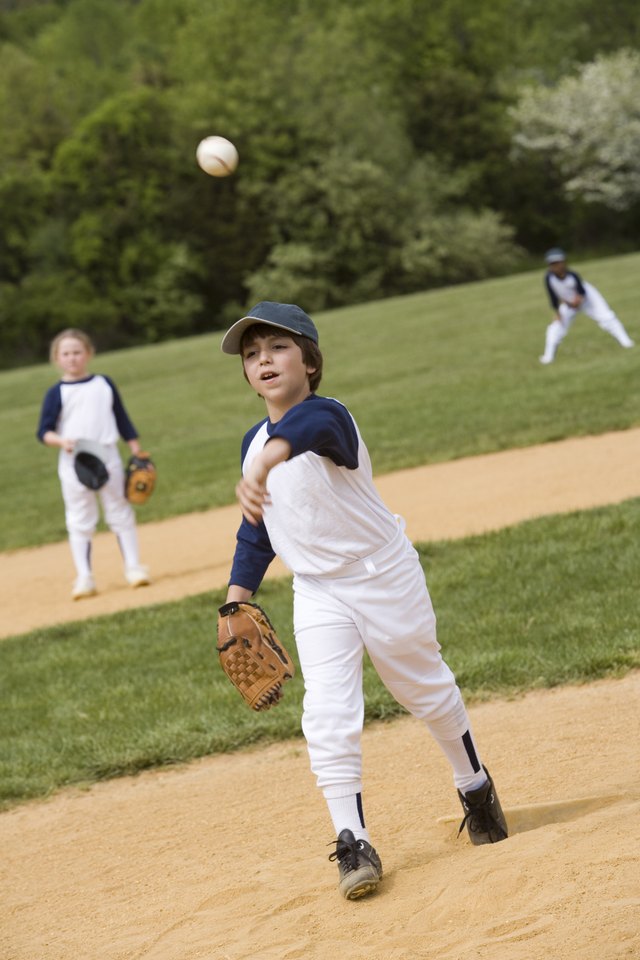 Natural ability can be plainly seen when evaluating players who have had limited or no training in a sport, such as baseball. Players who can immediately hit, field or throw a ball without much coaching are rare, but do exist. Finding those players, and finding the ones who need a complete run-through on the fundamentals of the game, are the kind of things a coach needs to do when evaluating Little League baseball talent. Running the players through basic baseball drills will tell the coach how much coaching he will need to do.
Arrange for a pitching machine to be set up in a batting cage so that it pitches at a level similar to what a Little League player would see in an actual game. Watch how the players handle themselves in the cage, such as stance, grip, swing and follow-through. Have the players take several turns so you can compare them to other players. Determine which players seem to have the best bat control, which ones seem to swing with more power and the ones who need to learn more fundamentals.
Hold fielding drills for all of the players -- you may have several players wanting to play one position, but only one player can, so they should be prepared to play several positions. Have them concentrate on fielding the ball first. Hit ground balls to the players, including pitchers -- who must also know how to field their position -- playing in various spots on the infield so you can see who is afraid of the ball and who has no fear when fielding. Work with potential outfielders by hitting pop flies in the air for all players to try and catch. Make soft pitches to potential catchers, including balls in the dirt or above a batter's head to gauge catching ability.
Gauge your player's throwing abilities. Hit or roll balls to infielders and have them work on throwing to all bases and home plate so you can see their development and what they need to work on. Have outfielders throw to bases and home plate so that you can determine arm strength and accuracy.
Have any potential pitchers throw from the mound to you or your catcher so you can determine who has good motion, arm strength and technique. Instruct them to focus on basic pitches, such as fastballs and change-ups, leaving more complicated or potentially harmful pitches such as curveballs for when they get older. See which players already grasp the concepts around gripping the ball and throwing to spots.
Have the players show you their other fundamental skills such as bunting and base running, so you see who can be your team leaders and who will need to be taught the basics of baseball.
Writer Bio
Based in Virginia Beach, Mark S. Baker has been working in editorial for more than 20 years. He has served as a writer and editor for publications such as the "Houston Post," "Boca Raton News" and "Interactive Week," among others. Baker also has a culinary arts degree from Johnson & Wales University and has his own catering business.