Running Backs in the NFL and Top College Running Backs, All Time and 2022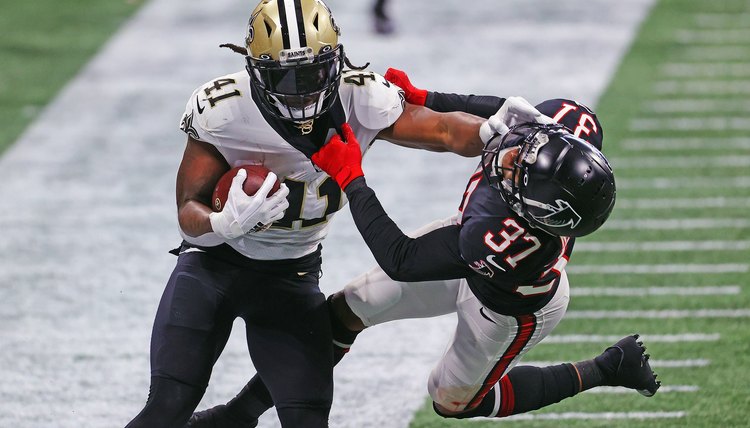 The position of running back is one that has undergone many evolutions. From the large bodied rushers of the 1940's to muscular speedsters like Barry Sanders and the pass catching hybrids of today, it's safe to say that the position has seen some change. With the passing game at a premium, less and less running backs are being taken in the first round of the NFL Draft. But safe to say, there are still some generation players in the backfield for many college football teams. The NFL has huge stars like Ezekiel Elliot, Alvin Kamara and more. So let's take a look at the best running backs in the NFL, College football, and of all time.
Who is the best returning RBs in college football in 2022?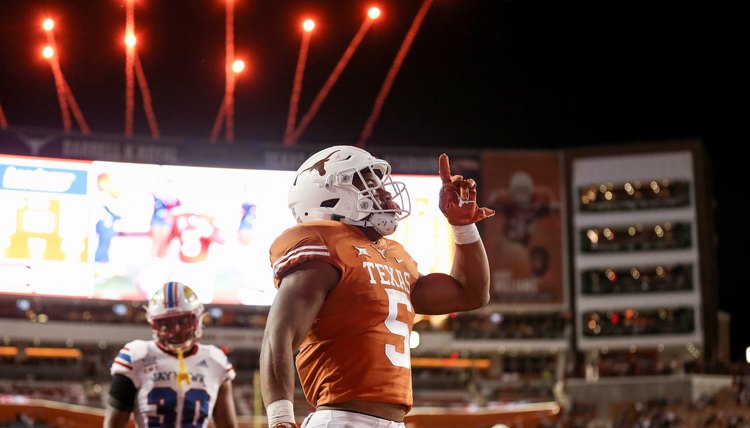 The NCAA FBS is a great place for running backs to make a name for themselves, from former Big Ten running backs like Larry Johnson and Mike Alstott to former Pac-12 running backs like the Trojans and former Heisman Trophy winner Reggie Bush and even UCLA's Jackie Robinson (who would make a big name in the MLB). Let's take a look at the rankings for the top five running backs in the NCAA for the 2022 season.
5. Tank Bigsby - Auburn Tigers (2021 rush stats: 223 rush, 1,099 yards, 10 touchdowns)
With over 200 rushes, Bigsby was obviously the workhorse for the Auburn Tigers. However, a shoddy offensive line kept him from his true potential. So much so that he entered the NCAA transfer portal in the offseason and received interest from teams like Georgia, Florida, Texas A&M and Oklahoma. Alas, the big 214 lb runner stayed in Auburn and will look to showcase his All-American potential.
4. Jahmyr Gibbs - Alabama Crimson Tide (2021 rush stats: 143 rush, 746 yards, 4 touchdowns)
Last year, Gibbs was the starting running back for Georgia Tech but found himself in the transfer portal after a second team All-American campaign. He saw interest from South Carolina, Wisconsin and more, but settled on Nick Saban's Tide. He contributed nearly 3k all-purpose yards in his two years at Tech and was a dynamic receiver, running back, and kick returner. He will be a huge asset to Bryce Young and the rest of the Bama offense.
3. Treveyon Henderson - Ohio State Buckeyes (2021 rush stats: 183 rush, 1,248 yards, 15 touchdowns)
The 2021 class's top rated running back by Pro Football Focus looked the part of an all-star running back last season. He recorded a program record 19 touchdowns by a running back in his freshman campaign and that was while sharing the ball with three big name wide receivers. He averaged nearly seven yards per carry and over 13 yards per catch, he is an explosive weapon and the sky's the limit for this young man.
2. Deuce Vaughn - Kansas State Wildcats (2021 Rush Stats: 235 rush, 1,404 yards, 18 TD)
Vaughn was one of the most electric players in college football. He was must see TV as the 5'6" 170 pound speedster earned nearly 2,000 all-purpose yards in one year. He rushed for over one hundred yards in nine games last season and had 120+ in eight of those. He led all power five running backs in 10+ yard plays with a jaw-dropping play fifty nine of them. He is sneaky, elusive, fast and mesmerizing as a wildcat.
1. Bijan Robinson - Texas Longhorns (2021 rush stats: 195 rush, 1,127 yds, 11 TD)
Robinson made a name for himself in 2021 without even playing a full season. He made people miss and broke tackles more than any other power five running back. He averaged over eight yards per carry in his freshman campaign and could do similar damage in an injury-free junior campaign. Many look at him as a Heisman candidate and potentially a major reason for the Longhorns to be contenders in the College Football Playoff.
What RBs were drafted in the 2022 NFL Draft?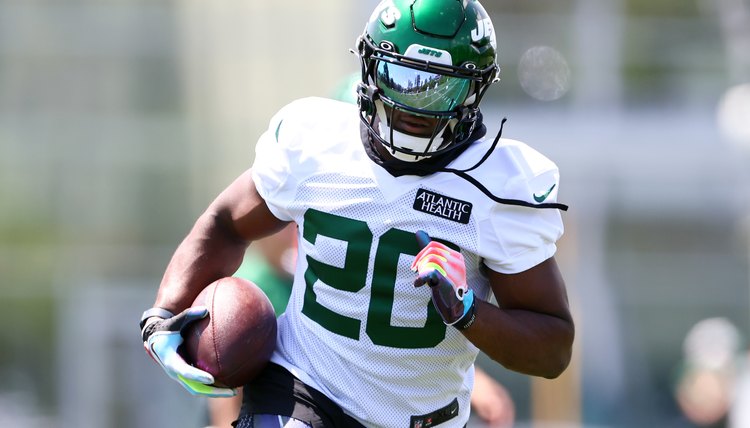 We saw a very rare NFL draft in 2022 with no running backs being taken in the first round, with a large number of defensive lineman, linebackers, and wide receivers being taken. But that doesn't mean that the talent wasn't there. Here are the top running backs who were taken in the NFL draft.
​Round 2, Pick 36:​ Breece Hall, Iowa State - New York Jets
​Round 2, Pick 41:​ Kenneth Walker, Michigan St. - Seattle Seahawks
​Round 2, Pick 63:​ James Cook, Georgia - Buffalo Bills
​Round 3, Pick 91:​ Rachaad White, Arizona St. - Tampa Bay Buccaneers
​Round 3 Pick 93:​ Tyrion Davis-Price, LSU - San Francisco 49ers
Who is the best Running Back in the NFL?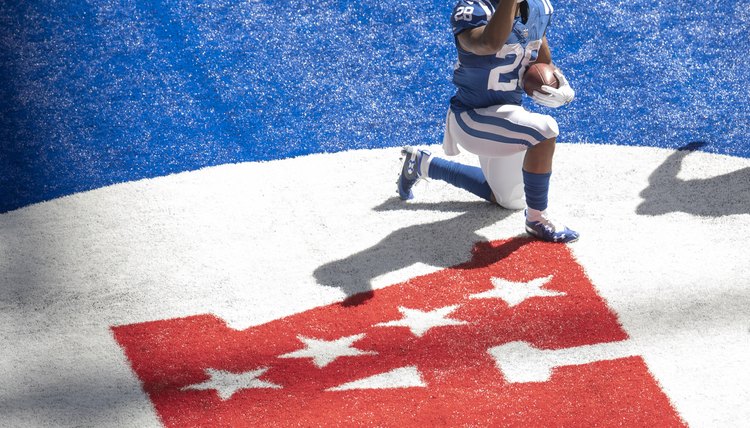 We saw some incredible performances from the best running backs in the NFL in 2022. We saw some star running backs suffer some injuries and others rise to the top tier of NFL running backs. With that being said, here are my top five running backs for 2022.
5. Alvin Kamara - New Orleans Saints (2021 Stats: 240 Attempts, 898 yards, 4 TDs)
Kamara may have had some disappointing numbers in 2021, especially considering his performances in years past, but it wasn't his fault. As the premier pass-catching RB in the NFL, his success relies on solid QB play and after the injury of starter Jameis Winston, solid QB was nowhere to be found in NOLA. He still put up 47 receptions and 437 receiving yards in 2021 and has been targeted nearly 30% of the time since 2017.
4. Dalvin Cook - Minnesota Vikings (2021 Stats: 249 Attempts, 1,159 yards, 6 TD's)
Cook has been one of the league's best in spite of the fact that he has never completed a full season. 2021 was no different as he was forced to miss time with multiple injuries. In spite of this, he was able to put up big numbers and snagged his third straight 1,000 yard season and averaged 89 rush yards per game. With new head coach Kevin O'Connel, it will be interesting to see if Cook will see more usage in 2022.
3. Derrick Henry - Tennessee Titans (2021 Stats: 219 Attempts, 917 yards, 10 TDs)
After being unstoppable for years, Henry's achilles heel proved to actually be his foot after a foot fracture kept him off the field for most of the season. He was on pace for 400+ touches before his injury and could have even topped his 2,141 yard 2020 campaign. He may not be an insane receiving threat but his prowess as just a running back is enough to instill fear into his opponents. If he keeps it up, he could be one of the best of all time.
2. Nick Chubb - Cleveland Browns (2021 Stats: 228 Attempts, 1,259 yards, 8 TDs)
Chubb makes splitting touches with another top fifteen running back look so easy, as he puts up amazing stats with Kareem Hunt in his back field. He is an absolute bully as he leads in yards after contact per rush and missed tackles per rush. Like Dalvin Cook, he also collected his third straight 1,000 yard season in 2022. He will probably see more volume with the suspension of disgraced QB Deshaun Watson imminent.
1. Jonathan Taylor - Indianapolis Colts (2021 Stats: 332 Attempts, 1,811 yards, 18 TDs)
After an exciting rookie season, Taylor had a 2022 to remember as he won Offensive Player of the Year in his sophomore campaign. He led the NFL in rush attempts, yards and touchdowns and put up the fourth most all-purpose yards in the past ten years. He put Indianapolis on his back when now-traded QB Carson Wentz struggled and ran with both speed and power. With new QB Matt Ryan, he may be even scarier in 2022.
Who are the best running backs of all time?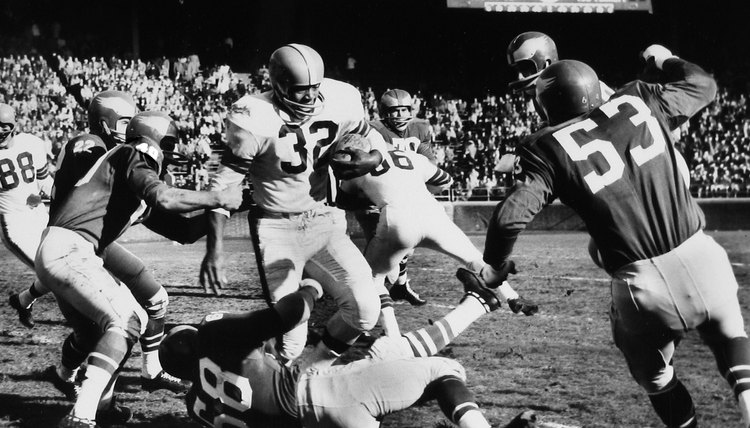 There have been so many talented running backs ever since the NFL started in the early 1900's. The position has evolved over time, thanks to the many talented athletes who played the position. These are the guys who changed the game forever with their performances. These are the top running backs of all time.
5. Ladainian Tomlinson - LA Chargers
​Rushing Yards: 13,684, Rushing TDs: 145​
LT was the best running back of the 2000's and it is undebatable. He was a threat to score on any carry and racked up the touchdowns like no other. His 162 total TD's ranks third among non-QB's. He also holds records for most rush TD's in a season with 28 touchdowns and most consecutive games with a rush TD with eighteen. His crowning achievement however, was his election to the Pro Football Hall of Fame.
4. Emmitt Smith - Dallas Cowboys
​Rushing Yards: 18,355 Rushing TDs: 164​
Smith is the best Cowboys RB for a franchise that has seen many hall of farmers run the ball. His ability to attack linebackers and rack up yards helped the Cowboys to three Super Bowl victories and earned him a Super Bowl MVP. Not to mention, he leads all RBs in career rush yards and touchdowns. He also holds records for most 100 yard games and seasons with at least 1,000 yards. He may not have been the most talented but lord he was consistent.
3. Walter Payton - Chicago Bears
​Rushing Yards: 16,726 Rushing TDs: 110​
"Sweetness" was known not only as a world-class running back but as a humanitarian as well, so much so that the Man of the Year award was renamed in his honor. On the field, he destroyed records and gained accolades. He was an MVP and a seven time all-pro running back and a Super Bowl champion. Payton was an all-around running back in a time when just running the ball was enough for most.
2. Barry Sanders - Detroit Lions
​Rushing Yards: 15,169 Rushing TDs: 99​
Sanders was the most electric running back to step on NFL grass in its storied history. He took home four rushing titles in his nine year career and retired at the height of his career. Whether it was because of the toughness of the position or the awfulness of the Lions, it was a shock to many who thought that the best may be yet to come. He made the Pro Bowl in every season he played and left many wondering What if?
1. Jim Brown - Cleveland Browns
​Rushing Yards: 12,312 Rushing TDs:106​
In an era where rushing the ball was all the rage, Jim Brown soared above the rest of his competition. He was an eight time all pro and a three-time NFL MVP, unheard of for a running back. He also holds the record for yards per carry with 5.2 and is the only running back to average over 100 rush yards per game. Like Sanders, his career was greatly shortened but the mark he left on the position will never be topped.
Writer Bio
Blaise is a Freshman at the University of Missouri, studying Journalism at the world-renowned J school. He is the host of the Fast Five Podcast with his Childhood friend Sam Sinclair and interns with the Sports AI platform Pine Sports. He is a huge fan of the Kansas City Chiefs and the St Louis. Cardinals and hopes to cover them professionally in his near future.