How to Heat Nordica Boots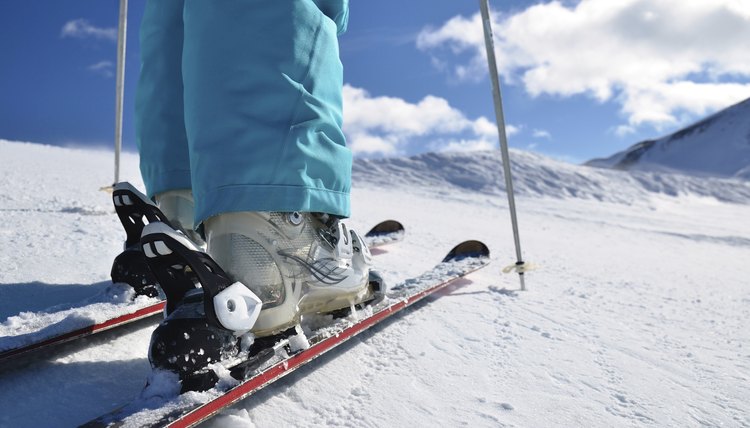 When you are wearing regular business shoes, a good fit is good enough. For ski boots, you need a perfect fit so that the boot will transfer every small movement of your legs to your skis without chafing or causing bruises. The reason for the price variation among Nordica boots is adjustability; the higher the price of the boots, the more you can fine tune fit and performance. Even the most adjustable boots, though, aren't designed to be worn off the shelf; first the liners may need to be fitted.
To Heat or Not to Heat
Nordica ski boots consist of a hard plastic shell and soft liners that insulate your feet and customize boot fit. The first type of liner, made of molded form, should not be heated; it can be adjusted with shims by a boot technician. The second type is therma-formable or self-adjusting liner, meaning that the heat of your feet as you ski softens the foam slightly and adjusts the way the boot fits. The third type of liner is heat-moldable; it should be heated and molded to your feet before use.
Hot Deals
Many stores offer free or discounted boot fitting along with new boot purchase. Professional boot fitters can craft footbeds, adjust canting and buckle placement and heat mold your boots for a perfect fit. The price of professional boot fitting covers multiple visits, so you can slope-test the boots and bring them back for additional adjustments. Usually, professional boot fitters will get a better result than you can manage at home.
Toasty Toes
Your heat-ready Nordica boots can be adjusted at home if necessary. Home heat molding starts with placing your removable boot liners on a baking tray in your oven at 250 degrees for 10 minutes to soften the foam. As your liners are baking, create toe caps using paper tissues and aluminum foil wrapped around your toes. Pull your ski socks over the toe caps, and then replace the heated liners in your boots. Put on your boots and stand with the boot toes elevated by one inch on a book or piece of wood for approximately 15 minutes until the foam hardens, and then leave the boots overnight for the foam to set.
References
Writer Bio
Carol Poster began writing professionally in 1974. Her articles have appeared in "Outdoor Woman," "Paddler," "Ski Magazine," "Women's Sports & Fitness," "Dance News," "Show Business," "The Athenian," "PC Resource" and "Utah Holiday," among other publications. Poster holds an M.F.A. in creative writing from Eastern Washington University, as well as a Ph.D. in English from the University of Missouri.