How Often Do Bodybuilders Work Out the Abs?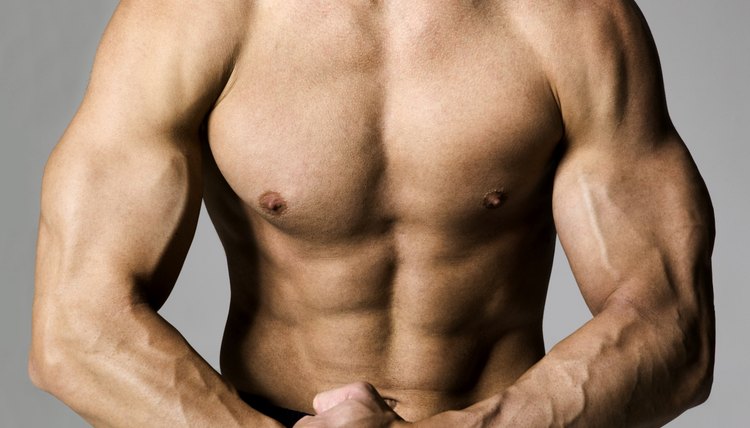 Muscle hypertrophy — or increasing the muscle cells' size — is the bodybuilder's goal. To accomplish that, he has to not only tear down the muscle by working it out, but allow enough rest time before working it again so the muscle cell can recover and increase. If you want to get the washboard, "six pack" abs of a bodybuilder, start by following some basic training rules.
Building Size
To achieve optimum hypertrophy for your ab muscles, you should work your abs every third day. With an aggressive workout, this will allow enough time for your ab muscles to increase in size during the recovery process.
The Routine
When a bodybuilder is putting on size during training, using heavier weight and more reps during workouts with the two-day rest period before working the abs again is an effective approach. If you're concentrating on building your abs, do them at the beginning of your workout so you can focus your energy on them instead of at the end of your routine, when you will be more tired and fatigued. Do three sets of three different ab exercises during one workout, but change up which three you do each time you hit the gym.
Cutting for the Meet
The frequency and the method for working your entire body, including your abs, will shift as a competition draws near. You'll want to maintain as much of the size that you gained during the growth phase of your training as you can. But your diet will change dramatically as you cut out most fats, sugars and carbs, leaving mostly protein to fuel your body. Your calories will be cut, too, so you'll be working off of less fuel. To maintain muscle mass and get the "ripped" look the judges are looking for, you'll begin working your abs more often — every other day — but you'll be using lighter weight and more reps. The three sets of three different exercises will still apply.
Work the Entire Muscle Group
Since the sought "six pack" of abs sits prominently front and center on your torso, many times the upper abdominals are the muscles that get the most attention during a workout. Your abs, however, are made up of more than just the uppers and include your lower and oblique abs, as well. Be sure to include an exercise for each of these groups every time you work abs. You'll be rewarded with a pleasing, balanced abdominal section that will complement your entire physique and testify to the hard work you've put in.
References
Matt Siaperas, bodybuilder and personal trainer; Hardbodies Gym; Blackfoot, Idaho
Resources
Bodybuilding Anatomy: Nick Evans
Writer Bio
Elle Di Jensen has been a writer and editor since 1990. She began working in the fitness industry in 1987, and her experience includes editing and publishing a workout manual. She has an extended family of pets, including special needs animals. Jensen attended Idaho and Boise State Universities. Her work has appeared in various print and online publications.