How to Determine Soccer Shoe Size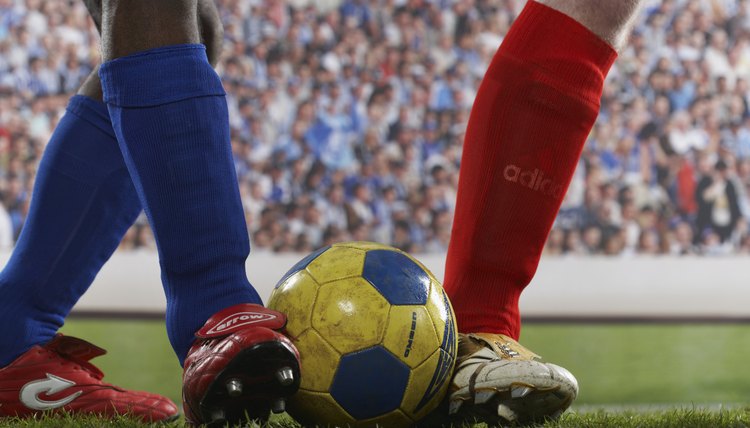 When you play a game that is all about fancy footwork, you want to make sure what's on your feet is going to let you do your thing in the most efficient manner possible. As a general rule, soccer shoes -- also called boots or cleats -- should fit snugly on your feet, giving you plenty of support while at the same time allowing for the speed and agility you need to play the game. And when you find the shoe that provides all these features, it's also important not to overlook the importance of comfort.
Determine where you will be playing soccer. Soccer cleats come in a number of cleat configurations, depending on the surface on which the game is being played. The "firm ground" shoe, typically with screw-in or permanent cleats, is the most versatile, and players can use it on a harder or softer outdoor surface. The "hard ground" shoe, meanwhile, is a shoe designed to be used on a hard field or artificial turf, and it comes with short blades or studded cleats. There's also the "soft ground" shoe, meant to be used on soft, muddy grounds, which typically comes with removable cleats. Finally, there are indoor shoes that come with a flat bottom, and turf shoes that come with a raised pattern on the bottom, meant to be used either indoors or on artificial turf. By looking at the surfaces where you will be playing, you should be able to narrow your shoe needs to one or two shoe types.
Measure the length of your foot. As a general rule, soccer shoes run a bit smaller and tighter than other shoes -- but that's for good reason. Soccer shoes are meant to fit snugly on the foot to provide the support and stability needed for this fast-action game. At a shoe store, place your foot into a measurement device, or simply use a ruler to measure the size of your foot from the tip of your big toe to the heel. You can also step on top of a measuring tape at home to take your own measurement. Soccer shoes go up by 1/3-inch increments; for example, a men's size 8 is a 10-inch shoe, a size 9 is a 10.33-inch shoe. For women, a size 7 is a 9.33-inch shoe, a size 8 is a 9.66-inch shoe. After you do the measurement, you may find that the size of your shoe corresponds to a smaller shoe size than you're used to. Keep an open mind and don't get hung up on sizes -- the idea is to get the best fit possible.
Measure the width of your foot at the widest point by stepping on a tape measure, or by placing your foot in the measurement device at a shoe store. This can be helpful even if you already know you have wide feet, since you may not know whether your foot is considered a 2E, also called "wide"; a 3E, also called "extra wide"; or a 4E, considered a "super-wide" foot. Once you have an idea of your foot's width in inches, you can use a chart such as the WideSoccerCleats.net "Shoe Size Guide" to determine the exact size and width you'll need for your soccer shoe.
Try on several pairs of shoes at a store specializing in soccer shoes or sporting goods. Put on a pair of socks that you'd wear on the field, and then pull the laces tightly as you would during play.
Walk around in the shoes and feel for any points of constriction or pressure. If you feel any of that in the first few minutes of wearing the shoe, move on to another size, style or brand.
Place your finger on the toe end of the shoe and push down. You should have about 1/4 to 1/2 inch of room at the toe, and the shoe should feel snug without being constricting.
Tips
If you have wide feet, adidas or Diadora shoes may be the better bets for you, as they are generally wider, according to Soccer-Academy.net.
Also consider the material as you choose the right soccer shoe for you. Calf leather and kangaroo leather are going to be the most form-fitting; they will eventually mold to your foot. If the shoe is a bit snug, these materials may eventually "give" more than synthetic materials.
Warnings
Some leagues do not allow certain types of cleats, so be sure to check with your league on any restrictions for the types of shoes you can wear.
References
Resources
Writer Bio
Nicole Vulcan has been a journalist since 1997, covering parenting and fitness for The Oregonian, careers for CareerAddict, and travel, gardening and fitness for Black Hills Woman and other publications. Vulcan holds a Bachelor of Arts in English and journalism from the University of Minnesota. She's also a lifelong athlete and is pursuing certification as a personal trainer.