What does fact checked mean?
At SportsRec, we strive to deliver objective content that is accurate and up-to-date. Our team periodically reviews articles in order to ensure content quality. The sources cited below consist of evidence from peer-reviewed journals, prominent medical organizations, academic associations, and government data.
The information contained on this site is for informational purposes only, and should not be used as a substitute for the advice of a professional health care provider. Please check with the appropriate physician regarding health questions and concerns. Although we strive to deliver accurate and up-to-date information, no guarantee to that effect is made.
Materials Used to Make Parachute Canopies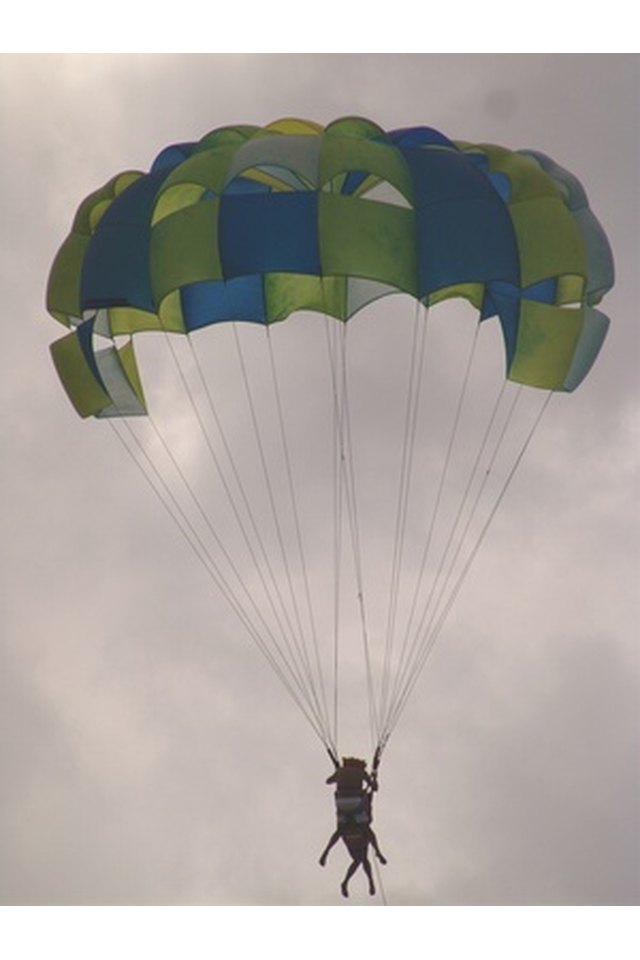 Parachutes are fabric canopies used to slow the rate of descent of people or objects making an un-powered descent from a height. Military parachutes are usually designed to exert less drag so the user falls to the ground as quickly as is safely possible. Sports and recreation parachutes can be more rigid, making them more maneuverable in flight and allowing the user to have more control over the rate of descent. Materials used to make parachutes must be able to withstand the strains that operation of parachute exerts on them.
Nylon
Parachute canopies have to withstand high wind pressures, especially when operating at altitude, and nylon is a common choice of material in the manufacture of canopies. Nylon is completely windproof and has the added benefits of being lightweight, readily sourced and inexpensive. The strength, flexibility and light weight of nylon also make it ideal as the material used in the straps of the parachute harness.
Kevlar
Some parachutes canopies are being made from a newer material, Kevlar. A major benefit of Kevlar is its extreme strength, which means it is used in the manufacture of bullet-proof clothing. Kevlar, like nylon, is a man-made fiber. It is highly resistant to heat, making it flame-resistant, and does not lose its strength and shape at high temperatures. Kevlar parachutes maintain their tensile strength well even when left folded for extended periods, as was found during tests done for the U.S. Department of Energy.
Silk
Early parachutes canopies were made of canvas, but silk was later utilized because it is thinner, better resistant to wind, resistant to fire and much easier to fold. Silk was used as early as the 1790s when parachute pioneer Jean-Pierre Blanchard began to make parachute canopies out of the fabric. Silk remained a popular material in parachute manufacture up until World War II, when silk imports became expensive and difficult to obtain, leading to the development of nylon parachute canopies
References
Writer Bio
Peter Lancett has been writing professionally for 10 years. He has five novels and a series of award-winning illustrated books currently distributed internationally. Lancett writes for film and television alongside his work for Demand Studios. He has traveled extensively and has lived in England and New Zealand.