How to Mount a Bike Lock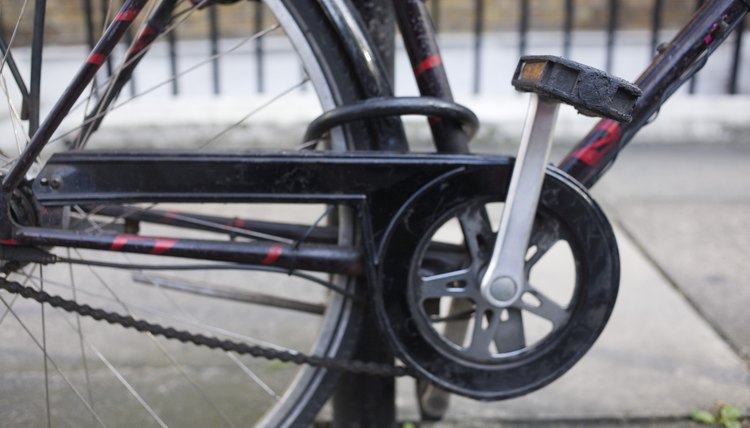 You can usually throw a bike chain in your backpack or handlebar-mounted basket. But for heavy U-locks -- essential for effective security -- it may be more convenient to find a mounting position on the bike frame itself. If you have a rear rack supported by struts, just affix the straight lock bar atop the rack and its U-shaped shackle on the outside of the struts on one side. Thread the two arms of the shackle between the rack's rail and plate, and lock the device in place. If the rattling of this arrangement on potholed streets bothers you, you can properly mount the lock on your bike frame.
Pick a Position
Figure out where you want to secure the bike lock. Your options include the top tube, seat tube and down tube, depending on preference and whether your water bottle cage has already staked a claim to one of these positions. The handlebars can hold block mount designs. You'll apply mounting hardware, often backed by rubber shims to protect the frame finish, to your chosen position.
Install the Bracket
Old-school bike lock mounts often consisted of a hinged clamp with finger-like projections or a cradle to grasp the shackle. Design innovations now offer a wide selection of mounts with ingenious and more secure features. Leading manufacturer Kryptonite, for example, provides a FlexFrame U-bracket, with a bracket body held in place by an adjustable webbing strap and tug block, tightened with a hex wrench. Thread the rubber shim on the webbing strap to start, and fine-tune the angle of the bracket body to keep it out of the way of your pedals. The U-lock snaps in with an audible click. Other manufacturers may have different instructions; consult your manual. For aftermarket products such as Twofish's Lockblocks and MegaBlocks -- designed to carry oversized U-locks, flashlights and the like, especially on mountain bikes -- fasten the hook-and-loop fasteners around the mounting block on the handlebars or top tube, and pull them snug.
References
Writer Bio
An award-winning writer and editor, Rogue Parrish has worked at the Washington Post, the Baltimore Sun and at newspapers from England to Alaska. This world adventurer and travel book author, who graduates summa cum laude in journalism from the University of Maryland, specializes in travel and food -- as well as sports and fitness. She's also a property manager and writes on DIY projects.