Overtime Rules for Basketball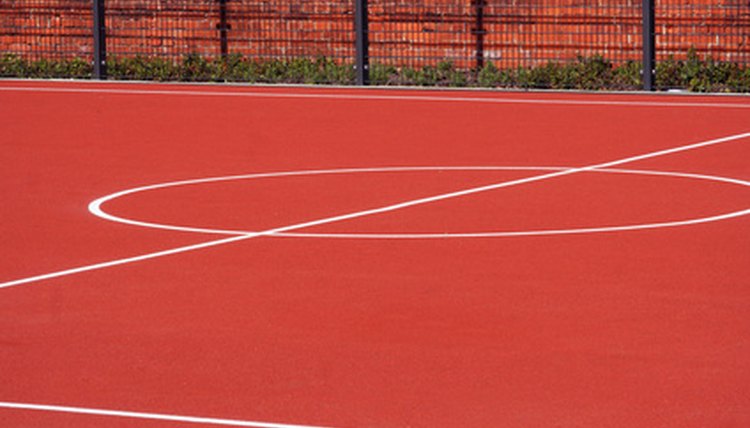 If a basketball game is tied at the end of regulation play, the ball will have to keep bouncing until someone gains an edge at the buzzer. The extra session is called overtime (or "OT" for short), and the rules regarding this aspect of the game vary by level of play -- whether it is the professional, college, international or high school game. That said, all overtime rules are the same for both male and female players.
NBA
The National Basketball Association holds five-minute overtime periods, regardless of how many OTs are played. The NBA consists of four 12-minute quarters, and allows for 130 seconds between the end of the fourth quarter and overtime, as well as between each overtime period. The most overtimes in an NBA game is six. That happened in 1951 in a game between the Indianapolis Olympians and Rochester Royals, which the Olympians won, 75-73.
NCAA
Unlike the NBA, college basketball uses two 20-minutes halves, as opposed to four quarters. However, all programs affiliated with the NCAA (Divisions I, II and III) play five-minute overtimes, just like in the pros. The Cincinnati and Bradley men's teams played seven overtimes in 1981 for the NCAA Division I record, with Bradley gaining a 91-90 victory.
High School
High school basketball uses four eight-minute quarters, with overtime typically lasting four minutes at the varsity level (freshman and junior varsity teams often play three-minute overtimes, although rules vary by state). According to Trivia Library, the record for overtimes in a high school game is 13. It took place in North Carolina in 1964, with Boone Trail edging Angier, 56-54.
Olympics
Olympic and most international pro teams follow the NBA's lead and use five-minute overtime periods (following four 10-minute quarters). No Olympic basketball game, men's or women's, has ever exceeded three overtimes.
Other OT Rules
Player fouls are carried over from regulation into overtime. In other words, if a high school player has four fouls headed into OT, then picks up another foul, he is disqualified. Also, overtimes at all levels begin with a jump ball at center court, just as at the beginning of the game. One extra full timeout per OT is provided in Olympic play, compared to three for the NBA. Meanwhile, the NCAA awards one 30-second timeout per OT, as well as any unused 30-second timeouts from the second half.
References
Writer Bio
Sam Amico is a reporter for NBA.com and worked as a writer and editor at daily newspapers for more than a decade, covering everything from rock concerts to college football to courts and crime. He attended Kent State University and is the author of the book, "A Basketball Summer." He also is the co-host of a nationally-syndicated television show, "The Wine & Gold Zone."