How to Paint a Ski Helmet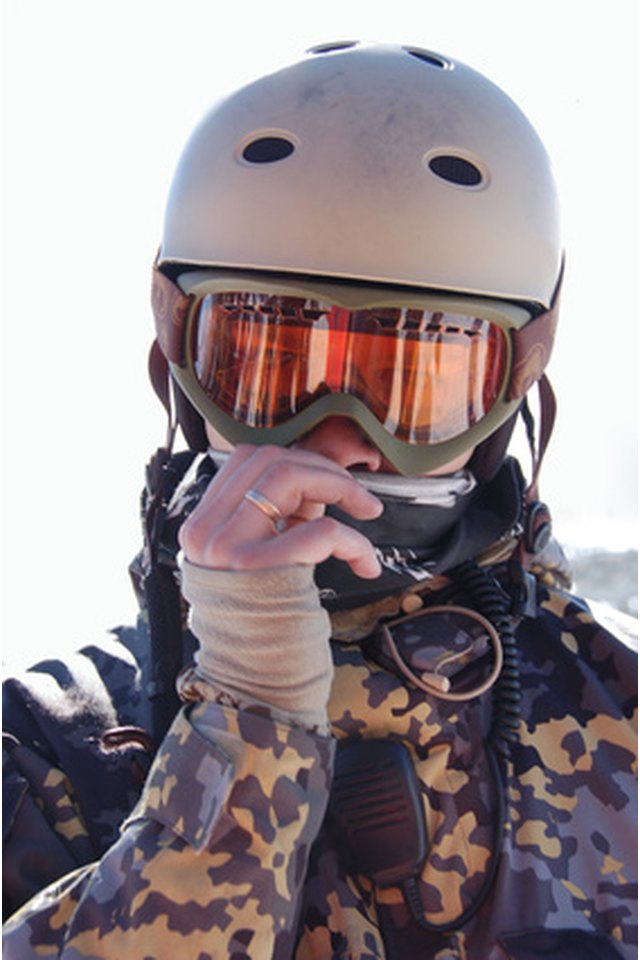 Ski helmets are an important piece of protective gear for skiers of all ages, but that doesn't mean they have to have a dull design. If you have a ski helmet that looks too plain for your style, or have an old helmet that is scratched or faded, you can give the helmet a new design to fit your style. Your helmet can be painted one solid color or contain stripes or more elaborate designs, depending on your artistic touch.
Dab some grease remover on a rag and thoroughly wipe the helmet to remove any grease marks.
Rub the entire helmet using a light scouring pad to rough the existing paint enough for the primer to stick to it.
Tape any areas with masking tape that you do not wish to paint. These areas include the visor and any hardware on the helmet.
Prime the helmet with one coat of primer. It is best to use a spray primer to ensure an even coat. Apply a second coat of primer, if necessary.
Sand any drips of primer with fine-grit sandpaper once the primer has dried.
Paint the helmet with its base color of paint, using either spray paint or traditional paint with a brush. Let the coat of paint dry and add a second and third coat, if necessary.
Tape any areas of the helmet to create lines, if you wish to add a design to the helmet. Once the tape is firmly in place, paint between strips of tape in a different color to create a stripe. If you wish to draw any accents or designs on the helmet freehand, do it after the base coats of paint are dry.
Spray the helmet with a glossy clear coat to give it a shine once the paint is completely dry. When the clear coat dries, the helmet is finished.
Tips
Paint the helmet outdoors in a windless area and wear a dust mask to avoid inhaling paint fumes.
Tips
Paint the helmet outdoors in a windless area and wear a dust mask to avoid inhaling paint fumes.
Writer Bio
Toronto-based journalist William McCoy has been writing since 1997, specializing in topics such as sports, nutrition and health. He serves as the Studio's sports and recreation section expert. McCoy is a journalism graduate of Ryerson University.