Position Vs. Projection in Radiography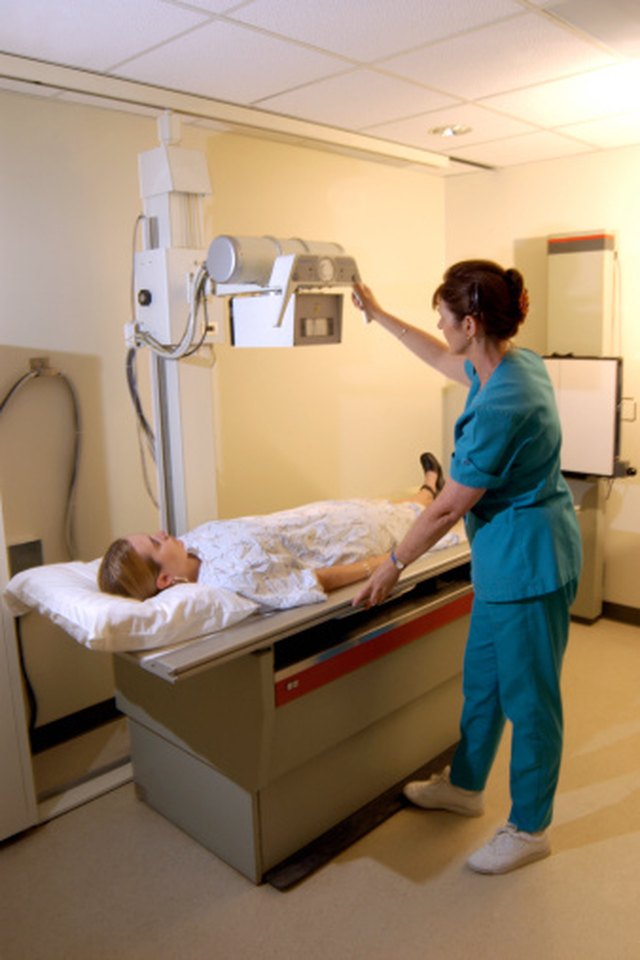 Radiography is a diagnostic procedure that uses X-rays to produce pictures of internal body structures. It is used to detect disease, foreign objects and structural damage or abnormalities. Position and projection are two common radiology terms.
Fundamentals
X-ray images are produced using an X-ray tube and an image receptor consisting of either a film cassette or an image intensifier. An X-ray beam generated by the tube is directed through the body part of interest and onto a film cassette or intensifier positioned under or behind the patient, where the image is created.
Position Vs. Projection
Radiographic positioning describes the body placement of the patient in addition to the body part closest to the image receptor. For example, a right lateral position indicates that the patient is on his side and that the right side is closest to the X-ray film. Radiographic projection describes where the X-ray beam enters and exits the patient, such as through the front and out the back of the body.
Types
Patients receiving X-rays are positioned either upright or lying down on their back, belly or side. Basic radiographic projections include anteroposterior, where the X-ray beam enters the front of the body and exits through the back; posteroanterior, where it enters the back and exits the front; lateral projections, or side views; and oblique projections where the body is positioned at a 45-degree angle relative to the film.
References
Resources
Writer Bio
Cynthia Ruscitto has been writing professionally since 2005. Her work has appeared on numerous health and anti-aging websites and blogs, such as WorldHealth, a site representing the American Academy of Anti-Aging Medicine. Ruscitto holds a Bachelor of Science in medical technology, and is a former clinical microbiologist and certified secondary education science teacher.