How Do You Become A NFL Punter? Plus, Best All Time NFL Punters
Punters are by far one of the most unappreciated positions on the football field. It's very rare that a punter is a household name and is known for his special teams performance. It's very rare to see prospective football players strive to be an NFL punter over positions like wide receiver, tight end or running back but some kids find themselves wanting to play the position. Even with fewer people wanting to be the punter, there's still intense competition for these positions in the NFL, with only 32 being active in the league on any given Sunday. Here is how to be an NFL punter and who the best punters of all time are.
How do you become an NFL punter?
SportsRec
1. Play football
To start punting, it's best to get the fundamentals of football down first. While youth leagues such as flag football and Pop Warner are good areas to learn teamwork and basic skills, punting is not among them. A middle school football program teaches the basics of punting, providing children with a sense of the game. During middle school football, learn the fundamentals and begin working on strength.
2. Learn to punt and gain leg strength
When it's time for high school ball, it's time to get to work learning to punt. A high school program provides advanced techniques in controlling the spin of a punted football, its placement and hang time (how long it's in the air) for the punter to practice. Punters should also practice hitting certain yard lines to improve accuracy. Be sure to use weight sessions to work on leg strength and become a bigger player.
3. Learn punting strategy
Having a big leg is cool and all but strategy is where punters make their money. Punters will need to learn how to pin the ball just before the end zone to prevent touchbacks. Punters will also need to learn where to punt to minimize touchdowns based on current field position and when to just go for the sideline.
4. Practicing Punting
It sounds like common sense, but the punter position requires a lot of practice. A punter needs to be able to control hang time, distance, angle, placement, snap counts and spin. The more hours a punter puts in practicing, the more control he will have over a punt and the subsequent return, if any, by the opposing team. Guys like Pat McAfee and Dustin Colquitt were known for their intense offseason punting practices and training camp workouts. It also helps to practice being a kicker by attempting field goals and kickoffs. This versatility could be helpful if you are forced to move to placekicker due to injury/fit.
5. Becoming an NFL Punter
The next step from playing high school is college football. It is rare to see NCAA punters be drafted with a first round pick or even drafted at all. Only four punters, including San Diego State's "Punt God" Matt Araiza, were selected in the 2022 NFL draft and most were late round selections. If you're not a draft pick of an NFL football team, you're still able to make a team in the NFL as a free agent. Open tryouts, when scheduled, allow people to compete against professionals for a spot on the team. Punters, however, are less likely to be invited to open tryouts than other positions like quarterbacks and linemen.
6. Submitting tape to NFL teams
If you want to try out for a team, a tape showing game footage from high school or college will help. A skills display on a field showing various techniques will allow NFL scouts to see your abilities. If successful, this puts you on a list of tryouts if a team's punter becomes injured or performs poorly during the regular season.
Who are the best punters of all time?
5. Pat McAfee
SportsRec
Now a media mogul with a highly successful podcast, McAfee made a name for himself as the Colts long time punter. McAfee is a two time pro bowler and had first-team All-NFL honors as well. He even was a member of Super Bowl XLIV but lost to the New Orleans Saints. While his career wasn't insanely prestigious, the spotlight he drew on the punter position during his career has helped seen the position become more recognized in the modern NFL.
4. Sammy Baugh
SportsRec
A three in one football player, Baugh was also a punter and a quarterback during his playing career. He at one point led the league in pass yards, interceptions caught, and punting yards. His record punting average of 51.4 in 1941 is something modern punters can only dream of achieving. He is one of few punters to be elected into the Pro Football Hall of Fame, one of many accolades he has achieved.
3. Johnny Hekker
SportsRec
The only current NFL player on the list, Hekker currently plays for the Los Angeles Rams. He has made an All-Pro team six times in his career and last season won Super Bowl LIII over the Bengals. His punt of 65 yards in that Super Bowl was the longest punt in Super Bowl history. Hekker has a chance to move up the rankings but for right now he is number three.
2. Shane Lechler
SportsRec
Former member of the Raiders and Texans, Lechler is the best punter of the NFL's modern era. Lechler was actually one of two kickers to be chosen for the NFL 100 team, which highlighted the best players of the NFL's first 100 years. Lechler was a nine time all-pro and a seven time pro bowler. He also led the league in punting yards and average in many of his eighteen seasons. He is sure to be a Hall of Famer when he becomes eligible.
1. Ray Guy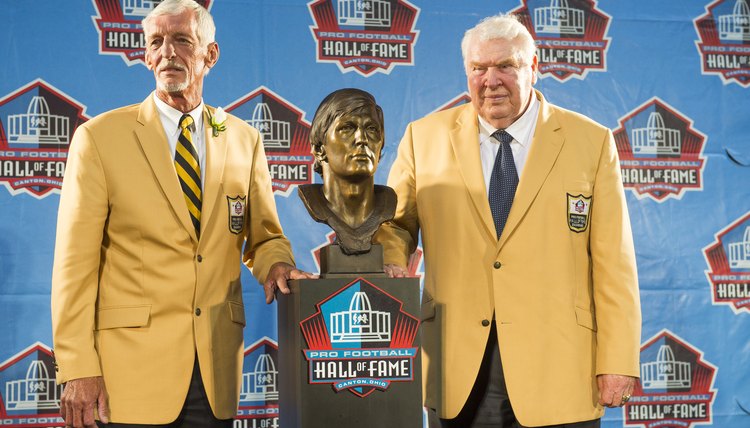 SportsRec
Another Raiders legend, Guy is the certified GOAT of his position. He was the other member of the NFL 100 team and was voted to seven pro bowls. Guy was the first sole punter to be elected to the Pro Football Hall of Fame and was considered the first star punter. He owns a record 111 punts in the postseason and is the namesake of the award given to the best College punter, which Matt Araiza won last year.
Tips
Don't get discouraged. Making the NFL is very difficult. Other leagues such as the Canadian Football League are available to make a career out of playing football.
Writer Bio
Shannon Webster is a professional writer based in Hagerstown, Md. She has worked with the U.S. Air Force and several state governments since beginning her career in 2001. Webster currently serves as a writer with Decoded Science, specializing in cognitive and social sciences.