Roles & Responsibilities of a Basketball Referee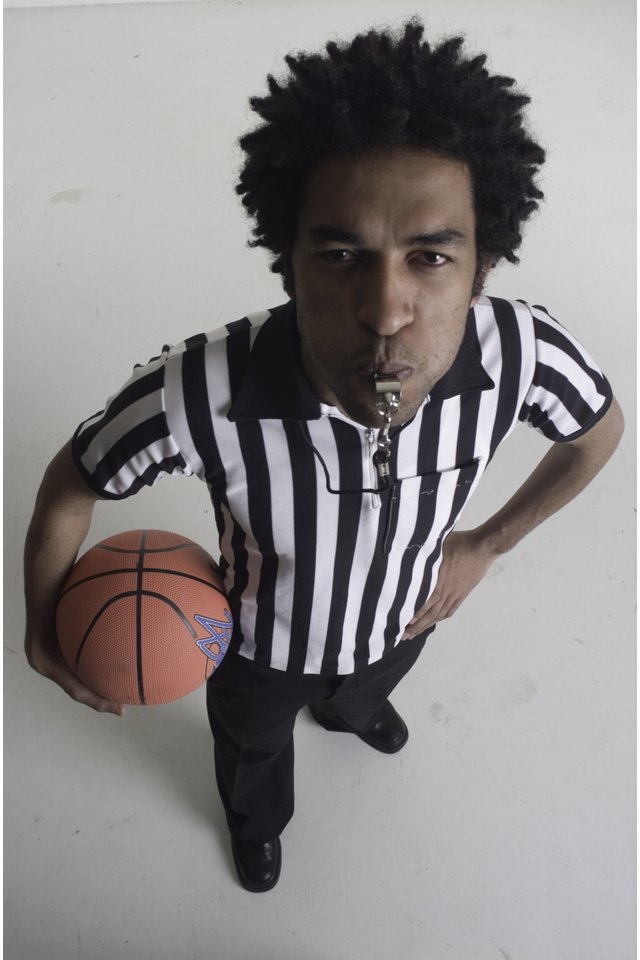 The whistle blows again. The coach, red-faced with rage and arms flailing, stomps toward center court. A crescendo of boos rises from the crowd. The basketball referee has done his job, making a decision to enforce the rules of the game and ensure player safety, even if it draws the ire of coaches and fans.
Enforce Rules
A basketball official is expected to be an objective enforcer of league rules. When an infraction is committed, the referee will stop play by blowing her whistle and penalize the team that violated the rule. Common rule violations include committing fouls, dribbling infractions and losing the ball out of bounds. The penalties for rule violations vary, but most often involve a loss of possession, or free throws being awarded to the other team.
Maintain Order
By making decisive and fair calls, the referees attempt to make sure that the game is played in a sportsmanlike manner. Even so, a purposefully hard foul or a player engaging in excessive trash talk can turn a basketball game into an all-out brawl. If an athlete continues to display poor sportsmanship, he might be assessed a technical foul by the referee. At the professional level, two technical fouls in a game leads to a participant's ejection.
Game Flow
A basketball referee is responsible for keeping the game moving. When a player or coach calls for a timeout, the official must acknowledge it and order the clock to stop. The official will keep track of the length of the timeout and restart play when the timeout has expired. To avoid unnecessary game stoppages, referees also regulate when teams can substitute players.
Player Safety
Basketball players often wear a variety of braces and guards. Referees make sure that none of these items pose a threat to player safety. All accessories must be free of sharp or protruding edges. Metallic or gemstone jewelry of any kind is prohibited. If a player is bleeding, officials will immediately remove that player from the game. The injured player can return after a cut has been properly dressed and the bleeding contained.
Writer Bio
Simon Pratt is a science writer based in Philadelphia. He specializes in the theory of evolution, particularly as it applies to humans. Pratt holds a Bachelor of Arts in physical anthropology from Temple University.