How Does a Little League Team Make it to the Little League World Series?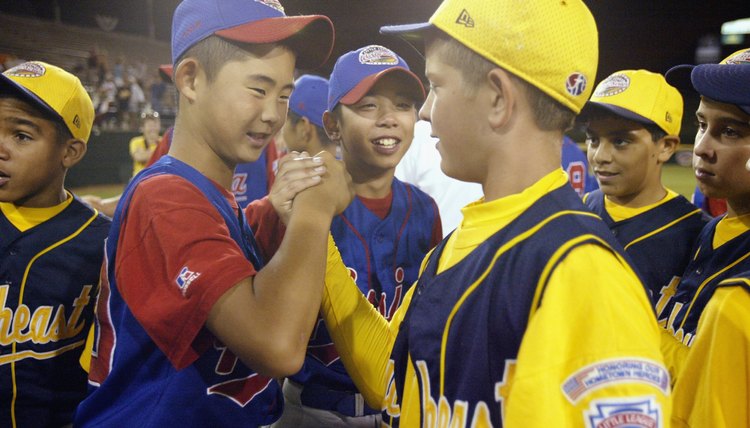 The Little League World Series, or LLWS, is one of the biggest sports events in the world. It airs on ESPN and features international teams from regions like Asia-Pacific, Australia, Europe, Africa, Latin America and more. This double elimination tournament has even seen some little leaguers blossom into Major League Baseball, or MLB, players. Now whether you're from Curacao, Davenport, or Honolulu, Hawaii, putting your little league team into the Little League World Series Championship tournament is hard. But this feat is not impossible. Here's how you can take your team of 12 year old baseball players to Lamade Stadium in Williamsport, Pennsylvania.
The Basics
Many children play organized baseball every year. They get uniforms, have coaches and managers and they keep score. Results may be published in local newspapers or on online. Many parents believe their sons or daughters are playing Little League Baseball. Little League is actually a specific brand of youth baseball. Unless your child is playing in a game sanctioned by Little League Baseball, your son is in a different organized league. The teams that play in the Little League World Series every year are in leagues sponsored by Little League Baseball. Other leagues may have teams that are as good or better than Little League Baseball, but they are not eligible to play in the tournament.
The Path to the Little League World Series for U.S. teams
Each community with a Little League Baseball program conducts a championship. As the season comes to a conclusion, the managers and coaches in the league select an All-Star team from the best players. Those players come together and form a team that can play in a district tournament. A district will consist of 10 to 20 leagues in a given geographic area. The district conducts a tournament and the winner of that tournament will go on to play in a regional tournament. Those regions are determined by geography. There are ten regions in the United States:
Great Lakes (Michigan, Illinois, Indiana, Ohio, Kentucky)
Metro: (New York, New Jersey, Connecticut, Rhode Island)
Mid-Atlantic: (Pennsylvania, Delaware, Maryland, Washington D.C.)
Midwest: (North Dakota, South Dakota, Nebraska, Kansas, Iowa, Missouri, Wisconsin)
Mountain: (Nevada, Utah, Wyoming, Montana)
New England: (Massachusetts, Maine, New Hampshire, Vermont)
Northwest: (Washington, Oregon, Idaho, Alaska)
Southeast: (Georgia, Florida, Alabama, Tennessee, N. Carolina, S. Carolina, Virginia, West Virginia)
Southwest: (Texas, Arkansas, Oklahoma, Louisiana, Mississippi, Colorado, New Mexico)
West: (California, Arizona, Hawaii)
Each of those five winners goes on to the Little League World Series in Williamsport, Pennsylvania. There the regional winners compete and the U.S. champion competes with the international champion to determine the Little League World Series Champion.
How do International teams make it to the Little League World Series?
Each country has their own way of selecting a Little League team to compete in the international bracket. For example, Canada splits their country into six regions and does a tournament based on the winners in those regions. Then these teams are split into geographical regions. For example, Japan and Chinese Taipei play in the Asia-Pacific Region and Venezuela and Panama play in the Latin America region. These regional winners advance to the international bracket where the top two teams play in the International final to face the U.S. Champion.
How Little League Started and Grew
SportsRec
Little League Baseball was the idea of Williamsport, Pennsylvania, resident Carl Stortz in 1939. Stortz came up with rules and found sponsors, and other Pennsylvania communities followed his model. By 1946, there were 12 Little League Baseball programs in Pennsylvania. The following year, the league expanded outside of Pennsylvania and the first Little League World Series was held. It was won by a team from Williamsport. The league expanded outside of the country in 1951. It was televised nationally for the first time in 1953 by CBS. Monterrey, Mexico, became the first non-U.S. team to win the championship game in 1957. Little League celebrated its 50th World Series in 1996 and it was marked by Taiwan winning its 17th championship.
Writer Bio
Steve Silverman is an award-winning writer, covering sports since 1980. Silverman authored The Minnesota Vikings: The Good, The Bad and The Ugly and Who's Better, Who's Best in Football -- The Top 60 Players of All-Time, among others, and placed in the Pro Football Writers of America awards three times. Silverman holds a Master of Science in journalism from the Medill School of Journalism.