The Average Speed of an Ironman Bike Race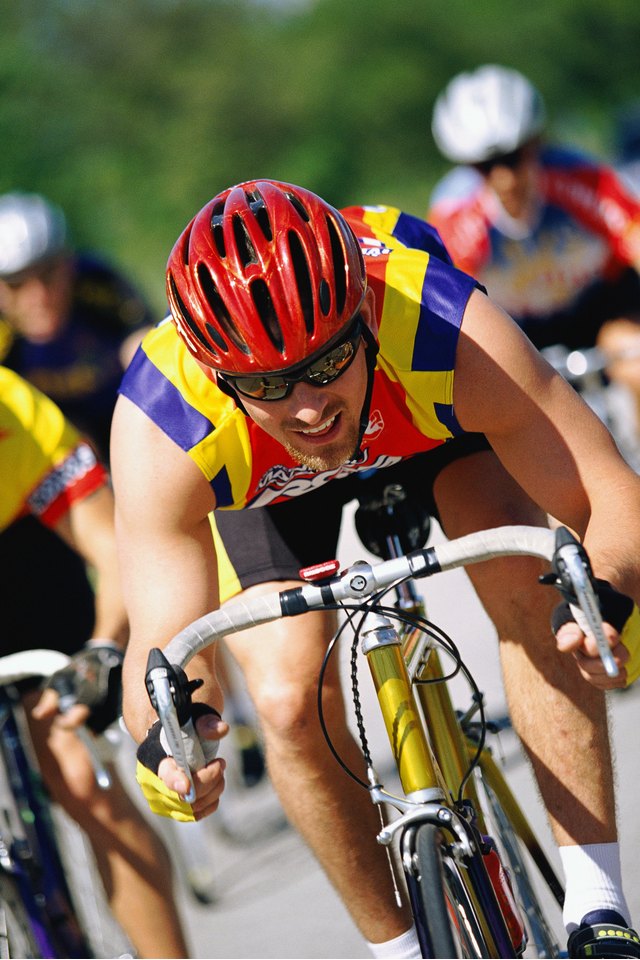 Biking is only a part of the Ironman racing experience, but it is the place where the race can be won, asserts coach Matt Fitzgerald. This grueling triathlon distance consists of a 2.4-mile swim, a 112-mile ride and a 26.2-mile run. Ironman pros post bike splits as fast as four hours and 15 seconds -- a more than 26 mph average pace, which gets all the press. You may wonder how more average mortals perform on the bike portion of the course so you can gauge your training and potential race-day performance.
Average Time
The online non-profit resource Run Tri lists the average Ironman bike time as 6:25, or approximately 17.3 mph. This average includes both male and female athletes. This is about 50 percent of your total racing time, with the swim taking an average of 1:16, or 10 percent, and the run 4:54, or 40 percent.
A Variety of Courses
Dozens of Ironman triathlons are raced across the world, in venues in locations including Canada, Austria, Hawaii, Idaho, Kansas, Mexico, Denmark, Australia, New York and Kentucky. The average bike time for each race may differ from the overall average due to weather conditions and terrain. For example, the bike split average at a race in Germany is just 5:42, while the average split for the most difficult U.K. and St. George, Utah, courses is 7:02. Lanzarote, in Spain, also offers a very tough course with an average split time of 6:59. The quality of the athletes attracted to these courses can bring down or raise the average cycling time. All of these splits are an average of male and female triathlete times.
Age and Gender
The average bike time for an Ironman also depends on your age and gender. Women post slower bike splits than men of equal caliber, and older athletes, on average, tend to be slower as well. This is true for elite riders and age-group athletes. For example, at the South Africa 2011 Ironman, professional triathlete Marino Vanhoenacker of Belgium posted a 4:18 bike split -- the fastest of the day -- while the fastest woman was Chrissie Wellington of the USA with a split of 4:45. For age, compare the results from two age groups at the Lake Placid 2013 Ironman in which the fastest bike split in the male 25-to-29-year-old bracket was 5:06 and the fastest bike split in the 60-to-64-year-old bracket was 5:54. Highly competitive and competent athletes in all divisions exist, however.
Training for Your Best Performance
Training to race an Ironman requires a lot of time on the bike. This isn't just because you have to cover 112 miles, but because you have to cover 112 miles and still feel fresh enough to complete a full marathon. Aiming for an average or above-average bike split without saving some energy for the run to come is a mistake that usually leads to a sub par performance. Instead of fixating on where you stand in terms of the rankings, race according to your ability and training so you can finish strongly.
References
Writer Bio
Andrea Cespedes is a professionally trained chef who has focused studies in nutrition. With more than 20 years of experience in the fitness industry, she coaches cycling and running and teaches Pilates and yoga. She is an American Council on Exercise-certified personal trainer, RYT-200 and has degrees from Princeton and Columbia University.