What Is the Supercross Pit Pass Like?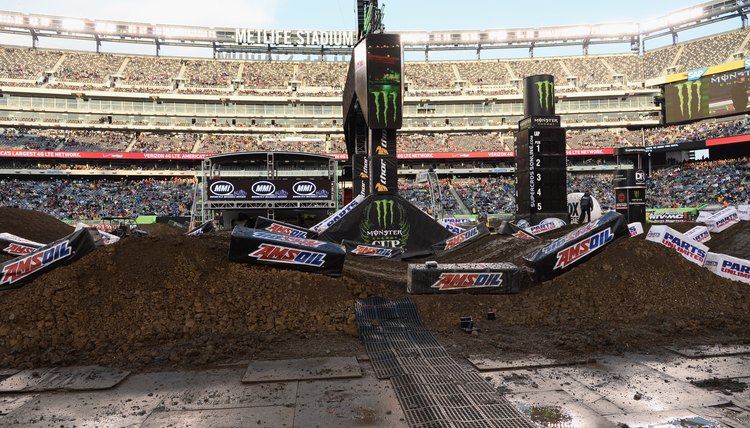 A Supercross pit pass allows you to expand the racing experience by walking among the riders, mechanics and motorcycles before a race. Many first-time visitors to the pits find the prerace preparations provide insight into the intensity and professionalism that typifies Supercross competition. Some fans plan the day to spend as much time as possible in the pits.
Purchasing
Once you purchase an admission ticket to the event, you are eligible to purchase a pit pass. Depending on the race promoter or promotional entity, tickets and passes might be available ahead of time online or through a ticket agency. Some race grounds set up a pit pass booth at the pit gate and others have passes available where you purchase admission tickets. As a first-time pit enthusiast, you should plan on obtaining your pit pass at the earliest possible availability. In most cases, the ticket vendor will provide the necessary information and direct you accordingly.
Displaying Your Pass
Your pit pass includes the name of the event, the particular venue and the dates the pass is valid. For example, a pass for the Monster Energy Motocross at Sam Boyd Stadium in Las Vegas or the AMA Supercross at Angel Stadium in Anaheim, Calif, will display this information and the date of the event on the pass. While the graphics and font used on Supercross tickets and pit passes change in design every year, displaying the pass on a special clip or a lanyard allows pit security personnel to easily verify your pit pass.
Pit Pass Perks
As a pit pass holder, you have full access to the pits during practice sessions. Supercross pits open and close at specific times that typically vary with each venue. Some venues offer all-day and all-night passes for races where extensive practice sessions take place on successive days leading up to the race. Most Supercross races are held under the lights in the early evening, and the pits usually close two hours before race time. This allows pit crews and riders to finalize race preparations without interruption. Although most are receptive and courteous to visitors, Supercross racing is serious business and, as a visitor, you should appreciate this when advised the pits are closing.
Socializing
If you have the means and enthusiasm to attend several races during a season, it's likely you will develop social acquaintances each time you visit the pits. Most mechanics enjoy discussions with everyday riders and those who pose pertinent questions. Overall, you might find riders hang together with peers and prefer spontaneous wit instead of discussions about the course or their motorcycle. With regard to other visitors, it's not uncommon for one or more of the regulars to recognize you after several races and offer greetings along with a soft drink or coffee.
References
Writer Bio
William Machin began work in construction at the age of 15, while still in high school. In 35 years, he's gained expertise in all phases of residential construction, retrofit and remodeling. His hobbies include horses, motorcycles, road racing and sport fishing. He studied architecture at Taft Junior College.