Training to Swim a Quarter Mile in One Week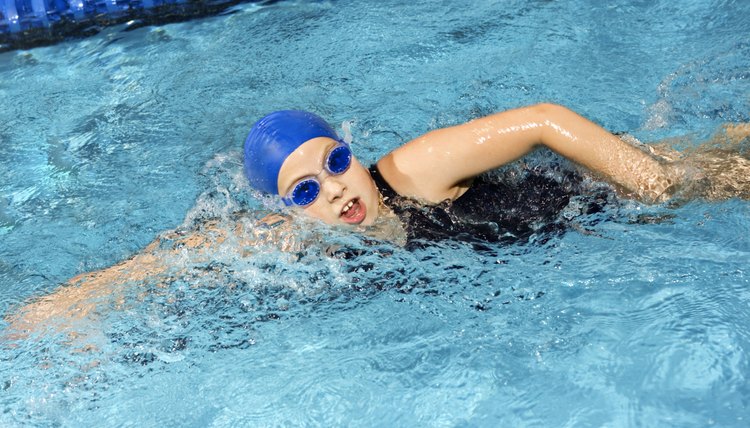 To log a thorough aerobic workout without breaking a noticeable sweat, try jumping in the water. Swimming works your entire body with minimal impact to your joints. It also burns calories and can increase your metabolism. If you're brand new to swimming or haven't been in the pool for a while, a reasonable initial goal might be to swim a quarter mile without stopping. Meeting this goal within a week is do-able, as long as you're comfortable with your basic ability to swim freestyle or breast stroke.
Days 1 and 2: Train Easy
A quarter mile is equivalent to 400 meters, which equals eight laps in a typical 25-meter lap pool. Start your training week by warming up with the 4 x 25-meter swim: an easy workout in which you swim a half lap (25 meters) at a slow pace and rest for one minute between each lap. After four sets of this drill, continue with a 4 x 50-meter swim, which is the same as your first set, but twice the distance. After four sets, repeat your warm-up set of half laps. Repeat this workout on Day 2.
Days 3 to 6: Incorporate Rest
Take a break from swimming on Day 3, but plan time for stretching exercises that work your arms, back and legs. Begin Day 4 with one set each of the same 4 x 25 and 4 x 50 drills that you used on Days 1 and 2, resting for one minute in between each set. For your final set, swim a 2 x 100, which is two sets of 100 meters. Cool down by swimming an easy 50 meters. Repeat these drills on Day 5 and rest on Day 6.
Day 7: Swim a Quarter Mile
After Day 6, you should feel rested and ready for your quarter-mile swim on Day 7. Start with a steady pace and relaxed breathing. Breathe as often as you need to, but try to maintain an even rhythm, breathing every three or four strokes, perhaps. If necessary, move to one breath per stroke. Throughout your swim, focus on staying relaxed in the water. This will allow the maximum use of your energy and will help you to complete your workout more efficiently.
Safety
Swim in a pool which employs certified lifeguards and uses basic safety precautions. Don't push yourself beyond your ability level, especially when just beginning. If you feel too tired or breathless, give yourself permission to rest. Outside the pool, pay attention to how much water you are drinking. Proper hydration is just as necessary for a swimmer as it is for any other athlete.
References
Developing Swimmers; Michael Brooks
Writer Bio
Kristin Henderson began writing professionally in 2005 as a legislative correspondent and policy researcher at the U.S. House of Representatives. Her background also includes technical writing and sports/fitness research. She earned a Bachelor of Arts in government from Patrick Henry College.