How to Be a Water Boy for the NFL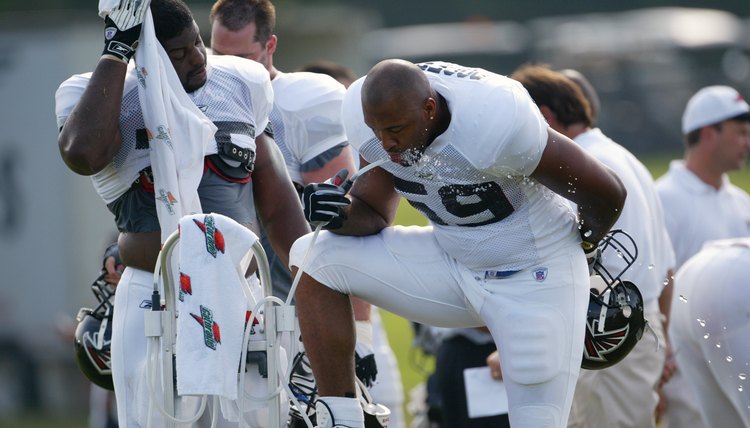 A National Football League Water Boy or Water Girl is most often a budding athletic trainer. Training professional athletes is a fascinating career and far more challenging than hydrating top athletes.
The key to joining an NFL team as an athletic trainer is through the Professional Football Athletic Trainers Society (PFATS). They offer scholarships and ​internships​ with each football team through training camp.
The other key to gain a water boy job with an NFL team is to know someone on the team.
Know someone on the team
At some point, there was an AMA by a self-described NFL Water boy. Their key method to attain the position: ​knowing someone on the team​.
"Five years ago a friend that worked at the stadium near me told me that they had an open position for the job. Luckily it's not something that is incredibly advertised, so I figured I would give it a shot since I just got out of college."
How much does a NFL water boy get paid?
That same AMA mentions the pay is "pretty well, so there are some people that only work for the NFL, although most of them do other jobs for the team as well." For this person, there was no athletic training tasks, rather, they were responsible for moving equipment.
For athletic trainers, the salary has a wide range between $30,000 and $100,000. Perhaps why some sites sport an outdated water boy salary as $53,000 per year.
As of July 2022, the average hourly wage in leisure and hospitality is about $20 according to the Bureau of Labor Statistics. I checked the salary websites that use ADP wage data for a few teams, for example, the average yearly wage in Las Vegas was $33,000, and in Miami the estimate was $41,000. Using the government and team provided salary information, the SportsRec estimate for an NFL Waterboy salary is $20 per hour or $41,200 per year.
Why You Should Consider Becoming an Athletic Trainer
Throughout my career ​athletic trainers​ have had a big impact in preventing injury which is hard for athletic trainers because on one end you're trying to get athletes used to understanding how to take care of the body to prevent injury and if they do a great job of that and injuries never come then athletes will say okay well maybe I can cut corners here, cut corners there and all of the sudden an injury pops up and then you have to back track quite a bit so it's hard for athletic trainers to really get across the importance of doing the preventative things: the exercises, the rest, the ice, the stretching. -- Kobe Bryant
As Kobe Bryant describes above Athletic Trainers help professional athletes achieve peak performance. Yes, preventing and recovering from injury are important, but the fascinating aspects, as I listened to an IMG Master Trainer explain, are to see professional athletes prepare to excel.
Before an NFL Draft, college athletes enlist the best athletic trainers to develop their physical skills prior to the NFL Draft Combine, a gauntlet of physical and mental measurements performed in front of team representatives.
At the NFL Draft Combine, the following athletic performance tests are administered:
40-yard dash
20-yard shuttle
60-yard shuttle
3 cone drill
225 pound bench press
Vertical jump
Broad jump
Position-specific drills
Interviews, 15 minutes with each interested team
Physical and injury evaluations
Drug screens
Cybex test - a measure of the maximum strength of a joint through range of motion
Wonderlic test - a mental measurement, 12 minutes for 50 multiple choice questions
How Many Athletic Trainers Do NFL Teams Have?
NFL Rosters have 53 active players, plus 16 practice squad players. NFL Teams have between 3 and 7 athletic trainers, according to the Professional Football Athletic Trainer Society member directory.
References
Resources
Writer Bio
Jeffery Keilholtz began writing in 2002. He has worked professionally in the humanities and social sciences and is an expert in dramatic arts and professional politics. Keilholtz is published in publications such as Raw Story and Z-Magazine, and also pens political commentary under a pseudonym, Maryann Mann. He holds a dual Associate of Arts in psychology and sociology from Frederick Community College.