What Kind of Music Is Used in Zumba Aerobics?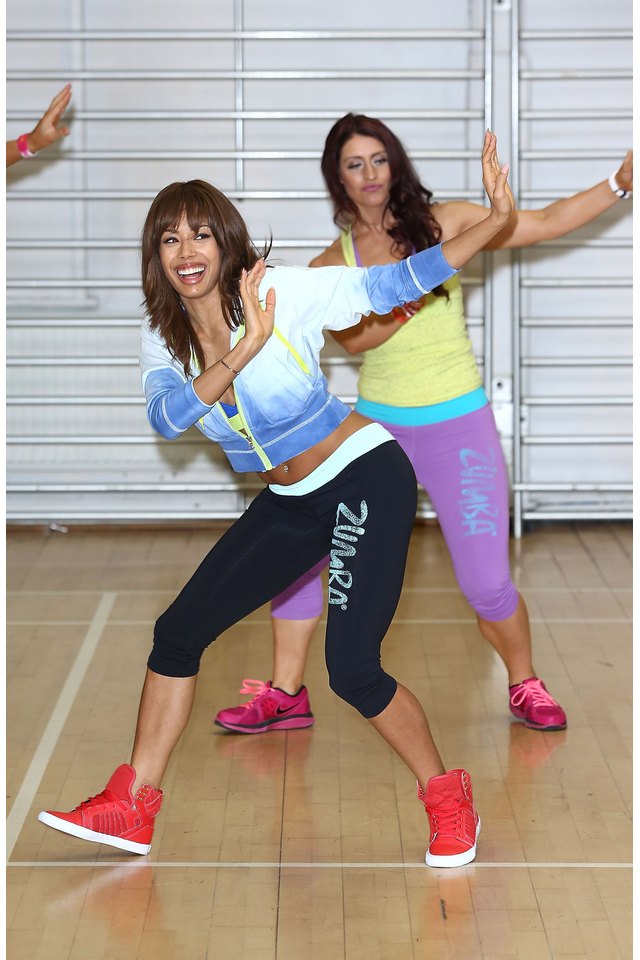 All over the world, people from children to seniors are shaking their hips to Zumba's Latin beats. Zumba teachers receive new tunes from Zumba headquarters each month. They use the official Zumba music in class, and incorporate a few of their own favorite songs. And their favorites are quickly becoming favorites of their students, many of whom had little or no exposure to Latin music before joining the dance fitness class.
It Started with Music
Music is at the core of Zumba. In fact, music started the whole fitness program. Zumba's creation myth is a classic in Zumba circles. One day, Colombian fitness instructor Alberto Perez forgot to bring his aerobics music to class. So he grabbed his personal salsa and merengue tapes out of his car and improvised Latin steps to the music. His students loved it. Suddenly they were sweating and happy, rather than sweating and waiting for the aerobic drudgery to end.
Joyous Music
Zumba's popularity is partly due to the fun, high energy music. Zumba CEO Alberto Perlman told "Billboard" magazine that people connect with the joy and emotion of the music. Fitness is a by-product of the real objective, he says, which is happiness. The soundtrack includes reggaeton, a sexy style born in Panama and embraced by Puerto Rico that blends Latin music with hip-hop and electronica. Cumbia -- a Colombian dance music incorporating accordions, percussion and guitars -- is another Zumba mainstay. Other types of world music, including belly dance, bhangra and West Coast swing, have made their way into some Zumba numbers.
Partnering with Artists
Several major artists have partnered with Zumba Fitness. According to Perlman, American rapper Pitbull approached Zumba about recording class-specific tracks and performing at an instructor convention. Puerto Rican reggaeton performer Don Omar had a huge hit with his song "Zumba." Daddy Yankee, another Puerto Rican artist, recorded "Limbo," which is much beloved by Zumba students. Each partnership is different, Perlman told Billboard. Zumba Fitness has organized a series of fitness concerts, where people do dance routines to live performances by some of Zumba's artist partners.
Spreading the Music
Now people who live in cities without Latin radio stations or dance clubs are listening to artists once known only locally or regionally. People in places as far from Latin America as Finland, Poland and the Czech Republic now listen to salsa, cumbia and reggaeton. In the United Kingdom alone, 1 million people attend Zumba classes, said Perlman. Many are probably brand new fans of Latin music.
References
Writer Bio
Teresa Bergen writes about fitness, health, yoga, travel and the arts. She is the author of "Vegetarian Asia Travel Guide" and has written hundreds of articles for publications online and off. Bergen also teaches yoga, spinning and group fitness classes, and is an ACE-certified personal trainer.