Types of Aerobic Dance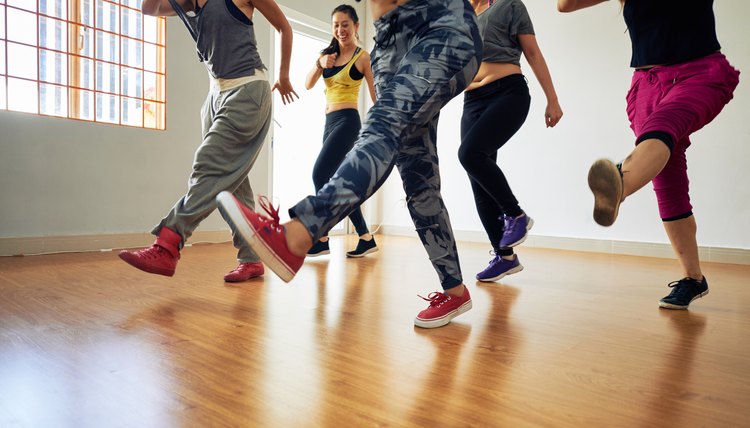 You know you need to do aerobic exercise several days a week to stay healthy. It keeps your heart and lungs in tip-top shape, and it's a key part of weight loss and maintenance. But plodding along on the treadmill or stationary bike day after day is such a bore, and eventually you lose interest.
Here's the cure to your doldrums: aerobic dance. Zumba, Jazzercise, belly dancing and ballroom dancing are all fun and effective ways of getting in a workout. So take a few (dance) steps outside the box, and breathe some new life into the same old, same old.
Zumba
Zumba Fitness has quickly become one of the most popular dance aerobics programs. Created in Colombia in the 1990s, this style of dance aerobics incorporates Latin moves with a global soundtrack including beats from around the world.
Classes are high energy with a party or club-like atmosphere, so get ready to sweat and have a great time. Zumba has its own set of moves and steps, and each class is choreographed by an instructor. Although you may not know the moves at your first class, you can just move to the beat. With time you'll pick up the steps and be able to advance to more challenging choreography.
According to a study conducted by the American Council on Fitness in 2012, participants burned 9.5 calories per minute doing Zumba -- more calories than power yoga, step aerobics and kickboxing, according to results of previous tests by the researchers.
Jazzercise
Judi Sheppard Missett created Jazzercise in 1969, and it soon became a fitness craze that's still popular today. Jazzercisers all over the country move to the latest music to burn up to 800 calories in 60 minutes. Not only does this form of exercise give you an aerobic workout, but it also strengthens and tones the muscles.
Several types of classes are offered, including a high-intensity cardio class, a core-focused class and a cardio-kickboxing class. There is also a "lite" class for beginners that is less intense and low-impact. The Jazzercise website stresses that it's not important that you know how to dance. The moves are simple and the instructors are trained to provide easy-to-follow step-by-step instruction.
Ballroom Dancing
If you've envied the bodies of the dancers on "Dancing with the Stars," then give ballroom dancing a try. Ballroom dancing comprises many types of dances from different parts of the world. Popular dances include modern waltz, tango, Viennese waltz, rumba, swing and quickstep.
All types of ballroom dancing are performed by a couple, but most dance studios allow you to come to class by yourself and be paired with another person. Not only is it a great way to get active and burn calories, but you'll also make new friends and build new skills. According to the Harvard Health Publications website, you can burn between 180 and 530 calories per hour, depending on the speed you dance and how much you weigh.
Belly Dancing
Belly dancing originated in the ancient cultures of the Far East, India and the Middle East. It was originally performed by women for other women during fertility rites or during celebrations for women entering marriage.
Today, you can find belly dancing studios and classes in any major city. It's a particularly good workout for the core muscles, and it also tones and strengthens the arms and legs. It doesn't burn quite as many calories as other dance workouts -- about 300 an hour -- but it teaches you to engage your core muscles and move fluidly. It's also fun and a great way to meet people and try something new.
References
Resources
Writer Bio
Raginee Edwards is a health educator, writing health-related articles, giving seminars and conducting consultations since 2006. She also taught group exercise classes and ran a fitness center. Edwards holds a bachelor's degree in biochemistry and a master's degree in health education from Baylor University.