Women's College Softball Rules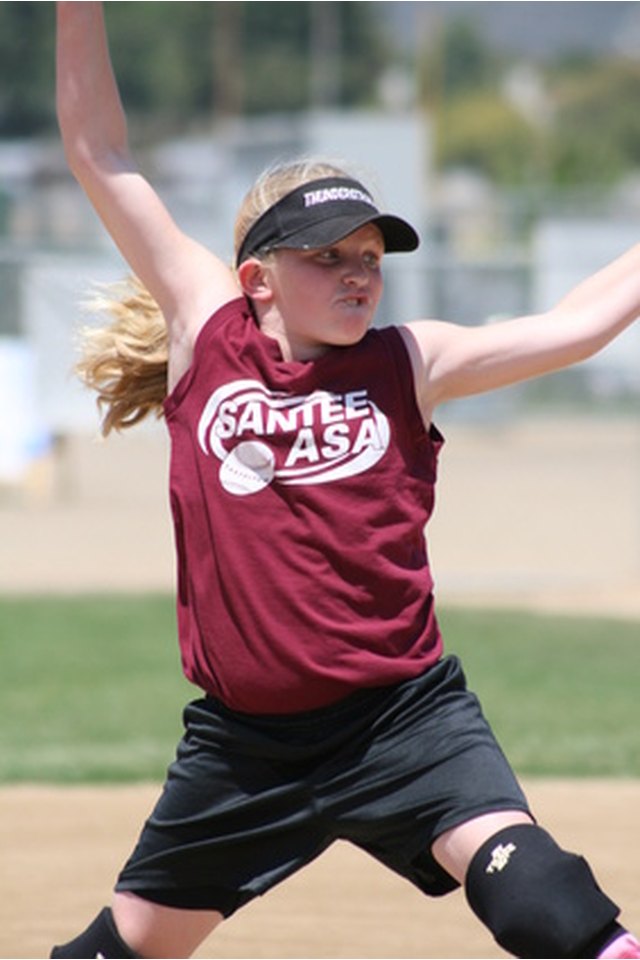 More than 300 colleges and universities participate in competitive women's college softball. Schools are divided between three different divisions. Division I is the foremost division. Division II and Division III are for smaller schools with limited resources.
All three divisions follow the same set of playing rules. These rules are administered by the National Collegiate Athletic Association and they are enforced by the umpires. Teams that violate NCAA softball rules are subject to penalties, including forfeiture of games and sanctioning. Here are the NCAA rules that every softball fan and student-athlete should know.
What are the rules for the softball field?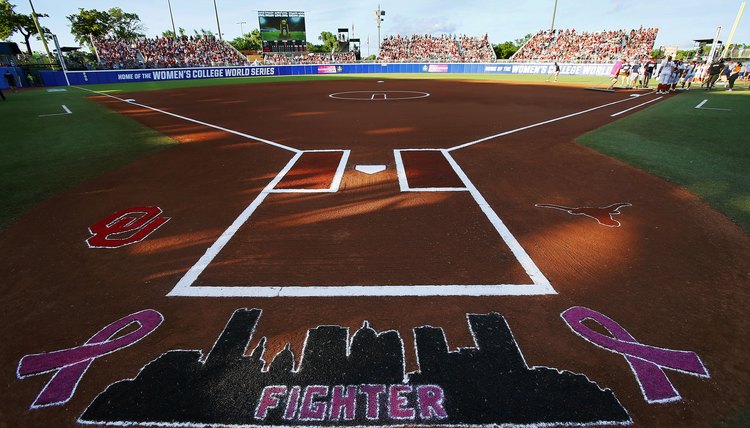 softball image by Steve Brase from <a href='http://www.fotolia.com'>Fotolia.com</a>
The NCAA official softball rule book written by the softball rules committee sets several requirements for the playing field.
The distance between bases is 60 feet.
The square bases for first base, second base and third base are 15 square inches with a thickness of 1 1/2 to 3 1/2 inches.
The required backstop must be at least 25 feet but no more than 30 feet from home plate.
The rules highly recommend at least one bullpen for each team.
The catcher's box is 7 feet in length and 8 feet, 5 inches wide.
Dugouts must hold 25 people.
The outfield fence can be no more than 235 feet from home plate.
Foul lines, the pitcher's circle, the batter's box and the dead ball area must be marked.
What is the softball size in NCAA softball?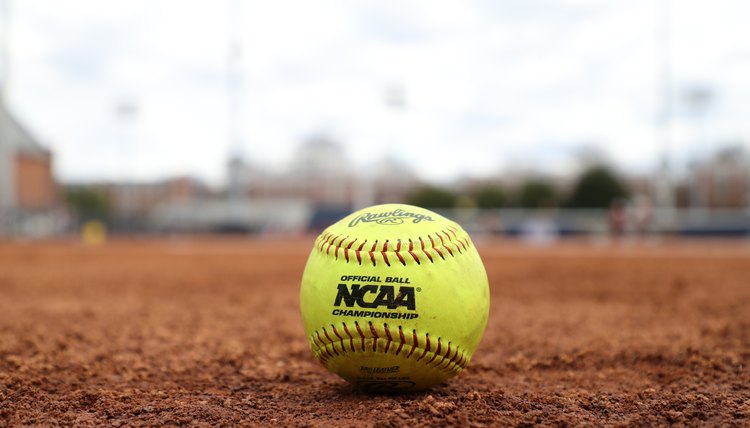 softball image by Steve Brase from <a href='http://www.fotolia.com'>Fotolia.com</a>
The USA Softball sanctioned ball must have a minimum circumference of 11 7/8 inches and a maximum circumference of 12 1/4 inches. The ball must weigh at least 6 1/2 oz. up to a maximum of 7 oz. The head coach is responsible for providing the home plate umpire with at least five game balls.
What bats are used in NCAA softball?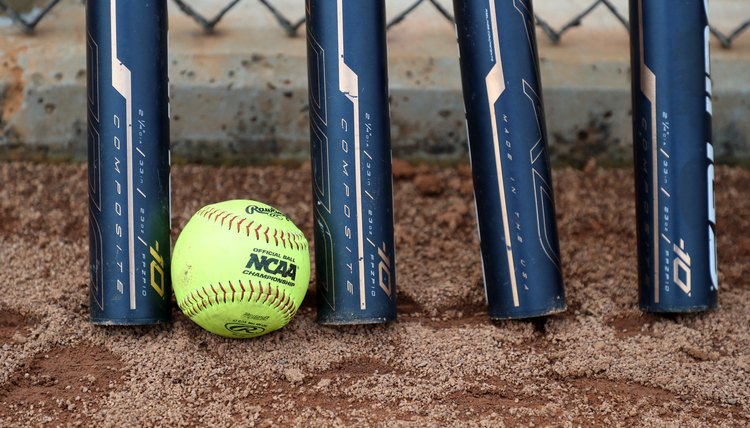 softball image by Steve Brase from <a href='http://www.fotolia.com'>Fotolia.com</a>
Hitters are also limited on what types of bats they can use. They can use bats made of:
metal,
carbon,
magnesium,
fiberglass,
ceramics,
titanium
or a composite material.
They must be marked "Official Softball" by the bat's manufacturer.
Bats can be no longer than 34 inches and no heavier than 38 oz. Bats can be no more than 2 1/4 inches in diameter at their largest point. The bat handle must include a safety knob of at least 1/4 inch.
How many players are on a field in softball?
Each team plays with nine fielders on the field with a maximum roster of 20 players.
A 10th player is allowed to serve as a designated player. This player replaces another player as a defensive player or as a batter and can be used to replace any of the other nine players on defense.
How long is a softball game?
Softball games are seven innings, and end when one team is leading after the seventh inning. If the home team is up after the first half inning of the seventh, they do not have to bat.
Games that are tied after seven innings lead to extra innings. A tiebreaker rule allows each team to place the player who completed the last at-bat in the previous inning placed as a runner on second base. This is also used during the MLB regular season due to a rule change in 2020.
What is the Mercy Rule?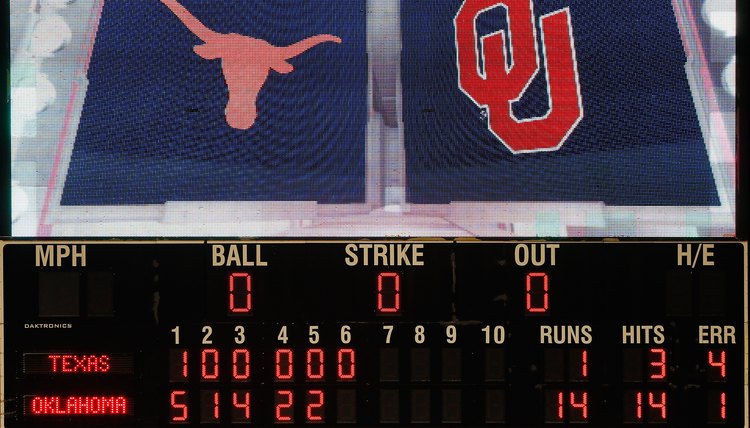 softball image by Steve Brase from <a href='http://www.fotolia.com'>Fotolia.com</a>
Softball games can end after five innings if a team is up by eight or more runs. This rule is different in high school and is based on the governing state. This mercy rule is not used in the Women's College World Series like when Oklahoma beat Texas 16-1 in 2022.
How does the postseason work?
To qualify for the postseason tournament, you can win automatic eligibility by winning your conference tournament or be high enough in the rankings to be selected by the Division I Softball Committee. Those 64 teams are divided into 16 double-elimination tournaments called regionals. The winners advance to super regionals and the eight winners face off in the College World Series
Writer Bio
Based in Central Florida, Ron White has worked as professional journalist since 2001. He specializes in sports and business. White started his career as a sportswriter and later worked as associate editor for Maintenance Sales News and as the assistant editor for "The Observer," a daily newspaper based in New Smyrna Beach, Fla. White has written more than 2,000 news and sports stories for newspapers and websites. He holds a Bachelor of Arts degree in journalism from Eastern Illinois University.