How to Add Rhinestones to a Wedding Dress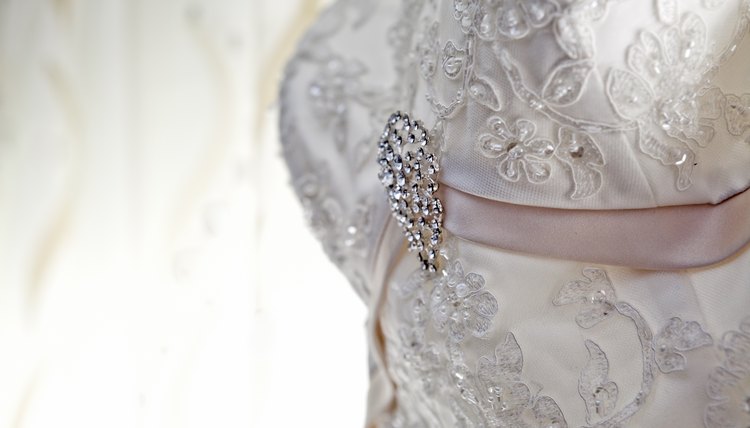 When you debut down the aisle, your wedding gown will be the centerpiece of your wedding day look. An expensive, embellished gown, however, can uncomfortably cut into your budget. One way to lower a wedding dress price tag is to opt for a simpler gown and add your own embellishments, like rhinestones. Besides saving money, you can personalize the gown by highlighting the bodice, waist or even the train. With minimal sewing skills, you can create a sparkling gown suitable for your wedding dress design.
Spread a sheet or a blanket over a bed or table. Arrange your wedding dress on the covered area. If you plan to rhinestone the front of the dress, the gown should face up. If you want to rhinestone the back of the dress, turn the back of the gown towards you.
Arrange loose stones around the gown to create different patterns. If your gown has lace edging or embellishments, you could highlight a special pattern in the lace like a rose or a ribbon design. By testing the rhinestone placement, you can determine the best rhinestone pattern.
Take photos of the design to use as a guide. Remove the rhinestones, placing each one in a rhinestone setting, pushing down firmly on the prongs to close the setting.
Thread your needle with white thread and knot the end. Start with an position on the edge of your design. Grasp the fabric and push the needle up from the inside of the fabric outward.
Slide one rhinestone in its setting over the needle. Ease the setting down to the fabric. Sew the rhinestone to the garment by sliding the needle through the loops of the setting.
Turn the gown inside out and tie off the thread with a knot. Cut above the knot with sharp scissors. Flip the gown right side out and position the next rhinestone. Continue until you have completed your pattern, consulting your photo as needed.
Tips
Consider using colored rhinestones for an interesting look.
Warnings
Avoid adding rhinestones under your arms. This can cause discomfort when you wear your dress.
References
Writer Bio
Mimi Bullock's writing reflects her love of traveling the back roads of small towns and sampling the local cuisine. As a regular feature writer for "Southern Hospitality Traveler" and journalist for "Beachin' Magazine," she gets to experience the rich heritage of the southern culture. She is also a licensed cosmetologist who has her own skin care line.