Body Type for a Pencil Skirt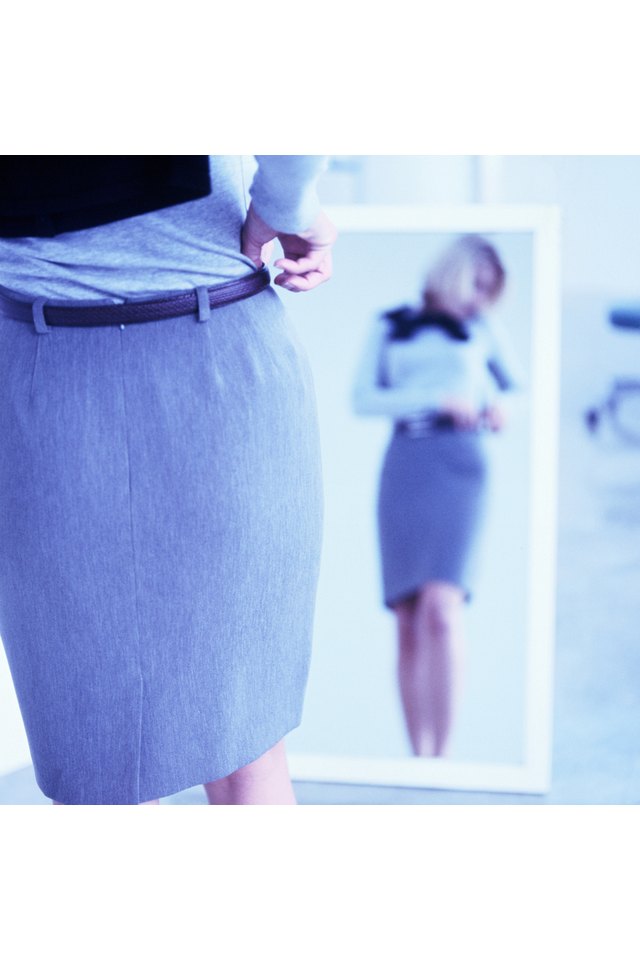 The pencil skirt is a universally flattering skirt that every figure can wear. Choosing a pencil skirt with a few specific details for your body type will ensure that it flatters your frame. While one figure can pull off a pencil skirt with a peplum, another figure might notice that a tapered hem suits them best. Knowing your body type is part of being able to wear pencil skirts while looking stylish and polished.
Hourglass Shape
Pencil skirts look great on an hourglass shape. Curvaceous females with a small waist have well proportioned figures that can be accented in a pencil skirt. To spotlight a well balanced figure with a pencil skirt, one should be selected with a fit that follows the contours of the body without being too tight and hits at or below the navel. High-waisted skirts tend to emphasize the bust, and hourglass figures do not necessarily need to highlight this. A pronounced waistband and darting are extra details to seek out for a slim fit from the waist to the hip area.
Column Shape
Tapered pencil skirts are best for women with column shapes. Ladies who have a straight up and down or boyish shape, can use a pencil skirt to create the illusion of curves by having it hug their frame. Seek out high-waisted styles with pleats on the hips. These are two details that emphasize the bust-line and hips. Peplums -- a short flared section attached to the hip of the skirt -- are another curve booster. Also, add a bit of bulk to your slender frame with thicker materials such as a nubby tweed in winter.
Pear Shape
A pencil skirt should taper slightly for pear shapes, or women larger on the bottom. Skirts that fall straight down will make women with fuller hips and thighs appear to have a square shape. However, a pencil skirt shouldn't taper too much since that will draw too much attention to curves. Finding the middle ground is key for women with pear shapes. Also, seeking sturdy materials like cotton or wool blends to hug the curves nicely is important to keep in mind. Heavy wools, brocade, or tweeds should be avoided as these materials add bulk to curvaceous hips and thighs.
Apple Shapes
Try a wide waistband and avoid belt loops, pockets, or other details around the mid-section if you're an apple shape. When you're a female with a rounder frame, particularly at the stomach, you'll want to avoid 3D details that tend to emphasize that area. The pencil skirt can work for your frame by streamlining your curves with a wide waistband and materials that have a little bit of stretch and give around the middle. Eyes can be drawn to gorgeous legs and away from a thick waist by wearing a pencil skirt with a side slit.
References
Writer Bio
What does a fashion aficionado hailing from New York do when she turns of age? Travel the world and write about fashion. From New York to Bangkok, from Onyxmilk (USA) to Adorned Magazine (UK), Lindsay Christinee has traveled and written about it all since 2009.