The Best Blazer For Men With Broad Shoulders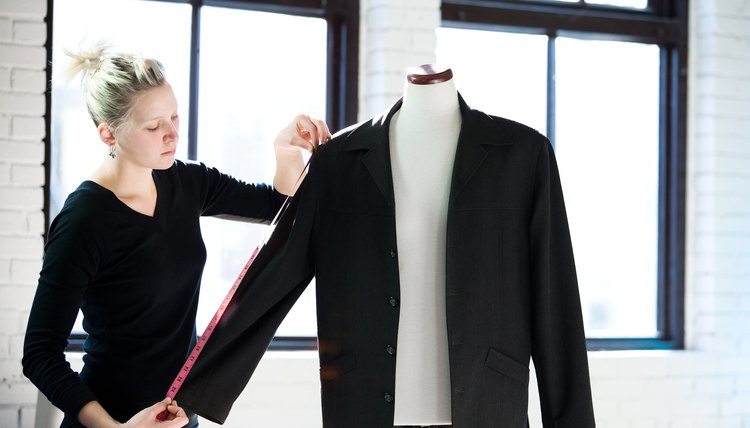 Wearing a blazer can be a casual everyday look, or a dressier style for a business meeting or event. While blazers are extremely versatile and highly fashionable, wearing a blazer with broad shoulders can be difficult. Although it may be harder to find a blazer that fits just right, there are plenty of options available for those with wider shoulders.
Large Blazers
The first option for men with broad shoulders is to look for a larger size or a wider-fitting blazer. While some designers actually make a wider fit, many brands will force you into a larger size in order to increase width. For men with broad shoulders and a wider core, shopping the big and tall section could work; but this options doesn't work for those with wide shoulders yet shorter or thinner in the core.
Tailored Blazers
If you have wide shoulders, it may be in your best interests to hire a tailor. A tailor is able to hem, alter and take in your blazer so it fits you perfectly. Tailored blazers are probably the best option for men with broad shoulders because you don't have to sacrifice fit or style for comfort.
Dark Blazers
While wide shoulders aren't usually an issue, blazers can fit too loose in the core or too tight in the arms if you have a broader physique. If a tailor doesn't fit your budget, shop for darker-colored blazers that will take away from the bulky look in your shoulders. You could also opt for a pinstripe pattern that accentuates the length of your upper body and doesn't draw attention to your shoulders. Stay away from horizontal stripes and thick square-cut patterns, as they draw attention to the poorly fitting areas of your blazer.
Other Styles
If you already have blazers you love and want to continue wearing them, there are a number of ways to compensate for bulky shoulders. Rather than wearing a V-neck or crew-neck shirt, wear a collared dress shirt to draw attention away from the shoulders and into the center of your body. A tie can also help with this, especially if paired with a tighter-fitting collared shirt.
No matter what blazer style you like, it is critical to look for a jacket that looks and feels right. Keep these tips in mind when shopping for a new blazer, and you will be well on your way to finding the best fit for your shoulders.
References
Writer Bio
Nicoleas Mayne is an internationally recognized marketing specialist and owner of a global marketing firm with clients across Canada, the USA and worldwide. Mayne has extensive experience in the legal industry, style industry and political marketing sector, and has education in political studies, law and religion. He is also an avid watch collector and owner of over 30 vintage and high-end timepieces.