How to Dress as a Teenager With an Hourglass Figure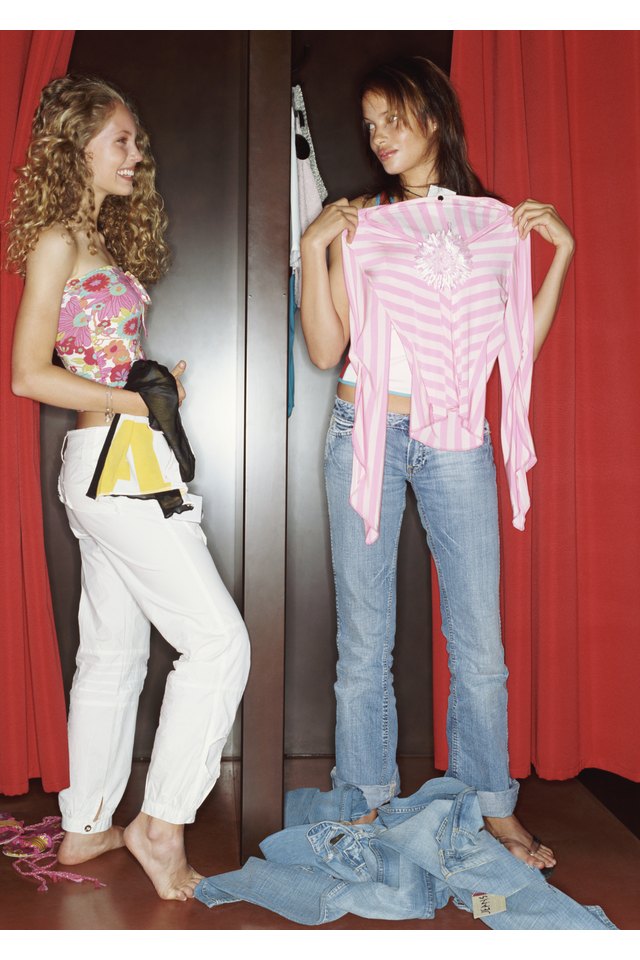 Help your shapely daughter choose the right outfit for her body type to give her confidence. An hourglass figure is defined by a slim waist, a well-balanced hip to bust ratio and an upper body that is proportionate to the length of the legs. There are a wide variety of flattering outfits you can put together that highlight your teen's best features and lovely curves. Try out several different styles, patterns and outfits to find a unique style that fits your teen's one-of-a-kind personality.
Pair a billowy top or dress with a wide belt. Belts worn around the waist draw attention to her waistline.
Find a neckline that works for your daughter's figure. There are a variety of necklines that flatter the bust line of a teenage girl with an hourglass shape: scoop-neck, boat-neck and V-neck. Big busts can draw a lot of attention, so avoid showing off too much cleavage and choose something tasteful and age-appropriate.
Select pants or bottoms that flatter your teen's curvy hips and fit legs. Skinny jeans or straight leg pants balance her body type. Taller teens can wear any length skirt, while shorter teens might want to choose skirts that fall above the knee. Avoid short and tight skirts with busy patterns that draw attention to the hips.
Choose from a wide variety of dresses that complement an hourglass body type. An empire-waist dress or skims over the hips while drawing attention to the waist. Other types of styles to try out include A-line and wrap dresses.
Pick out the right jacket to go with a form-fitting top. A shrunken jacket or a fitted blazer highlights the waist while putting less emphasis on the bust.
Pick out a stylish pair of heels or wedges to coordinate with dresses, skirts or skinny jeans. Heels elongate your teen's legs to make them look toned while drawing attention away from her butt.
References
Writer Bio
Ann Daniels has been a professional writer for more than 10 years. Her work has been published in many national health and wellness publications. Daniels holds a Master of Arts in communications from the University of Colorado at Boulder.