Best Swimsuit for Men's Body Types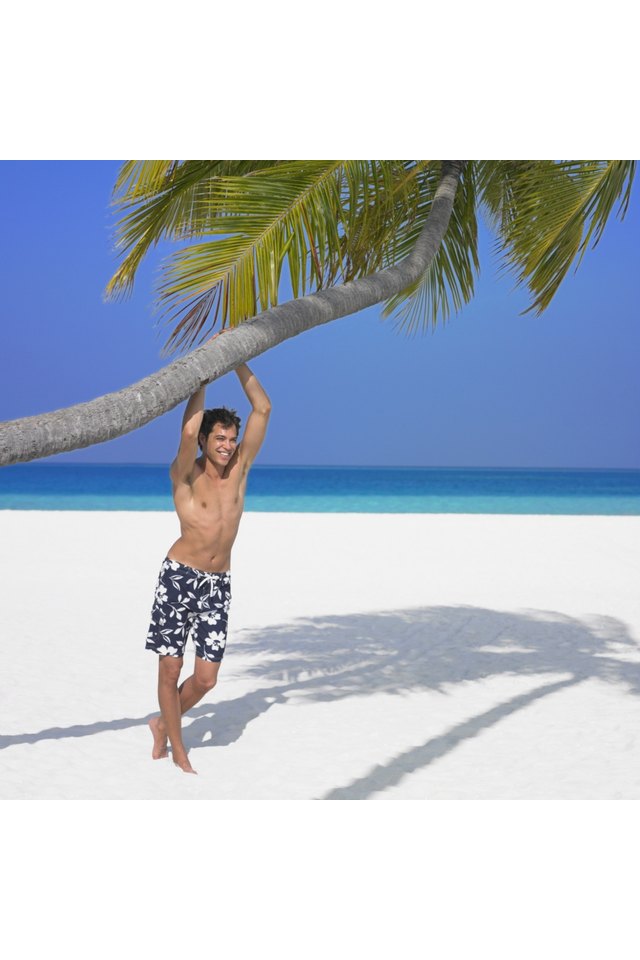 Although factors such as clothing material, color and pattern can dictate what kind of swimwear a man should sport, men should also examine their physical shape when choosing the best swimsuit. Men's bodies range from tall to short, thin to heavy, and everything inbetween. Different swimsuit cuts are available to complement various body types, accentuating key features and creating a personal sense of style.
Swimsuit Briefs
Swimsuit briefs have a similar cut to men's underwear briefs, but are manufactured to withstand water environments. Materials may vary, but swim briefs are usually made of polyester and spandex for a lightweight and snug -- but not skintight -- fit. This type of men's swimwear is aerodynamic and ideal for sporting activities such as swimming.
Swim briefs, or "speedos" (named after the trademarked Speedo swimwear brand), are great for athletic types. The low waistband of briefs complement a body with strong abs. Briefs are also appropriate for small men (5'8" and under) as the high leg cut makes short legs look longer.
Square Leg or Boxer-Brief Swimsuits
The square leg swimsuit shares the same fitted look as speedos, but has a longer leg cut. It is similar to men's boxer-brief underwear or performance bicycle shorts. Square leg shorts are usually made of polyester and/or other synthetic fibers that dry quickly and retain elasticity in the water.
This type of bathing suit fits many body types, although some general fashion tips apply. Tall men should take care when wearing boxer briefs with wide horizontal stripes; this pattern may make thighs look out of proportion with the rest of the body. Short men should keep square leg swimsuits above the knee. If the cut is any longer, it may make the smaller-figured body appear shorter.
Board Shorts
Board shorts, or surf shorts, have a knee-length or longer cut and are associated with surfing. However, this type of swimwear has become widely accepted as an all-purpose garment for summer activities. Unlike the boxer-brief swimsuit, board shorts are loose-fitting around the thigh and knee area. This swimwear is typically made of nylon and polyester and features a velcro snap and nylon laces to secure the garment.
Board shorts complement medium-height and tall men (over 5'8") as the longer cut balances out overall body proportions. Thin men can also wear surf shorts to add bulk to their frames. Board shorts also look good on bigger men, but loud patterns should be avoided as they emphasize larger features.
Square Swim Trunk or Boxer Swimsuit
The square swim trunk combines features from other swimwear. Also known as the boxer swim suit, square trunks have a similar length as boxer-brief trunks, but are loose-fitting like board shorts. Like other bathing suits, square swim trunks are made of polyester, nylon and/or spandex.
This swimsuit is good for men with stocky, compact body types. The cut is high enough to make legs look long and adds dimension in the torso and thigh area. Boxer swimsuits with darker colors, smaller prints and vertical stripes can make most body types appear leaner.
Resources
Writer Bio
Diane Bautista has more than seven years of professional experience writing for a variety of industries including fashion retail, communications technology and nonprofit. She currently works as an advertising copywriter and holds a B.A. in English from Washington State University.