Do Heels Make Your Calves Look Slimmer?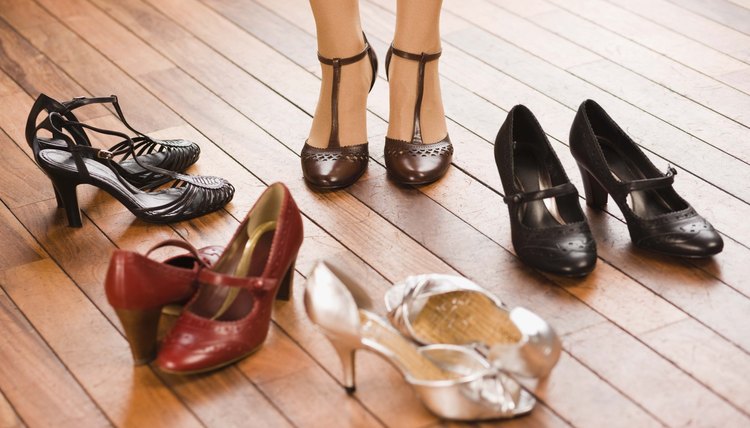 Heels are the easiest (and arguably, the sexiest) way to add height to your look. In addition to making legs appear longer, these shoes can actually make large calves look slimmer. However, wearing the wrong types of heels won't have this slenderizing effect and can even make your calves appear large and stumpy.
Elongating Effects
The extra height associated with heels instantly elongates the legs. As a result, your calves look slimmer, even if you only choose a 1-inch heel. If you're concerned about the appearance of your calves, consider wearing heels all of the time, especially when you wear dresses and skirts. Flat shoes tend to be the most flattering on women who already have skinny legs.
Muscle Engagement
Making the calves look longer is just one of the perks of wearing heels. "Cosmopolitan" magazine explains that heels directly engage your leg muscles, which is automatically visible when you walk. This muscle engagement makes your calves tighter and more slender.
Go Nude
Nude shoes go with multiple outfits, and heels have the added bonus of making your legs look smaller. Match your color of heels with your skin tone to create the appearance of a long slender line.
Black Heels 101
Black heels are another shoe favorite because of their versatility; you can pair them with numerous outfits during every season. The problem with this color is that the stark contrast to your skin tone can make your legs look shorter, and subsequently bigger. During the winter, Cleveland.com recommends pairing black heels with opaque hose of the same color. This has a similar slimming effect as wearing nude heels with bare legs.
Avoid Straps
If you're thinking about strappy heels, know that those extra ties and funky buckles will instantly add weight to your legs. This is especially the case with ankle straps because of the close proximity to the calves. For the most slender-looking legs possible, stick with slip-on heels.
References
Writer Bio
Kristeen Cherney began writing healthy lifestyle and education articles in 2008. Since then, her work has appeared in various online publications, including Healthline.com, Ideallhealth.com and FindCollegeInfo.com. Cherney holds a Bachelor of Arts in communication from Florida Gulf Coast University and is currently pursuing a Master of Arts in English.