How to Wear High Socks With a Baseball Uniform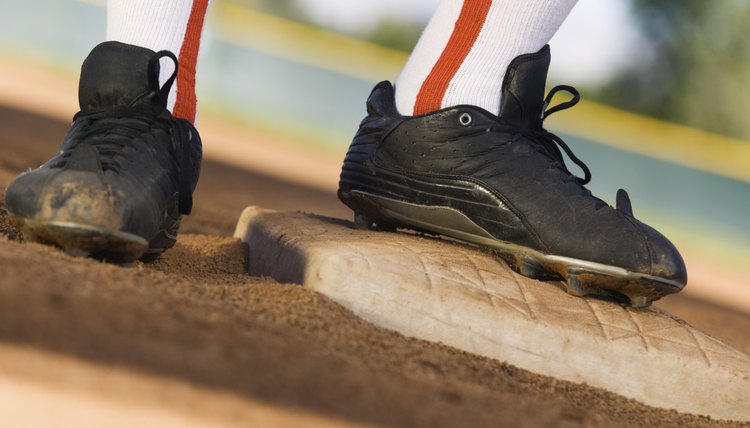 The first professional baseball team forced all of its players to wear high socks. John Thorn, Major League Baseball's official historian, says that the owner of the Cincinnati Red Stockings was trying to create sensation because "high socks displayed manly calves, which the ladies liked." And while high socks have fallen in and out of style, the two ways you wear them have stayed the same for more than a century.
Knickers
Popular baseball gear companies like Mizuno and Rawlings make an old-time and hard-to-find style of pants called knickers. These pants end with an elastic band just below the knee. You just need to buy logo-less baseball socks that cover the exposed skin. Not all baseball socks go that high and socks designed for other sports, like soccer and football, often have a company logo sewn into the shin. Adult knickers are especially hard to find in stores. Your best bet is an order over the internet.
Regular Pants
Get those socks on first, high and tight. Put your regular-length baseball pants on and slide each ankle-end up to just below the knee, bunching up some of the pants in the process. Now drop the waist of the paints to the floor, undoing the bunched-up pants in an inside-out fashion. Fold over the top of each inside-out pant leg in a 1-inch strip around the knee, tightening the pants' hold on your leg. Now pull the waist up, button your pants and do your belt. The pants should now be folded over neatly just below the knee, exposing your high socks.
References
Writer Bio
Christopher Michael began writing in 2010 for Break.com. He received a Bachelor of Arts in English from the University of Massachusetts, Amherst. Writing sports and travel articles helps support his professional baseball career, which has taken him to 49 states, five continents and four oceans.