What Kind of Purse Should I Carry for My Body Type?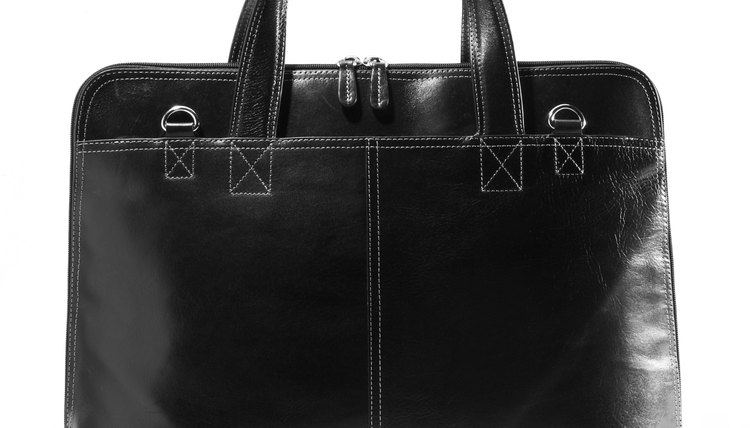 You've got your outfit, you've been to the salon and your shoes are in the bag -- but speaking of bags, did you know that this handy accessory also has to be considered when finishing a look? Purses, handbags and totes are a wardrobe necessity and can be an investment, but choosing the right purse for your body type can be confusing. For the most flattering look overall, your purse should be in proportion to your body size and shape. Apply these tips to all of your bags, from formal evening bags to your favorite everyday office-ready tote.
Petite Figures
If you're petite, your purses and bags should be relatively small to match the proportions of your frame. Choose bags that are taller than they are wide to add visual height. A saddlebag-style purse works well for everyday if it's not too large. For casual wear, a relaxed cross-body bag is a comfortable and practical choice. If you need a larger purse or tote, look for one that is relatively structured, with a short strap. You can carry a slouchier bag, but choose a smaller one.
Straight Shapes
Boyish or athletic women can carry off softer, slouchier, larger handbags to compliment their slim or straight figures. Choose a bag that contrasts with your body shape, opting for easygoing bucket-style bags for casual wear. Top-handled bags are office-appropriate, but yours shouldn't be too structured or square. Make certain that your bags have handles and straps that comfortably fit your taller frame.
Curvy Bodies
If you're curvier, select structured purses and totes, rather than slouchy shapes. Squared-off satchels and ladylike vintage styles pair well with rounder and curvier body shapes. Your totes should also be more angled, rather than soft or round. Busty women should look for bags that hit somewhat lower on the body, avoiding shoulder straps that place bags in the underarm or bust area. Apple-shaped women should choose bags that sit higher on the body and closer to the bust for the most flattering fit. If you carry weight in your hips, skip bags that hit the hip, like a cross-body bag, in favor of a clutch or bag that sits high on your body.
Plus Sizes
Plus-sized bodies come in all shapes, from straight figures to curvy hourglasses. Keep the shape recommendations appropriate for your body in mind when shopping for handbags, but pick a bag that is larger, rather than smaller. A tiny clutch or wallet-sized cross-body bag will not suit your figure, but you can easily carry a medium to large satchel or bucket bag.
References
Writer Bio
With a master's degree in art history from the University of Missouri-Columbia, Michelle Powell-Smith has been writing professionally for more than a decade. An avid knitter and mother of four, she has written extensively on a wide variety of subjects, including education, test preparation, parenting, crafts and fashion.