10 Vegetables You've Probably Never Heard Of
Vegetables are having a major moment right now, and obscure vegetables even more so. We're in an era where heading to your weekend farmers markets and subscribing to local community supported agriculture (CSA) shares are hip and trendy. Whether you are a vegetarian, flexitarian, full-on vegan or simply a vegetable lover, you're going to want to scope out these 10 veggies. Get to know the following vegetables on a more intimate level -- how they taste, why they're good for you, where to find them and ways to prepare them.
1. Kohlrabi
Sometimes known as a German turnip or turnip cabbage, kohlrabi is a bulb-like cruciferous vegetable that's praised for its cancer-fighting properties. Both the vegetable and its leaves are edible and taste similar to the stalk of broccoli. Kohlrabi is delicious sliced thin and tossed in salads, steamed and mashed or roasted in wedge form for a low-carb potato alternative.
Sherrie Castellano/Livestrong.com
2. Celeriac
Celeriac, widely known as celery root, is a root vegetable with a knobby and gnarly appearance. It is edible both in raw and cooked forms, with a vibrant and distinctive celery flavor. Because of celeriac's comforting quality, it often stars in soups, stews, casseroles, mashes and other savory dishes. For a fresh, raw take on the root vegetable, try shredding it and adding it to tossed salads, grating it onto roasted vegetables and lean meats or adding it to your favorite green juice. Celeriac is low in calories and high in flavor, making it a root-vegetable superstar.
Sherrie Castellano/Livestrong.com
3. Sweet Potato Greens
While sweet potatoes get a lot of love, their greens are all but overlooked. But these deep-green beauties are loaded with vitamin B-6, vitamin C and riboflavin. They have a velvety-soft texture and are less bitter and more pleasant that their competitors, kale and Swiss chard. Sweet potato leaves can be found at your local farmers market, in your CSA share or by simply asking a local farmer to save some for you. They are delicious raw or cooked. Try adding them to your green smoothie, cooked in a simple stir-fry or sauteed until just barely wilted and dressed with a little olive oil, sea salt and lemon juice.
Sherrie Castellano/Livestrong.com
4. Romanesco
Romanesco is some kind of magical lovechild between a cauliflower and broccoli. First documented in Italy, and also known as romanesco broccoli or roman cauliflower, this veg can now be found at your local farmers market during the fall months. This vegetable is striking in appearance, with its fractal, chartreuse peaks, and is crunchy and mild-tasting. Romanesco is rich in vitamin C, vitamin K and fiber. The best way to eat romanesco is to roast it.
Sherrie Castellano/Livestrong.com
5. Garlic Scapes
Although garlic scapes are becoming more and more popular and widely coveted by the foodie and chef community, this less-than-conventional vegetable is still unknown to most. Garlic scapes (commonly shortened to just scapes) are the curly, shoot-like stalks growing from the bulb of the garlic plant. Scapes are harvested at the beginning of the growing season, typically late spring to the middle of summer, to direct more of the plant's energy into developing the bulbs' intense flavor. A popular way to prepare scapes is to blend them into a pungent pesto, but they're also fantastic when treated like asparagus and grilled or roasted with a sprinkle of sea salt.
Sherrie Castellano/Livestrong.com
6. Purple Sweet Potatoes
The purple sweet potato, also going by the name Stokes Purple, is in the morning glory family. It has a rich, deep flavor and can sometimes be slightly denser and drier than its orange cohort. What the purple sweet potato lacks in texture, it gains in its striking appearance. Purple sweet potatoes should be used in the same way that you'd use an orange sweet potato. And they're starting to become regularly available at most conventional grocers. Purple sweet potatoes are loaded with antioxidants that are known to prevent cardiovascular disease, fight cancer, boost immunity and lower inflammation.
Sherrie Castellano/Livestrong.com
7. Sunchokes
These hearty tubers are high in dietary fiber and have a mild, artichoke flavor. Something worth noting is that this vegetable is made of a carbohydrate called inulin, which the human digestive system has a harder time digesting. This can lead to flatulence if overconsumed. Sunchokes are wonderful blended into soups or added into vegetable mashes.
Sherrie Castellano/Livestrong.com
8. Fennel
Fennel may be the least obscure vegetable on this list, but more often than not it can be intimidating to prepare. Both the fennel bulb and its fronds can be consumed raw or cooked, but the two have very distinct flavor profiles. Raw fennel tastes strongly of anise, while roasted fennel magically transforms in the oven and comes out with a mellow, celery-like vibe. Fennel is also harvested for its seeds, which are popularly used in Indian and Italian cuisine.
Sherrie Castellano/Livestrong.com
9. Fiddleheads
Fiddleheads, also known as fiddlehead ferns or fiddlehead greens, are the curled fronds of a young fern plant that are harvested as a vegetable. Fiddleheads, which have a short growing season, have a taste and texture similar to asparagus. You can find these rare treats at your local farmers market in the springtime. For perfection, wash your fiddleheads well and saute them gently in some ghee and garlic.
Sherrie Castellano/Livestrong.com
10. Cassava
Cassava is an edible, starchy tuberous root that's also known as yuca or yucca. It's a drought-tolerant crop and a major food staple in the developing world that has recently gained more popularity in the United States. Cassava root has white flesh and thick, brown, waxy skin. The root itself contains residual amounts of cyanide and must be carefully prepared before consumption. Cassava flour is also becoming a popular gluten-free baking option.
Sherrie Castellano/Livestrong.com
What Do YOU Think?
Have you ever heard of any of these vegetables before? If so, which ones? Are there any that you're excited to try?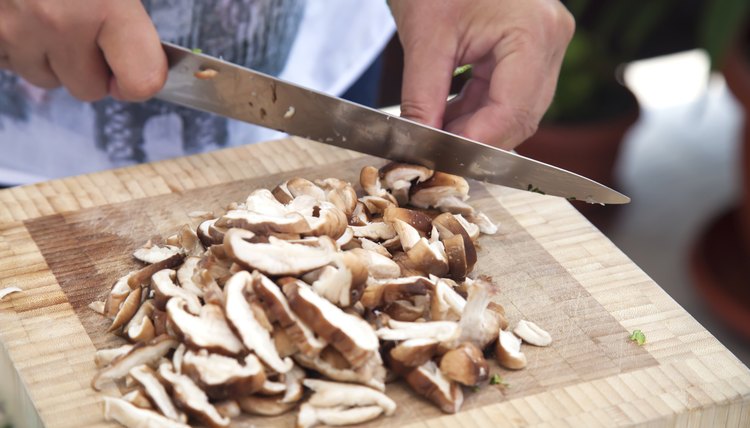 Sherrie Castellano/Livestrong.com
Writer Bio
Sherrie Castellano is a certified Health Coach, food writer and photographer based in St. Louis, MO. She writes the vegetarian, and naturally gluten-free food blog With Food + Love.