9 Simple 4-Ingredient Recipes for Easy Vegan Meals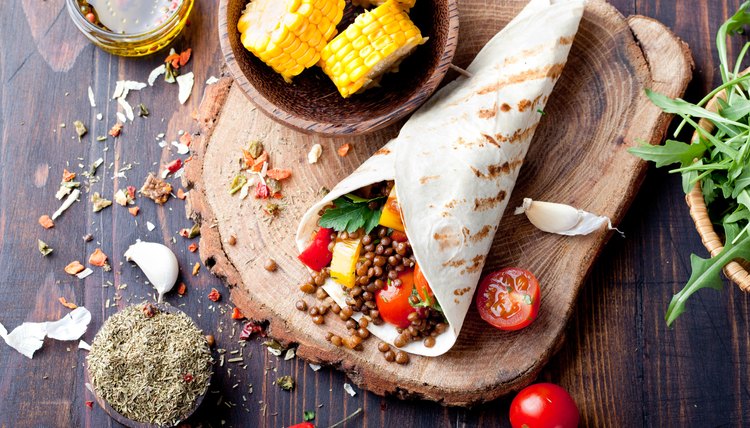 From vegetables to whole grains, a plant-based diet bursts with fiber, vitamins and minerals. But vegan recipes can sometimes be overly complex (it takes effort to be healthy!). In response, we've created nine recipes that feature only four main ingredients (not counting salt, pepper or cooking spray). So if you think you're too busy to cook or simply want a meatless fix in minutes, you need to give these recipes a try.
1. Heirloom Cherry Tomato and Hummus "Nachos"
Traditional Tex-Mex nachos are commonly a greasy, cheesy mess full of bad-for-you fats. And they often contain more than 550 calories per serving. But not this version! Our recipe is inspired by nachos -- with a Middle Eastern twist. And there's no cooking required. You'll simply top whole-grain pita chips with hummus (store-bought is fine), colorful heirloom cherry tomatoes and fresh parsley. It's a fiber-rich snack that's 10 times fancier (and healthier) than basic nachos.
Anna Pustynnikova/iStock/Getty Images
2. Rosemary Roasted Whole Cauliflower
No, that's not a floret. It's an entire head of cauliflower! You'll impress everyone (including yourself) with this centerpiece of a vegetable dish. It might even lure finicky folks to the table. And the good news? This beautiful dish is incredibly easy to make. You'll simply remove the stem and brush the cauliflower with olive oil. Sprinkle with rosemary, sea salt and garlic powder, and then pop it into the oven to bake. And if that's not enough to entice you, know that cruciferous vegetables -- including cauliflower -- contain powerful, cancer-fighting glucosinolates.
Anna Pustynnikova/iStock/Getty Images
3. Couscous Verde Bowl With Black Beans and Corn
This is one of those dishes that you'll keep coming back to again and again. It's that winning combination of easy, tasty and satisfying. The coolest part? You'll be using salsa verde (yep, the green kind) three ways: as a saute liquid for corn, a cooking liquid for whole-wheat couscous and a flavorful sauce for black beans. That's it! Who knew that salsa could be so versatile? And, in case you were wondering: Yes, you can count salsa verde as part of your vegetable intake. It's made of tomatillos, after all.
Anna Pustynnikova/iStock/Getty Images
4. Peanut Noodles With Mini Peppers
Hey, workout buffs! Need to inhale some good carbs to fuel up? Try this easy and scrumptious Asian noodle bowl. You'll cook up some whole-wheat or other whole-grain linguine. Then dress the noodles with bottled Asian peanut sauce, toss with thinly sliced miniature sweet bell peppers and garnish with fresh cilantro. You'll get plenty of vitamin C from the crisp bell peppers.
Anna Pustynnikova/iStock/Getty Images
5. Veggie Chili Baguette "Boat"
You may have enjoyed chili from a sourdough bread bowl. But how about from an 18- to 20-inch-long baguette? You'll cut a long, skinny, whole-grain French baguette in half and scoop out some of the doughy center. Then you'll fill each "boat" with vegan chili (pick an organic canned variety), soft cashew vegan cheese and scallions. Then comes the fun part: picking it up and eating it -- no utensils required (though you might want to keep some napkins at the ready). This chili boat bursts with fiber and protein.
Anna Pustynnikova/iStock/Getty Images
6. Vegan Caprese Salad With Avocado and Balsamic Reduction
A classic caprese salad is made with tomatoes, mozzarella cheese, basil and olive oil. But that's a no-go for vegans. Here, you'll replace mozzarella with equally luxurious avocado. And since avocado already has plenty of heart-healthy fats, the finishing touch is a simple yet sensational balsamic vinegar reduction. It sounds fancy, but it's actually incredibly easy to prepare. By using heirloom tomatoes, your plate will be extra colorful. And by using avocado, you'll get a surprisingly significant source of fiber and potassium. Both boost heart health.
Anna Pustynnikova/iStock/Getty Images
7. Double Vegan Burger With Grilled Onion
What's better than a vegan burger? A double vegan burger, of course! If you're starting with patties that are about 100 calories, there's definitely room in most diets for this type of decadence. This is especially true because this burger isn't laden with cheese or smothered with mayo. Grilled sweet onions and peppery micro arugula make this burger extra scrumptious. What exactly is micro arugula? It's basically a younger version of arugula. Microgreens, in general, tend to provide a richer concentration of nutrients than their "regular" counterparts.
Anna Pustynnikova/iStock/Getty Images
8. 3-Layer Mexican Dip in a Jar
It's funny how serving from a jar adds new life to a good-for-you snack. Any jar will do, even a recycled one that originally contained pickles or jam (or salsa)! Spread refried vegetarian beans in the jar, and then top with guacamole and pico de gallo to form layers. Add a lid and place in the fridge to chill. Next, fill up a little bag with baked tortilla chips. When you're ready to head out the door, simply bring the bag of chips and jar of dip with you: It's that easy! And since it's balanced and nutrient-rich, you can actually enjoy this snack for lunch.
Anna Pustynnikova/iStock/Getty Images
9. Grilled Portobello Sliders Stack
Serving sliders on skewers makes this finger food even more enticing. And in this case it's a stack of sliders for two (think creative date-night fix). You'll insert a skewer into grilled portobello mushrooms and red bell peppers along with whole-grain slider rolls spread with guacamole. Mushrooms naturally contain vitamin D, which can help promote bone health.
Anna Pustynnikova/iStock/Getty Images
What Do YOU Think?
Do you try to eat vegan at least some of the time? Why or why not? Do you prefer recipes with just a few ingredients? Which of these recipes would you try?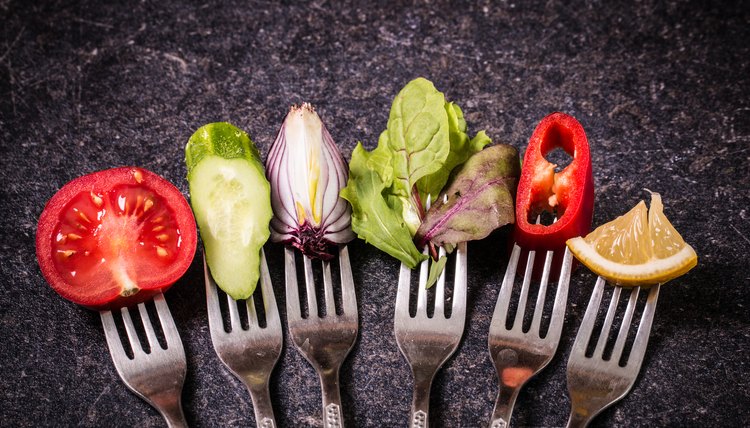 Anna Pustynnikova/iStock/Getty Images
Writer Bio
Jackie Newgent, RDN, CDN is a classically-trained chef, registered dietitian nutritionist and author of several cookbooks, including the award-winning The All‐Natural Diabetes Cookbook and The With or Without Meat Cookbook. She's a culinary instructor at the Institute of Culinary Education, contributor to Livestrong.com, and freelance recipe developer for Rachael Ray Every Day. She's a past national media spokesperson for the Academy of Nutrition and Dietetics. jackienewgent.com