What Is the Difference Between Isotonic & Isometric Contractions?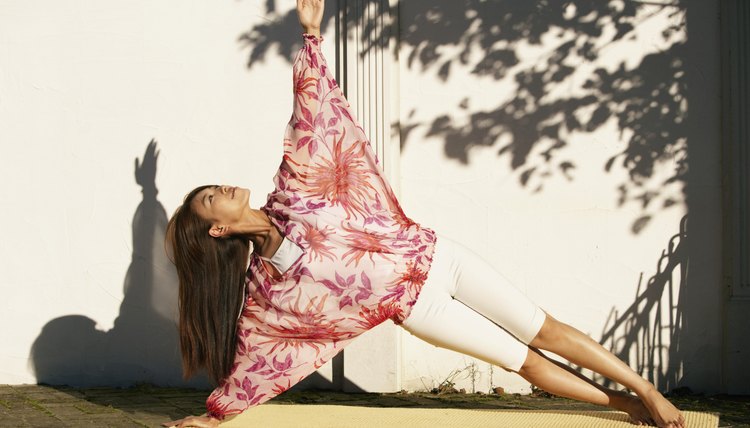 Isotonic and isometric contractions are changes that take place in your muscles when they move or come under some form of physical stress. Isotonic contraction occurs when your muscles change length and produce the force necessary to move the joints in your body. Isometric contraction occurs without changes in the length of your muscles or the position of your joints such as when you hold a stance in yoga.
Isotonic Contraction Mechanics
Two types of protein in your muscles, actin and myosin, contribute to the basic mechanisms of isotonic contraction. During this type of contraction, thick strands of myosin and thin strands of actin slide over each other, producing shortening in each individual muscle cell and the muscle as a whole. Most of the exercises and daily activities you perform rely on isotonic changes in your muscle tissue. Depending on the amount of force working against your body, these changes appear in one of two basic forms: concentric or eccentric contractions.
Type of Isotonic Contractions
During concentric muscle contraction, the force generated by your contracting muscle is greater than the external force working against it. This superiority of force allows your muscle to shorten normally. However, during eccentric contraction, the force working against your muscle exceeds the amount of force your muscle can generate internally. As a result, your muscle lengthens during contraction instead of shortening. Lengthening of your tissues in these circumstances places especially high levels of stress on your working muscles, and your chances of experiencing significant muscle injury during eccentric contraction are higher when compared to the risks of concentric contraction.
Isometric Contraction Basics
During isometric contraction, your muscles keep their normal length rather than shortening or lengthening. An example of this kind of contraction occurs when you hold a weight in front of your body in a fixed position. Without your resistance, the weight would drive your arms and hands downward. However, when you resist the weight without raising or lowering your arms, the resulting stress produces an off-setting, isometric contraction in the biceps in your upper arms. The amount of force generated during an isometric contraction increases with the length of the affected muscle.
Incorporating the Contractions
Exercises and activities that require at least some isometric contraction include gymnastics, climbing and wrestling. In addition to these active uses, you can employ isometric exercises to heal injured muscles without placing unwanted stress on nearby joints. In addition to isotonic and isometric contractions, you can perform a type of "contraction" called a passive stretch, which requires you to lengthen a muscle without triggering normal forms of contraction. When you bend over and touch your toes, the pull you feel in the back of your thighs is a form of passive stretching.
References
Terada S, Miaki H, Uchiyama K, Hayakawa S, Yamazaki T. Effects of isokinetic passive exercise and isometric muscle contraction on passive stiffness. J Phys Ther Sci. 2013;25(10):1347-52. doi:10.1589/jpts.25.1347
Padulo J, Laffaye G, Chamari K, Concu A. Concentric and eccentric: muscle contraction or exercise?. Sports Health. 2013;5(4):306. doi:10.1177/1941738113491386
Rhyu HS, Park HK, Park JS, Park HS. The effects of isometric exercise types on pain and muscle activity in patients with low back pain. J Exerc Rehabil. 2015;11(4):211-4. doi:10.12965/jer.150224
Fisher JP, Farrow J, Steele J. Acute Fatigue, and Perceptual Responses to Resistance Exercise. Muscle Nerve. 2017 Mar 21. doi: 10.1002/mus.25645.
National Strength & Conditioning Association (NSCA). Essentials of Strength Training and Conditioning, 4th edition. Champaign, IL: Human Kinetics; 2015.
W. Larry Kenney and Jack Wilmore. Physiology of Sport and Exercise, 6th edition, Champaign, IL: Human Kinetics; 2015.
Writer Bio
M. Gideon Hoyle is a writer living outside of Houston. Previously, he produced brochures and a wide variety of other materials for a nonprofit educational foundation. He now specializes in topics related to health, exercise and nutrition, publishing for various websites.