What does fact checked mean?
At SportsRec, we strive to deliver objective content that is accurate and up-to-date. Our team periodically reviews articles in order to ensure content quality. The sources cited below consist of evidence from peer-reviewed journals, prominent medical organizations, academic associations, and government data.
The information contained on this site is for informational purposes only, and should not be used as a substitute for the advice of a professional health care provider. Please check with the appropriate physician regarding health questions and concerns. Although we strive to deliver accurate and up-to-date information, no guarantee to that effect is made.
List of Exercise Equipment That Uses Constant Resistance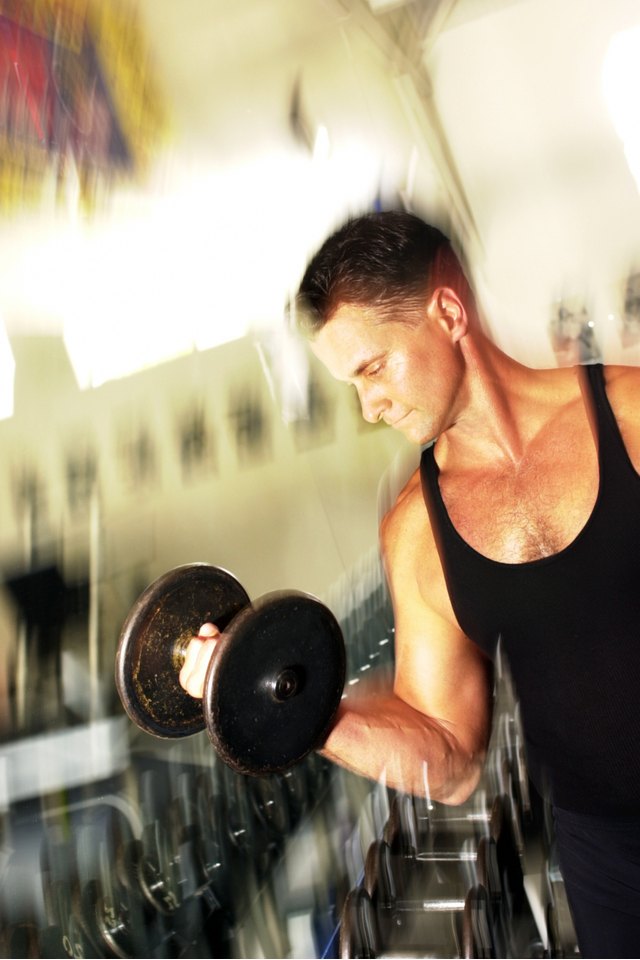 When it comes to exercise, most methods of resistance can be classified as either constant or variable. Constant, as the name implies, means that the weight load on the muscle stays the same throughout the exercise. Therefore, the amount of resistance used is determined by the sticking point -- or weakest point -- of the exercise.
Free Weights
Free weight resistance equipment, such as barbells and dumbbells, provide the same load regardless of the position of the weight or the phase of the exercise. For example, the weight stays constant during both the pushing and lowering phase of a bench press. The same is true for biceps curls, shoulder presses, barbell rows and other similar exercises.
Body Weight
The pushup is a classic example of a constant resistance body weight exercise, as the weight load is the same on both the lowering and rising phases. Traditional planks, side planks, squats and lunges are also in this category as the load is constant throughout the movement of the exercise.
Cable Pulleys
Lat pulldowns, flys, curls, rows and kickbacks are just some of the constant resistance exercises that are able to be performed with cables. The benefit of cables is an increased range of motion.
Other Equipment
Training tools such as medicine balls, kettlebells and resistance bands also provide constant resistance. Medicine balls and kettlebells can often be used in place of free weights, and resistance bands can help to strengthen all of the major muscle groups in the body.
References
Writer Bio
Beth Rifkin has been writing health- and fitness-related articles since 2005. Her bylines include "Tennis Life," "Ms. Fitness," "Triathlon Magazine," "Inside Tennis" and others. She holds a Bachelor of Business Administration from Temple University.