How Outlander's Sam Heughan Gets That Infamous Butt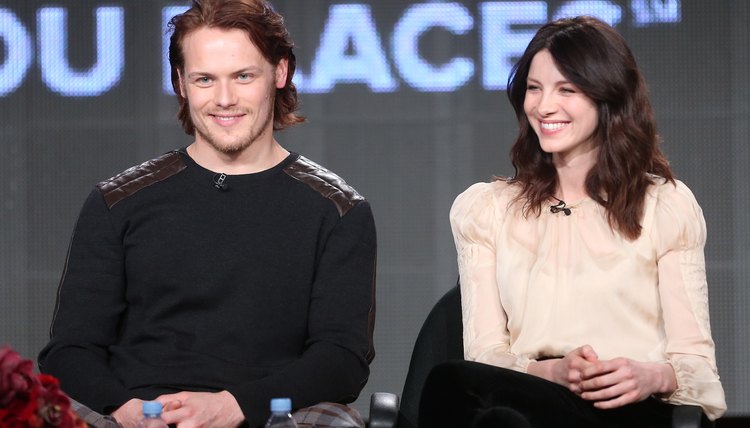 "Outlander" is one of those rare shows that doesn't hold back when it comes to male nudity, as fans of Sam Heughan's character Jamie Fraser are well aware (and deeply appreciative) of.
Sam and his co-star, Caitriona Balfe, are promoting season three of the Starz show, and, according to Heughan, maintaining that fine Highlander physique — and more specifically, his infamously toned behind — is a full-time job in itself.
"I do tailor my workouts," the 37-year-old tells Glamour. "There is something very physical about Jamie, and he is probably bigger than I would be in real life. I just discovered the booty band, and, well, you might find one in my bag. It really works."
The 6'3" Scotsman maintains that he loves his whisky and "bad Scottish foods," but that he follows a strictly regimented diet and fitness plan. While he appears to have no lack of confidence with spending much of his on-screen time walking around in next to nothing, Heughan admits he's not overflowing with self-esteem. "All actors are insecure," he confessed to Glamour. "And I've got my insecurities, which is why I go to the gym all the time."
According to an interview with Men's Fitness, "all the time" equates to two or three times a day when Heughan is in "boot camp" mode. He told the magazine that he was just around 180 pounds before he started training for the role and now weighs in somewhere between 202 and 207, thanks to trainer James White at Roark Gym, a CrossFit-based gym where he "started learning the necessary deadlifts and Olympic lifts and did a lot of conditioning work."
As for his diet, when in serious training mode, Heughan told Men's Fitness he was "eating everything" — but as healthily as possible. He consumed sweet potatoes, chicken and peanut butter in order to build muscle, but when on set he definitely made some modifications, especially when he needed to shed some of his muscle mass for the role.
"During shooting my weight did vary a little because it is quite difficult when you are on location, and good nutrition can be hard to find," he said. "I started taking supplements, and I started eating protein bars as they were easy to carry around. In the last few months I went Paleo, as my character Jamie gets captured and he is in prison for a short while. I wanted to lean out a bit more, and I did find that that did help, though it was quite difficult at first to get into that regime."
But there was one thing the Scotsman wasn't forced to abstain from completely: alcohol. In a recent interview, his trainer revealed the actor was allowed five units of booze per week.
"The man likes a drink, and it seemed cruel to completely deprive him of his one true love," he said. "He could choose to drink five whiskys in one night or have one whisky each night for five nights. The point is that he didn't feel like he was completely cut off from the things he enjoys and, most importantly, he also had choice. I've found that when people have choice within strict boundaries they respond far better than being told they have no choice at all."
As for being objectified, Heughan is totally honored and not the least bit offended that the author of the series, Diana Gabaldon, publicly praised his "fine ass."
"I'd say this: Diana Gabaldon has very good taste, and she would know a fine ass if she saw one," he told Glamour when asked about it. "Really, I feel very fortunate that she's given me that title."
Writer Bio
Leah Groth is a writer and editor currently based in Philadelphia. She has covered topics such as entertainment, parenting, health & wellness for xoJane, Babble, Radar, Fit Pregnancy, Mommy Nearest, Living Healthy and PopDust.