Here's What Victoria Beckham Eats in a Day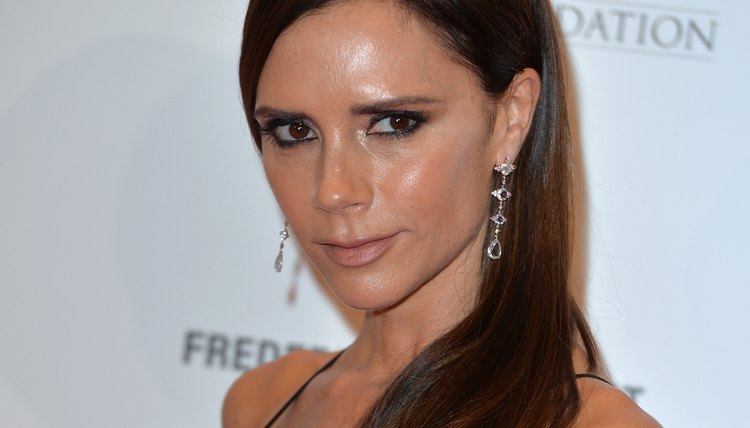 Victoria Beckham in famously disciplined when it comes to everything in her life — from her career to her approach to diet and fitness — and it shows. Not only is pop star-turned-clothing designer in the best shape of her life, but she looks and feels decades younger.
"I am very, very disciplined in the way that I work out, in what I eat," she told The Guardian in a recent interview. "That's how I'm happiest. I expect a lot from my body – I'm 44, I've got four kids, I work a lot, I travel. For me to do all that, I have to eat healthily and work out."
From her grocery list to what she eats for breakfast, lunch and dinner, here is everything you need to know about Victoria Beckham's diet — as well as details about her intense workout regimen.
The Posh Spice Grocery List
According to Vogue UK, items on Beckham's grocery list include lots of fish and vegetables — broccoli, beans and peas — and absolutely no dairy products, although she is not vegan: "I was vegan for over a year but I just felt like I didn't have the energy that you need."
"I enjoy eating healthily," she told The Times. "And I'm in the fortunate position where it's easy for me. I can afford to eat well."
Breakfast
Beckham recently revealed her morning ritual in an Instagram story. First, she starts her day with Bragg apple cider vinegar. "Be brave! Two tbsp first thing on an empty tummy!" she wrote. While some experts are on the fence about the purported health benefits of ACV, many believe it can kill germs, help improve cardiovascular and oral health, prevent diabetes, aid with weight control and even help with certain skin conditions.
Next up, she blends together a smoothie in her Nutribullet she refers to as "the green monster," a concoction of spinach, kiwi, avocado and apples.
Completing the meal is a bowl of Ezekiel 4:9 sprouted grain crunchy cereal made out of wheat, barley, beans, lentils, millet and spelt, which she eats with "unsweetened organic almond milk."
Lunch
Beckham usually has a "working lunch" with her team in the design studio, typically "sushi, something quite healthy." She will also down a green juice or something similar if it is available in addition to "lots of sparkling water, lots of peppermint tea."
Just to give you an idea what an average lunch would look like, during the aforementioned interview with The Guardian UK, Beckham opted for smoked salmon and salad.
Dinner
Beckham explained to The Guardian that her husband is responsible for throwing together nightly meals. "I never cook. I used to — when we lived in Spain, I used to cook a lot. But these days I don't tend to get home till late, so dinner wouldn't be ready till quite late. David's a really good cook," she said.
When they do dine out, it's likely you will find them eating — you guessed it — sushi. One of her favorite restaurants is Nobu, which conveniently has locations all over the world, including London, Malibu and New York City.
Coffee
Beckham does enjoy a quick pick-me-up in the form of a cup of coffee, but according to The Guardian she doesn't order lattes or flavored coffee drinks — she sort of makes her own. The outlet claims she carries flavored sweeteners around in her purse, squeezing them into black coffee.
Alcohol
While Beckham does occasionally enjoy a spirit, she does so in moderation. Her drink of choice? "A clear sipping tequila," she told Elle UK. "So you only need to have one and you're merry!" She also enjoys a glass of red wine on occasion.
Supplements
Beckham relies on vitamins, supplements, collagen pills — and even pollen — to supplement her healthy lifestyle. "Twenty-two amino acids, 12 vitamins, 28 minerals," she told Vogue UK about the latter. "And please don't write that I'm completely mad!"
Dessert
It's very unlikely you will find Beckham indulging on anything super sugary. In fact, on one recent birthday her family avoided presenting her with a traditional cake, opting instead for one made of fruit.
Exercise
In the new interview, the former Spice Girl reveals that she wakes up every day between 5:30 and 6am, just so that she can get in part of her two-hour a day workout. She usually stars with a 45-minute, 7k run on the treadmill, "a mix of uphill fast walking, jogging, running." According to Beckham she doesn't dread getting her sweat on. In fact, she looks forward to it, as it's the only time she allows herself to watch TV.
Next up, she works out with a trainer. "30 minutes legs, 30 minutes arms, toning and conditioning, then loads of planks and that kind of thing for my core," she told them. During the weekend, she will charge through her cardio and strength training at the same time.
"I work out every day when I'm at home, and then when I travel I really focus on work so I can get as much done as possible in a short trip and get home," she adds. Working out is, she explains, "a really positive thing for me. It's part of who I am now, and I really enjoy it."
She is also a fan of exercise classes such as the Tracy Anderson Method, SoulCyle and Barry's Bootcamp.
Victoria Beckham is clearly more disciplined in regards to her diet and workout than the rest of us — even most celebrities to be honest — but it seems to be working for her!
Writer Bio
Leah Groth is a writer and editor currently based in Philadelphia. She has covered topics such as entertainment, parenting, health & wellness for xoJane, Babble, Radar, Fit Pregnancy, Mommy Nearest, Living Healthy and PopDust.