Grants for Youth Football Equipment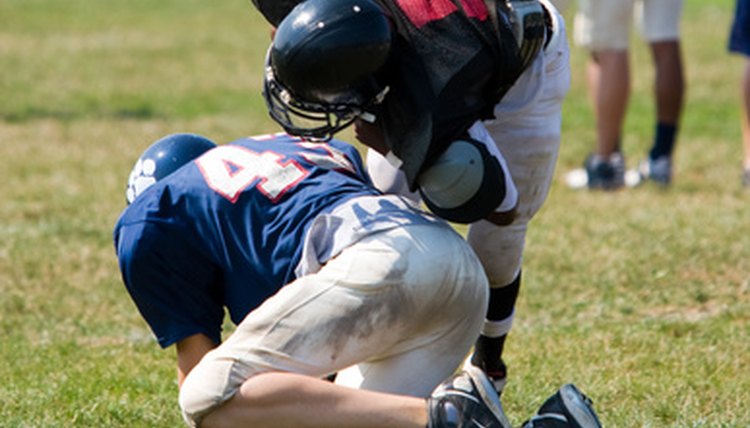 Many youth football teams belong to local or national leagues, such as American Youth Football and the Pop Warner Association. While these leagues provide financial assistance, grants are limited and competition is high. Youth leagues should apply to their leagues for funds, but they can also apply for grants from national foundations.
American Youth Football and Cheer (AYF)
AYF makes grants to their youth league members. AYF partners with Riddell, a leading football equipment distributor, and with the National Football League (NFL) to provide equipment grants. Member teams receive notification when the grants are available.
American Youth Football and Cheer americanyouthfootball.com
Finish Line Youth Foundation
Finish Line prefers to support community programs that focus on team-building and lifestyle issues. They consider requests for equipment grants.
Finish Line Youth Foundation Attn: Program Director 3308 N. Mitthoeffer Road Indianapolis, IN 46235 317-899-1022 x 6799 finishline.com
National Collegiate Athletic Association (NCAA)
NCAA's youth initiative provides equipment grants through partnerships with corporations and youth leagues. In the past, they have partnered with Russell Athletic and Wilson Sporting Goods. Through their Corporate Champion and Corporate Partners Program, NCAA supports youth football throughout the country.
The National Collegiate Athletic Association Corporate Champion and Corporate Partner Program 700 W. Washington Street P.O. Box 6222 Indianapolis, Indiana 46206-6222 317-917-6222 ncaa.com
NFL Charities
The National Football League's Join The Team initiative lists many charities and outreach projects. They list more than 90 NFL player charities. Player Foundation Grants provide support community efforts, including equipment grants.
Join the Team, NFL Charities jointheteam.com
The NFL Youth Football Fund (YFF)
The YFF provides grants in several areas, including equipment. Some grants require application by NFL players and applications are submitted using their Grant Application Management System (GAMS). Teams ineligible for YFF grants are encouraged to apply through USA Football.
NFL Youth Football Fund nflyff.org
Pop Warner Association
The Pop Warner Equipment and Apparel Grant is offered to local member groups. Pop Warner partners with Schutt Sports, Spalding, Bike and Russell Athletic to provide equipment.
Pop Warner Little Scholars, Inc. 586 Middletown Blvd., Suite C-100 Langhorne, PA 19047 215-752-2691 popwarner.com
References
Resources
Writer Bio
Gail Sessoms, a grant writer and nonprofit consultant, writes about nonprofit, small business and personal finance issues. She volunteers as a court-appointed child advocate, has a background in social services and writes about issues important to families. Sessoms holds a Bachelor of Arts degree in liberal studies.