Money Grants for Little League Baseball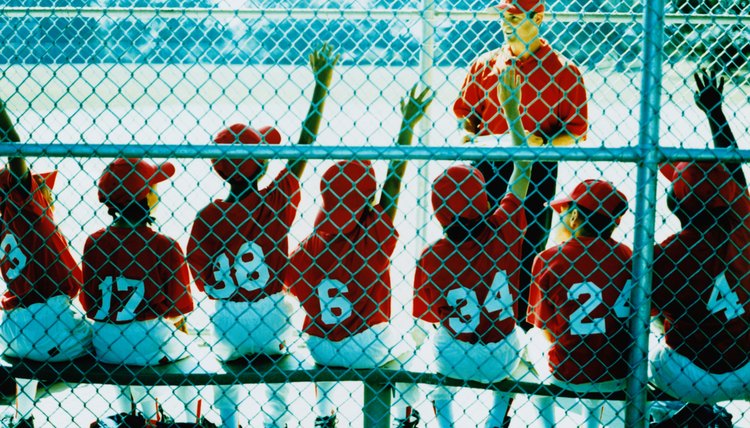 Little League baseball started in 1938 when Carl Stotz organized a baseball league for the boys in his hometown of Williamsport, Pennsylvania. A year later, he formed a board of directors and they took the name Little League. Sponsorships were $30 to help pay for equipment and uniforms for 30 players, according to Little League Online. Since that time, grants and other funding have been an important part of keeping the tradition alive.
Partnerships and Sponsors
Corporate partnerships, including national sponsorships, assist the organization around the globe. For more than 50 years, Little League has partnered with major corporations, which offer expertise in fund-raising, operations and safety, Little League Online notes. Sponsors also offer discounts, equipment, products and technical support, the organization reports. To see the most up-to-date list of national sponsors, visit the Little League Online website.
Statewide Efforts
Statewide Little League organizations also have sponsorships and fundraisers to help support their teams. Bank of America is listed as the 2011 sponsor of Massachusetts Little League, which also has an online fundraising effort ongoing. The state's Little League website has links to several fundraisers.
Major League Assistance
A joint initiative between Major League Baseball and the Major League Baseball Players Association, the Baseball Tomorrow Fund or BTF was established in 1999 through a $10 million commitment by the two groups. The mission of BTF is to promote the growth of youth participation in baseball and softball throughout the world by funding programs to help maintain youth participation in the game. Money grants are flexible to allow applicants to address needs within their communities. BTF awards an average of 40 grants per year totaling more than $1.5 million annually, according to its website, with the average grant amount being approximately $40,000.
Group Effort
It often takes a team effort to support a Little League program. In March of 2009, Marilyn Wittstock ensured developmentally disabled youth would have a quality experience by leading an effort to build a custom baseball field, according to a 2009 article in The Detroit News. Wittstock helped raise $120,000 in donations so the six-team, 80-member league would have a field of its own in Clinton Township in Detroit, Michigian. The late Tony Filippis, the former owner of Wright & Filippis Inc., a prosthetic, orthotic and home medical supply company, supported the cause and reached out to donors before his death. The township's Kiwanis and Knights of Columbus organizations collected thousands of dollars, according to the Detroit News story. The Detroit Tigers Foundation gave $10,000 and former Tiger first baseman Sean Casey and his wife, Mandi, also donated $10,000.
Team Foundations
The Detroit Tigers Foundation made 11 grants to local youth baseball-related projects the year it donated money to the Clinton Township project. Since 2005, the foundation has strived to enhance lives through the game of baseball with a focus on youth, education and recreation. The foundation accepts formal grant requests each year from Sept.1- Dec. 20.
Good Sports
Good Sports, headquartered in Quincy, Massachusetts, helps youth sports groups by offering equipment grants. Good Sports partners with sporting goods manufacturers to ensure that disadvantaged youth are getting the equipment they need to participate. To be eligible for an equipment grant an organization must work with youth ages 5 to 18 years old in disadvantaged areas within the United States.
References
Resources
Writer Bio
Susan Wessling has been a professional writer since 1986. Her articles have appeared in the "Boston Globe" magazine "On Call" and on Encyclopedia Britannica's website. She was recognized by the National Newspaper Association and New England Press Association for best sports column and by the National Newspaper Association for best sport pages. She has a Bachelor of Arts in English from Clark University.