Meghan Markle's Nightly Skincare Routine, Straight From Her Facialist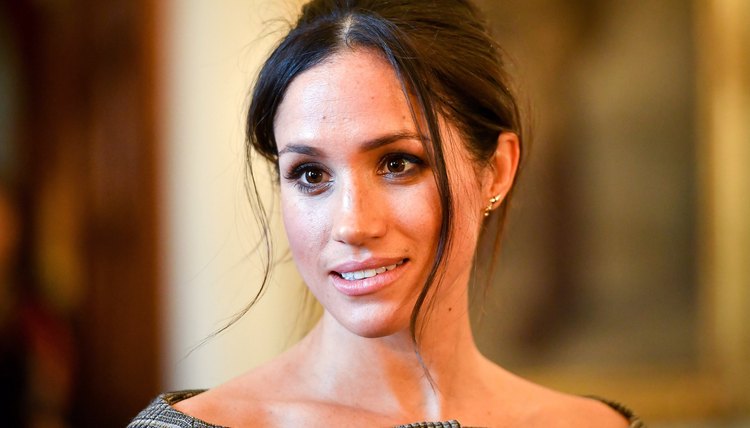 Meghan Markle's skin is positively radiant — and not just because she's pregnant. According to her facialist Nichola Joss — who boasts an impressive client list, from the Duchess of Sussex to Margot Robbie and Gisele Bundchen — there is a special technique anyone can do at home to get beautifully toned skin like her VIP clients.
Read more: Here's What Meghan Markle Eats in a Day
The key, Joss says, is a nightly facial massage.
"Daily routines are essential," she revealed to Vogue Australia. "Massage every night to remove puffiness, detox skin and calm muscle stress and tension."
But how exactly does this work?
Joss explained to Lumity: "By massaging my skin daily I am removing tension and stress in the muscle tissue. Softening but strengthening the muscle fibres to give a more lifting structure to facial contours.
"Massaging will also remove toxins, help to drain and eliminate puffiness, fluid retention and improve blood circulation.
"This will encourage a more nutritious oxygenated blood flow to the skin cells and muscle tissue helping to improve regeneration and restoration of skin."
When it comes to massaging our own face however, many of us might not know where to start, and so Joss broke down the routine and recommended a product to use too.
While there are a multitude of fabulous lotions and potions on the market today, Joss says an oil is best for this massage, more specifically the all natural, 32 ingredient Lumity Facial Oil.
"This oil has the perfect combination of ingredients to fully feed and nourish the skin," she told the brand's online magazine. "Using it nightly — along with taking the supplements — gives your skin the best possible ability to function, repair, regenerate and replenish. Keeping it bouncy, dewy and youthful."
Here's how to do it:
Drop three or four drops of oil onto the palms of your hands and warm it by rubbing your hands together.

Take a few deep breaths to inhale some of the scent of the oil.

Gently press the palms of your hands onto your face and using sweeping motions move your hands outwards from the center of your face.

Use your fingertips to massage the oil into your skin for one minute. Work outwards and upwards using small circular motions.

Firm and tone your jawline by bending your index and middle fingers on both hands and place your chin between the knuckles. Glide your hands along your jawline up to your ears. Repeat six times.

Improve contouring of your face by placing the pads of your thumbs under your cheekbones with your palms facing outwards. Gently push up and repeat six times.

Improve the appearance of wrinkles on your brow by placing your fingertips on the center of your brow and firmly sweep upwards and outwards. Repeat six times.

Don't forget about your chest and neck. Gently use your palms to sweep the oil up the neck area.

Sweep your palms across your chest from the left shoulder to the right and then right to left. Repeat three times on both sides.

Finally help improve the appearance of fine lines and wrinkles on the backs of your hands by massaging the remaining oil into them.

And just like that you can fall asleep feeling like a princess.
Read more: Meghan Markle's personal trainer breaks down her workout routine
Writer Bio
Hannah Hargrave is a British journalist, blogger and Livestrong.com contributor. She's a mom of 2 & a big friend of fitness. Hannah has worked with the likes of Marie Claire, Us Weekly, People Magazine & Grazia & after 15-years of living in LA she's recently returned to the UK. In addition to writing about celebrities, parenting, health & just about everything else, she also blogs about her amusing experiences of moving from Hollywood to the British countryside. www.hollywoodwife2countrylife.com