What to Wear to a Golf Outing
You don't have to stress much over what to wear for a golf outing. The whole point is to relax and have a good time. On the other hand, you should think ahead so you come prepared and don't make the wrong choices.
Dress Code
Title of Step
First and foremost, find out if there is a dress code at the course where the golf outing is being held. Golf is a traditional, conservative game, and rules of dress often reflect this heritage. Dress codes for men might include collared golf shirts and slacks or longer shorts. For women, shirts with sleeves may be required as well as longer shorts. There also may be restrictions about the type of cleats you can wear on your golf shoes--some courses might not allow metal spikes. T-shirts and jeans are generally not acceptable attire on the golf course, especially not for tournament play.
Format
Title of Step
What to Wear to a Golf Outing
Before selecting your outfit, consider the format of the golf tournament.
You might be attending a quick buffet breakfast before playing, in which case ordinary golf clothes should be fine. But if the event is a "nine and dine" with lunch after golf, or if there is a dinner scheduled for the evening after play, you likely will want to take along a change of clothing for the meal.
Styles for Men
Title of Step
What to Wear to a Golf Outing
The well-dressed male no longer wears "plus-four" knickers for golf. An outfit with a knit, collared shirt paired with comfortable golf slacks, or long shorts in hot weather, is appropriate.
Today's fabrics feature materials that wick moisture away from the body and allow air to flow, keeping the golfer dry, cool and comfortable. Fabrics that keep clothes wrinkle-free are also popular.
Styles for Women
Title of Step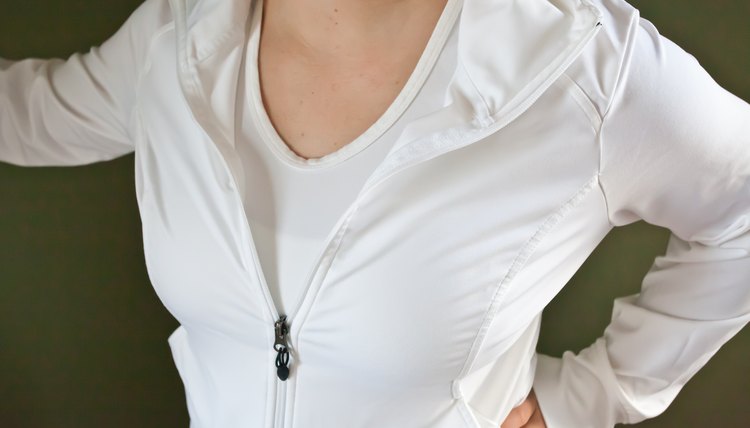 What to Wear to a Golf Outing
Women typically have a lot of leeway in selecting golf clothing. Color-coordinated outfits with golf tops paired with slacks, longer shorts, skirts or "skorts" (shorts on the inside, skirts on the outside) are appropriate for the golf course.
Preparing for the Weather
Title of Step
What to Wear to a Golf Outing
Many golfers carry clothing and accessories to prepare for inclement weather. Make an educated guess about conditions for the course, and bring along a hat or UV protective clothing to shield against the sun's rays. Vests and cardigan sweaters are popular for chilly or windy weather. If you expect rain, bring along a large golf umbrella and a rain-repellent jacket. Most golfers wear a cap, hat or visor to shield the face from the sun.
Writer Bio
Sharon Penn is a writer based in South Florida. A professional writer since 1981, she has created numerous materials for a Princeton advertising agency. Her articles have appeared in "Golf Journal" and on industry blogs. Penn has traveled extensively, is an avid golfer and is eager to share her interests with her readers. She holds a Master of Science in Education.